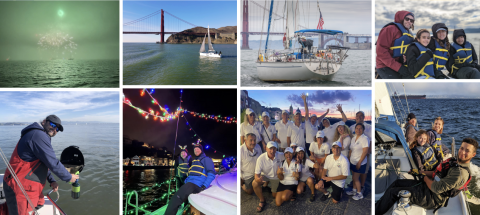 Before we leave 2022 in our wake, we'd like to take a fond last glance at some of the highlights of the year at Modern Sailing. 
We came together this year at social events on land and on the water, and as students newly hooked on sailing, lifelong sailors, and everyone in between. As diverse as we are, we connected through our common dedication to continual learning in pursuit of the rewards that come with skillful, artful sailing - that healthy euphoria and feeling of empowerment that always keeps us coming back for more. We thank our students and charterers who love sailing as much we do, because you enable us to offer a wide variety of opportunities for sailors to learn and play together on San Francisco Bay. 
Our members, students, and staff experienced more peak moments this year than we can possibly squeeze into one article, so we'll simply focus in on a few of our favorites.
Member Awards
In January, we welcomed 22 new inductees into our Commodore's Club. These sailors were our most frequent charterers of 2021 who also qualified to receive Commodore's Club bonuses and rewards.
In February, we announced the winners of our 2021 Club Ambassador, Top Charterer, and Top Student Awards.
Stay tuned for the announcements of our 2022 Member Awards in January and February 2023! 
Events

The 2022 Three Bridge Fiasco included some fun and friendly competition among Modern Sailing and Inspire Sailing staff and instructors. In 2022, Modern and Inspire instructors also participated in the Rolex Big Boat Series and Pacific Cup.
 
Our first
Family Club Sail
floated in January, lead by Club Skipper
Andy Hoobing
. 
On April 24, Club Sails on Kanaloa and Liberty went out sailing to experience Opening Day on the Bay. Thank you to Club Skippers Tim Sullivan and Erika Partika (now an instructor) for taking the lead!
 
We kicked off the summer sailing season right - with a party! Our Summer Sailstice BBQ Party on June 18 included live music by the group
Namorados da Lua
. Their beats brought us to our feet!
So
this
happened during the May Advanced Coastal Cruising course... Whales are sometimes spotted during
Farallones Day Trips
,
Half Moon Bay
and
Drakes Bay
Trips, and
ASA 106/Advanced Coastal Cruising
courses. Many sailors describe seeing wildlife out on the ocean as among their most indelible and cherished sailing memories. 
On Independence Day, "Karl the Fog" showed up just in time to crash the fireworks show. Our 4th of July Fireworks Club Sails aboard
Kanaloa
, skippered by Vincent Latour, and
 Ry Whitt,
skippered by Jim Haussener, went out fully crewed and were able to get close enough to somewhat see the fireworks. Thank you, Jim and Vincent! 
We were ecstatic to revive our Global Destinations program this year with a fall flotilla
sailing Italy and the Amalfi Coast
! Our next destination for 2023:
Croatia!
Thank you, Race Team! With great participation by our racers, we were able to have two boats entered in every race of the SYC Summer Series. Including
Andiamo
 owner John Squire and
Wimm
owner Zach Sherry, Modern Sailing boats have made up most of the summer's Spinnaker C division. Our race program continues to grow with 15
Recreational Race Clinic
graduates joining the team this year.


We welcomed three boats into our Silver Plus Fleet this year: Betty, a Catalina 30, Stray Cat, Catalina 320, and Helix, a Beneteau Oceanis 30.1. Helix arrived with a well-deserved hullabaloo, a "Welcome, Helix" Club Sail on November 19. Members and students had the opportunity to meet Helix owners Bode and Cymantha at the special champagne Après Sail that followed the Club Sail.
Our members love boats like Helix, Liberty, and Survivor, so we are looking to recruit more of them!. Thinking about buying a boat? Placing your boat our charter fleet is a great way to experience boat ownership. You'll get to enjoy the best benefits of ownership while we take care of the nitty-gritty details of your boat's care and berthing. Also, she helps to earn her keep whenever our members take her out for a sail.
 
Winning first and second place in this year's Sausalito Lighted Boat Parade Sailboat Category - MSC catamarans
Ho'okele
and
Kanaloa
! Cold weather, cloud cover, and a cancelled fireworks show may have been the cause of lower-than-usual attendance, both in terms of shoreside spectators and parade boats. Nonetheless, our bundled-up crew had a great time and enjoyed some delicious holiday snacks and beverages during their short but sparkly adventure. Our big thanks goes out to Club Skippers Tim Sullivan and
Bob Gutgsell
, who skippered the decorated catamarans, and Paolo Juvara, who skippered
Attitude Adjustment
, the spectator boat! 

Modern Sailor Achievements
Two of our former students and members completed circumnavigations of the earth in 2022.
On June 4,
Warren Holybee
 and his Morgan 381
Eliana
were welcomed home at the Golden Gate by his friends and family at Modern Sailing as he completed his world circumnavigation.
In August, 
Holly Williams
 completed her Clipper Round the World Yacht Race, having sailed every leg of the circumnavigation with Team UNICEF - and raised almost $14,000 for UNICEF in the process!

Member Resources Articles Published in 2022
Our public library of articles to inform, educate, and inspire you grew quite a lot this year!
Sailor Spotlight Articles
Are you or do you know a Modern sailor who recently bought a boat, crossed an ocean, or participated in an epic race? We love to read and share the stories of our students and members (past and present) who have taken a leap towards making their biggest sailing dreams come true. Please connect us by sending an email to news@modernsailing.com. 
Members Review Destinations
Our Members Review Destinations articles are a new category in our Member Resources library this year. Have you sailed or charterered somewhere outside of San Francisco Bay? You can help your fellow sailors choose a great destination and get prepared for that destination by sharing what you've learned. Please email us at news@modernsailing.com to share your experience.
Sailing & Charter Tips Articles
What did our social media followers "like" the most in 2022?
Instagram:
#1 Most "Liked" Post:
 #2 Most "Liked" Post: 
Fun fact - the top three to five posts on Instagram were all Reels! 
Facebook:
#1 Most "Liked" Post:
#2 Most "Liked" Post:
Following us on Facebook and Instagram is the perfect way to stay current with all the latest Modern Sailing news and articles. We love to see you out there having a great time sailing, so we'll love it if you tag us when you post your sailing photos.
Thank you to all those who helped make 2022 a year of growth and fun for everyone and we are excited to see what 2023 will bring. We wish you and your loved ones great health, prosperity, and joy in 2023 and beyond! Happy New Year!