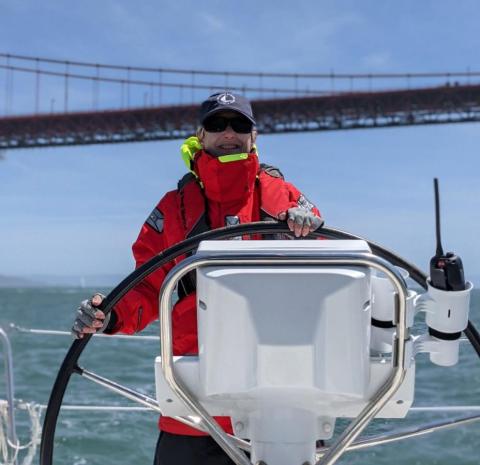 The summer after eighth grade, Lee lived on a small lake in southern Indiana. As a born "outdoors person," the opportunity to sail the lake with two cute boys on their Hobie Cat was not one to be passed up. In the process, Lee picked up a few skills and the spark of what would become a lifelong relationship with sailing. As much fun as she had on the lake that summer, at the time, Lee had no idea that one day she would be unable to imagine a future without sailing in it.
After the Hobie Cat summer, Lee didn't live near water again until 1980 when she moved to Nevada. She recalls the discovery of Lake Tahoe while learning to sail a friend's J/105 as the time when she really fell in love with sailing. But, with such a short season at Lake Tahoe, her access to sailing was too limited.
In 2011, Lee finally moved to a "real sailing town," Boston. To help make space in her life for sailing, she took a university job with a light summer work schedule and joined the Boston Sailing Center, which Lee says is quite similar to Modern Sailing. Lee began the ASA sequence of courses at BSC with ASA 101, Basic Keelboat Sailing and ASA 103, Basic Coastal Cruising. As she learned and practiced sailing, discovering the history of the islands off the Massachusetts coast added to the fun and fascination. During her time in Boston, Lee also joined her first overseas charter - in Greece. She was hooked. There was no going back to life without sailing.
After her time in Boston, Lee would always find ways to bring sailing into her life no matter where her home was. She once vacationed to earn her ASA 104, Bareboat Cruising certification on a sail from Fort Lauderdale to Nassau. In 2015, Lee retired from her profession and moved back to Reno, Nevada. Once again, she lacked access to sailing - until she found Modern Sailing School & Club in Sausalito, about 230 miles from her home. She joined Modern immediately and completed ASA 105/106, Coastal Navigation and Advanced Coastal Cruising Combination Course and ASA 114, Cruising Catamaran with Stan Lander.

Despite that 4-hour drive to Sausalito, Lee has remained an active member of Modern Sailing for nearly six years. She enjoys chartering with friends or joining Club Sails as a way to meet new sailing friends.
Through Club Sails, Lee met and befriended Andy Hoobing, who similarly travels long distances to go sailing. Lee and Andy soon realized how reliable they were as sailing partners simply because of the complications of travelling long distances. They had to make a true commitment to show up plus stay for at least two days to make the trip worthwhile. Lee and Andy have been sailing together now for 5 years!

Lee loves almost everything about sailing. She enjoys working with whatever the wind and the water give her and the feeling of freedom that comes from the resulting momentum. Lee says, "There is always a challenge; I can never learn enough, so it makes it a great sport to continue into any age. I like the people I meet sailing. It's a great way to travel. I've sailed in Greece, the BVIs, the US Virgin Islands, the Windward Islands, and from Baja. I plan on joining trips like these for a long time!"

In December 2021, Lee, Andy, and his family bumped into another Modern sailor, Christina Tierney at Foxy's on Jost Van Dyke of the British Virigin Islands. Becoming part of the sailing community broadens a sailor's world, but once you've been sailing for awhile and begin to see familiar faces in different places, the world feels a bit smaller, after all.

Of her experience with Modern Sailing, Lee writes, "I've learned so much through Modern Sailing. First, the course instructor I've had is just fabulous. Stan's patience and calm, methodical approach to teaching is so effective and confidence building. All of the staff seem so supportive; I've never been made to feel like the odd one out because I'm a woman in what used to be much more of a man's domain. I just feel very comfortable there."
"I plan to sail for the rest of my life!" she adds. "I want to get in as many trips to other countries through sailing as I can. I can also picture myself doing some longer distance sailing and living on a boat for several months. I can't even imagine a future without sailing in it."
We at Modern Sailing congratulate Lee for always finding a way to make sailing a part of her life. That's determination! We are honored to be the sailing school and club that Lee has chosen to travel so far for and we are thankful for her friendly presence in our community. We look forward to seeing where Lee's love of sailing will take her next!