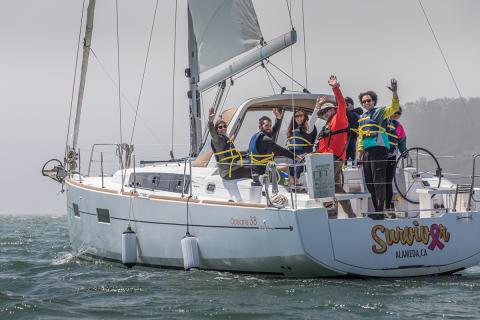 San Francisco Bay Sailing Club
Modern Sailing's Club Sails are a great way for members to make new friends, learn, and practice while sailing the beautiful San Francisco Bay. Our Club Sails are social sails skippered by experienced, friendly club members who have been trained and vetted by our instructors. There are no certifications or experience required to join a Club Sail. With a wide variety of Club Sails, there's something fun to fit every sailor's schedule!
Bring your friends and family! Club Sails are open to up to 2 adult guests per member, priced the same as the member rate. Need some help enrolling guests in Club Sails online? Check out our article How to Purchase Online for Another Person. 
Club Sails tend to fill quickly. To make it easy for you to find Club Sails with available seats, subscribe to our weekly newsletter email. Every week, the newsletter provides a current list of upcoming Club Sails with one or more available seats.
Not yet a member of our club? Learn about all the benefits of membership with Modern Sailing School & Club.
YEAR-ROUND CLUB SAILS
Full Moon Club Sail
4:00 - 9:00 PM, $65
This Club Sail typically starts before the sun goes down, so you will get to enjoy a scenic sunset sail on the Bay before sailing by the light of the big beautiful moon and twinkling stars! 
Photo by Joni Kirvin.

Thursday Club Sail
Various Thursdays 10:00 AM - 3:30 PM (November & December 11:00 AM - 4:30 PM), $75
Join us for this fun Thursday sail. Maintain your sailing skills and meet new friends at the club. Bring your lunch and enjoy sailing, sightseeing, and great conversation.
TGIF Club Sail
Various Fridays 10:00 AM - 3:30 PM, (November & December 11:00 AM - 4:30 PM) $75
Start off your weekend a little early with a fun social sail. Bring your lunch and enjoy sailing, sightseeing, and great conversation.
Weekend Prime Time Club Sail
Saturdays and Sundays 10:00 AM - 3:30 PM, $90
Weekend Prime Time Club Sails happen every weekend! If you'd like to go sailing on a catamaran, look for Club Sails with Ho'okele and Kanaloa.
Angel Island Club Sail
Various Saturdays or Sundays 10:00 AM - 5:00 PM, $100
Enjoy sailing over to Angel Island. We will sail and dock at Angel Island to check out this local treasure. You can also hike on scenic trails to explore the island's historic structures and take in some spectacular Bay Area views. The Angel Island Café has a great selection of lunch items and beverages. You are also welcome to bring your own lunch or snacks to share. After a bit of exploring on the island, we will hop back on the boat and finish the day with more sailing!
Family Club Sail
About once per month, Saturdays or Sundays 10:00 AM - 3:30 PM, $90
Family Club Sails are open to guests of all ages! Members can bring up to 2 non-member guests, adults or minors, priced the same as the member rate. 
SEASONAL CLUB SAILS
Wednesday Sunset Club Sail
Various Wednesday evenings, 4:00 - 9:00 PM, $65
Enjoy an evening on the water, practice your skills, and meet new sailing friends on this Sunset Club Sail!
Jazz and Blues by the Bay Club Sail
Various Friday evenings June - August, 5:00 - 10:00 PM, $65
Attention all jazz and blues lovers! Skip out of work early for this special social sail. We will first motor over to Gabrielson Park in Sausalito to enjoy the live summer Jazz and Blues by the Bay concert while lounging and dining on the catamaran or one of our luxury monohulls. From the boat we have terrific views of all the action at the park while listening to fabulous live music by some of the best local artists and bands. 
To see the schedule of performers, visit https://www.oursausalito.com/sausalito-calendar-annual-ongoing-events/ja....
We will have the grill set up on the boat so feel free to bring something to cook up or picnic items to eat and share while socializing with other great Modern Sailing members. After the concert and dinner on board, we will set sail for a refreshing evening cruise on the Bay. Remember to dress in layers!
Lighted Boat Parade Club Sail
Second Saturday in December, 5:00 - 10:00 PM, $90
The Sausalito Lighted Boat Parade is a holiday tradition in Sausalito and across the Bay Area. Every year, we enter two of our club boats in the parade and our hard-working fleet staff decorate them for our members and guests to participate in this magical experience. We also schedule 3 club boats to carry spectators (one is all ages Family Lighted Boat Parade). With the sounds of holiday music and cheering spectators, you and your guests will be dazzled by the parade of decorated boats and fireworks. An enchanting and memorable event to kick off the season, even the grinchiest of sailors will be unable to resist the holiday cheer. Complimentary snacks, beverages and holiday cookies are provided aboard.
Ready to join a Club Sail? There are three ways to sign up - shop online, call our friendly office at (415) 331-8250, or send us an email.
---
CLUB SAIL CANCELLATION POLICY
If you cancel with notice more than 72 hours (24 hours in winter) prior to the Club Sail, you will receive a full refund.
If you cancel less than 72 hours (24 hours in winter) prior to the Club Sail, there is no refund.