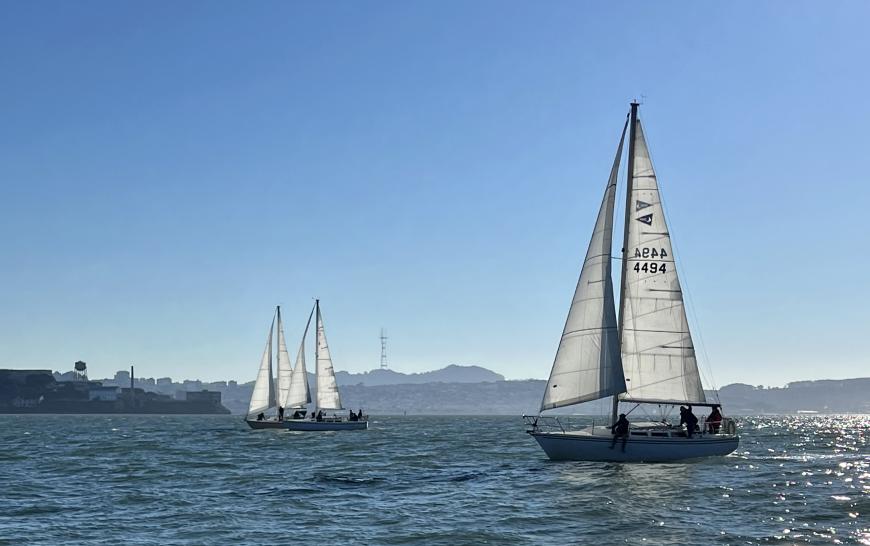 LEARNING ON THE CRUISING BOAT TRACK
ASA Courses & Sailing Clinics on 30' - 44' Cruising Boats
On the Cruising Boat Track, the first two courses in the ASA certification series are taught aboard Catalina 30s and Catalina 320s in our Silver Fleet. These 30' to 32' sailboats are equipped with wheel steering, inboard diesel engines, and roller-furling jibs. In constrast to sportboats, cruising boats are heavier, more stable, and are designed for distance cruising and living aboard in reasonable comfort. If high-performance sailing isn't attractive to you and you envision cruising experiences in your sailing future, the Cruising Boat Track is an ideal starting point for you.
Our Berkeley location also offers an exciting Sportboat Track - ASA courses and advanced clinics taught aboard our sturdy and agile J/Boats. If the idea of zipping around the Bay on high-performance sportboats appeals to you, visit our Sportboat Courses & Clinics page to learn more.
If you start out on the Cruising Boat Track and later decide you want to sail Sportboats too, join the Berkeley Sportboat Fleet Upgrade Clinic. Completion of the upgrade clinic gives Modern Sailing members access to charter J/24s and J/80 and to participate in our Sportboat Sailing Clinics.
Not sure which track to choose? See Beginning on Sportboats or Cruising Boats - Information to Help You Choose.
Get Certified to Skipper Cruising Boats
Upon completing ASA 103 on the Cruising Boat Track, Modern Sailing members become "Silver Fleet Rated." This means that you are certified to charter a 30' to 32' cruising boat, and you and your chosen crew can explore the Bay at your own pace and direction.
On both the Sportboat and Cruising Boat Tracks, ASA 101 and 103 both lead to the third course in the ASA series, ASA 104, Bareboat Cruising. Taught aboard a 37' to 40' cruising boat, ASA 104 qualifies Modern Sailing members to sail the Platinum Fleet. Learn more about how to get Fleet Rated for bareboat chartering. ASA 104 also qualfies sailors to apply for their International Proficiency Certificate, which is required by most international sailboat charter companies.
Interested in becoming a Modern Sailing member and a skilled cruising boat skipper? Check out our cost-saving Specials for discounted course and membership bundles!
Cruising Boat Clinics
Our extensive line-up of Sailing Clinics will help you focus on developing and mastering specific skillsets. You'll refine the skills you learned in your ASA courses, learn new skills, and gain confidence with docking, mooring, and sailing safely in a wide variety of conditions - in close quarters or wide open waters, day or night, foul weather or fair.
Cruising Boat Clinics are available at both locations. To see which clinics are available where, click here. Click the "Sailing Clinics" tab below to see details about each clinic.