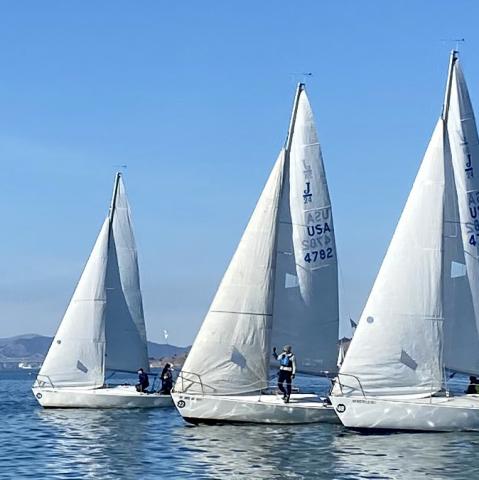 Sturdy, nimble, and reponsive, the tiller-steered J/24 sailboat is a joy to sail. Easy to sail and rigged with advanced sail controls to fine-tune sail trim, this model is ideal for sailors of every skill level from beginners to experienced. The J/24 is the core training platform for our Berkeley ASA 101, Sportboat Basic Keelboat and ASA 103, Sportboat Basic Cruising courses, as well as our Advanced Sportboat Clinic and J/24 Racing Skipper Clinic. Our J/24s are also available for qualified members to bareboat charter to enjoy zipping around San Francisco Bay.
A Tohatsu 6-horsepower outboard engine will aid your close-quarters docking and maneuvering. Before you exit the marina, have both sails raised and trimmed - the little outboard engine can struggle against 15-20 knot wind and 2-3 foot chop. 
With a length of 24 feet, a beam of 9 feet, and displacement of 3,100 pounds, (900 pounds of which are in the lead keel), the J/24 by J/Boats is the world's most popular keelboat class. A bit of trivia: There were over 5,500 J/24s built.  At one point over 50,000 active sailors in 150 fleets across 40+ countries were sailing these boats.
You can read more about the J/24 here.
J/24s Currently in Our Berkeley Sportboat Fleet
J/24 #00 Midnight Run
J/24 #04 Jubilee
J/24 #08 Menage A Cinq
J/24 #10 Mr. Toad
J/24 #20 Eileen
J/24 #22 Endeavor
J/24 #28 Sea Biscuit
J/24 #36 Teleri
J/24 #48 Last Chance