Take your sailing skills to the next level and learn to race sailboats. The San Franciso Bay is known as a sailing mecca and sailboat racers from near and far test their skills under the Golden Gate Bridge. Steady winds and significant currents test every team's expertise, strategy, and mettle year-round. Join the Modern Sailing Recreational Racing Program, and you will join an elite community of sailors while adding dimension to your sailing knowledge.
There is no need to be an expert sailor to join our racing program. However, you will need to complete our three-day Recreational Race Clinic to participate. MSC's recreational race program is for intermediate to advanced sailors who wish to focus on building their navigation and sail trim skills in a lightly competitive environment. During each race, participants will learn the mechanics of each race crew role, including helm/driver, jib trimmer, spinnaker trimmer, foredeck crew, midships/mastman, and tactician. Each team will have one of our USCG Captains on board to give expert advice and coach racers across the finish line.
Popular sailboat races and regattas in the Bay Area
The Bay's many yacht clubs take turns hosting regattas year-round, giving sailors ample opportunity to partake in thrilling races from the North Bay to the South Bay. "Mid-winters" refer to the regattas hosted during the winter and spring months, from November to May. As the season heats up and the days grow longer, summer racing takes place from April to September. MSC joins yacht racers in various weekend regattas as well as Tuesday and Friday night series. 
Popular Races that the MSC racing teams compete in include:
Golden Gate Yacht Club's Seaweed Soup Regatta. Individual races take place on the first Saturday of every month during the mid-winter season.
Sausalito Yacht Club's Chili Midwinter Series. Individual races take place on the first Sunday of every month during the mid-winter season.
Sausalito Yacht Club's Summer Sunset Series. Individual races take place every other Tuesday night from May to September.
Corinthian Yacht Club Friday Night Racing. Individual races take place every Friday during summer months.
Leukemia Cup Regatta. This lightly competitive fundraising race takes place every October and is open to all sailors on the SF Bay. No racing experience is required.
Enroll in the Recreational Race Clinic now and be ready to join the races for the upcoming season.
Do you have questions? We would be happy to help you - email us, or give us a call (415) 331-8250.
RECREATIONAL RACE CLINIC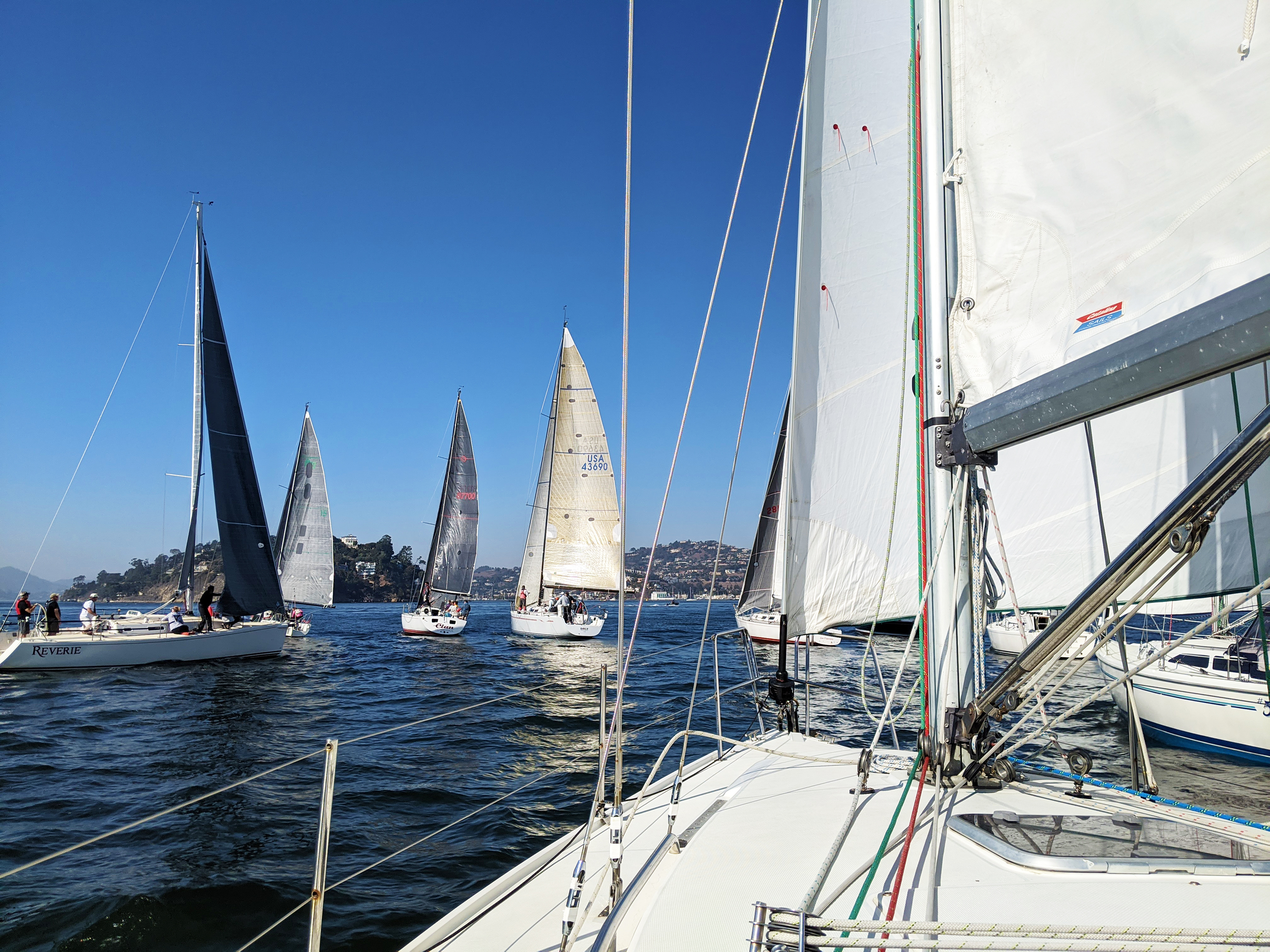 This multi-day race clinic provides racers with introductory training in the fundamentals of racing: tides and currents, sail trim, basic tactics, starts, rounding marks, and basic spinnaker training. Graduates have the opportunity to join the Modern Sailing Race Team in local yacht club races. During the races, participants rotate through different roles (skipper, main sail trimmer, jib trimmer, tactician) in order to gain skills and confidence in each role.
There are four modules to the clinic:
Fundamentals Classroom Session
Sail Trim
Starts and Marks
Spinnaker Training
The clinic is held multiple times throughout the year: Spring, Summer and Fall.
Find out when the next clinic is scheduled.
PREREQUISITES
ASA 103, Basic Coastal Cruising certification or equivilent experience is required to participate in the Recreational Race Clinic.
CLINIC PRICING
Members: $875
Non-members: $1050