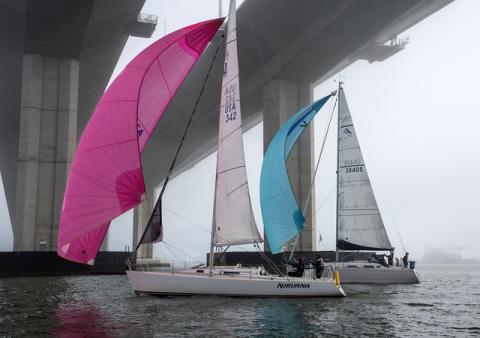 Three Bridge Fiasco race teams encountered mixed conditions on Saturday, ending the day thankfully with more wind than they usually see this time of year. This contributed to a good number of boats being able to officially cross the finish line before the 7:00 PM cut-off, but as to be expected, many didn't make it in time. Among the four Modern Sailing teams who raced in this year's 3BF, here's how they ranked!
Katie Cornetta and Barbara Briner will receive the two bottles of fine wine promised by our CEO Leigh Hunt! Well done, Team Nirvana!!!
You'll find all the official race results here: Singlehanded Sailing Society 2023 Three Bridge Fiasco Race Standings
Below, see a few photos from race day and read about Katie and Kira's race experiences, in their own words.
---
Kira Maixner and Philip Strause - Team Resolute

"This year's Three Bridge Fiasco was a huge success in my book. Of the past six 3BFs I've participated in, I've only finished two and this year's was one of them! The weather didn't disappoint and Philip and I were challenged with all sorts of conditions including fog, low wind, strong tides at exactly the wrong moments (going around Red Rock) and a good strong SF Bay breeze for the last upwind leg. Despite Phil's generous iPhone sacrifice to Poseidon, we came in 2nd of the three Modern teams. Early on we made some really good calls like tackling Red Rock after rounding Blackaller instead of Treasure Island, that helped us pull ahead of the pack. Though we received a 20 minute penalty for crossing the starting line early (oops!), we still feel good about the race overall. This year, the 3BF did not disappoint!" - Kira Maixner
This photo illustrates the change in conditions our teams experienced from morning to afternoon on January 28. We don't have any photos of Kira aboard - but Poseidon does!
---
Katie Cornetta and Barbara Briner, Team Nirvana
"It was a densely foggy and cold morning when we set out. We had to carefully navigate with one hand on the radio and another on the AIS. The fog just started to clear as we hit the city front and light easterly started to build. It was just enough to keep the boats moving by the time the J/105s started at 10:00. We had an excellent start to windward and ahead sailing downwind with the spinnaker.
Nirvana and Twelve-Winded Sky duke it out as they sail under the Bay Bridge. (We love this photo so much, we bought it from from the pros at www.h2oshots.com!)

"The vast majority of boats went straight for the Blackaller buoy, making for an extremely exciting rounding as dozens of boats were rounding from both directions! With about 20 boats piled up in light air to the south of the buoy, we opted to take a slightly longer way with clear air on port tack and rounded the mark a bit wider to avoid the starboard tackers, but got ourselves back to the tide relief in the shallows of the City Front. We were tossing the coin on which way to go at this point! It was a tricky decision with light air all around the bay and a wind forecast that looked to favor the south side, so we took off to round Yerba Buena.
"This was San Francisco Bay racing turned on end. Instead of short tacks along the city front in a flood, the southeasterly had us taking short tacks in an ebb to stay in tidal relief along shore. As we made our way towards Yerba Buena it stayed exciting with non-stop port starboard crossings as all the boats were trying stay as close to the city as possible. Rounding Yerba Buena, the wind got lighter and lighter, but we were able to hoist the spinnaker again. Making for Red Rock was the slowest part of the day until the wind built and switched to the west, making for an exciting reach up to Red Rock under spinnaker! We rounded it to port and headed back to the city.
"We thought the flood hadn't started along Angel Island yet, so we headed for current relief behind Alcatraz and then short tacked again along the city front in a gusty westerly in a flood!  If we weren't tired already this really did us in! This seemed to be our biggest error in our strategy. The boats that won our division took Racoon Strait instead and reached back towards the finish line off of Golden Gate Yacht Club.
"We finished at 16:34:06 and had a lovely spinnaker run home as the sun was setting. A fantastic Three Bridge Fiasco all in all! Thanks to Barbara for a great day!" - Katie Cornetta
Barbara Briner is a Modern Sailing club member and a very active participant in our Race Program.