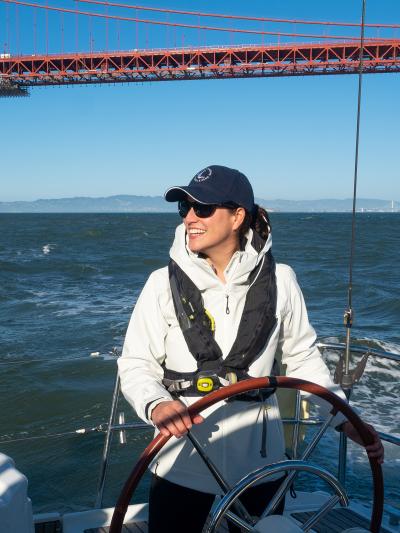 Racing Coach & Instructor
Growing up in Fort Lauderdale, Florida, Laura was influenced at an early age by the ocean, boats and waterways of her hometown as well by as her father's career as a Port Everglades Pilot.
After earning her degree in Ecology and Evolutionary Biology at Tulane University, Laura followed her dream and the call of the sea. Achieving her 100-ton USCG master's license at age 23, she logged 20,000 nautical miles over 9 years working as crew, watch officer, or captain on a variety of vessels: traditional sailing schooners, tourism boats, racing yachts, megayachts, and expedition ships. Laura has lived in Boston, MA and Newport, RI where she began racing on J24s, worked on 12-meter sloops, and spent a season racing throughout the Caribbean.
During the last three years of that time, Laura landed a position as Third Mate then became Second Mate for Lindblad Expeditions in Southeast Alaska, the Pacific Northwest, and Baja's Sea of Cortez standing watch and driving zodiacs on National Geographic small-ship expeditions. Deciding to take a break from the merchant mariner's life, she dropped anchor in the SF Bay Area to begin working in the travel industry in which she became an expert in Latin America adventure travel and Polar expeditions.
Laura has been teaching clients and friends about sailing for many years informally, but since the pandemic, she began her instructor certification process with the American Sailing Association. She loves teaching new sailors, especially women, and instilling in them the confidence to be the captain of their own ship!
Additional Images: