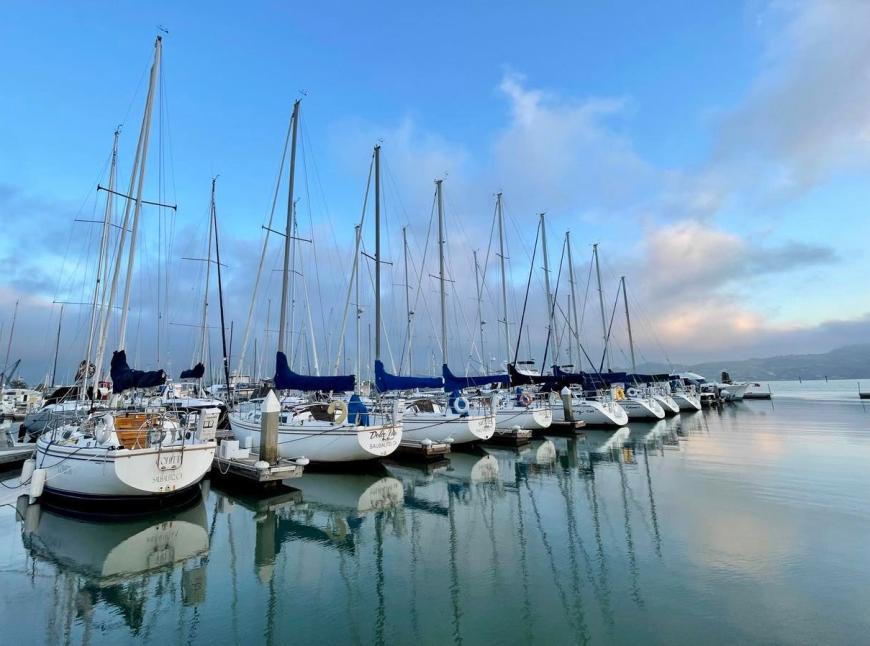 San Francisco Bay Sailboat Rentals and Bareboat Charters
Are you looking for a bareboat sailboat rental on San Francisco Bay? Look no further. At Modern Sailing Sausalito and Berkeley, we have a robust fleet of sailboats and catamarans available for charter within the waters of San Francisco Bay. Yachts range from 30 to 44 feet in length and are expertly maintained by our experienced and skilled fleet technicians. Yacht charters are available year-round with the option of a bareboat charter or skippered charter. 
Our fleet of sportboats in Berkeley are a fun option for crews of 2 to 4 to enjoy an active day of sailing. With a fleet of ten J/24s and a J/80 for when you're ready for something a bit more exciting, you're always able to get out on the Bay.
Modern Sailing members can get qualified to charter our Sportboat Fleet by completing ASA 103, Sportboat Coastal Cruising or the Upgrade to Sportboat Fleet Clinic. 
Our Silver Fleet is the largest fleet of Catalina 30s and 320s in the Bay Area. A dependable and spacious yacht, the Catalina 30 was a popular design that launched in the late 1980s. Our Catalina 30 fleet is used for private and group sailing lessons all year long, rain or shine. Larger than the Catalina 30, the Catalina 320 has a sporty racer/cruiser design that delivers both sailing performance and spaciousness below deck. These yachts are perfect for a day or evening sail on the SF Bay with your closest crew.
Club members can rent sailboats in the Silver Fleet after successfully completing a Fleet Rating Checkout on any size vessel or by completing the ASA 103, Basic Coastal Cruising course at Modern Sailing. Hire a captain for a Skippered Sail to enjoy the bay if you are not a Modern Sailing club member.
Our Gold Fleet consists of Beneteau, Jeanneau, and Catalina yachts ranging from 35 - 37 ft. long. Enjoy a luxurious sail with the modern amenities that these yachts are renowned for. Conveniently rigged, these yachts feature stack-packs, in-mast furling, dutch reefing systems, and dodgers. The interiors of our Gold Fleet sailboats astound with sleek designs, spacious galleys, and comfy berths. Gold Fleet yachts are popular for day sails and overnight charters at Angel Island, Paradise Cove, and Jack London Square.
Experience all that the SF Bay has to offer - in style. Complete with all the amenities needed for simple, comfortable sailing, these Dufour, Jeanneau, Beneteau, Fountaine Pajot, and Seawind yachts will complete your bay sailing experience. Sized 38 to 40 feet in length, their spacious designs can accommodate 6-8 guests overnight with room to spare.
Pricing Structure
Pricing is tiered and varies according to vessel size and age.
Only Full Day [9:00am - 8:00am the next day] reservation types are bookable online. Please call our office at (415) 331-8250 or email us if you'd like to make a Sunset [4:00 - 8:00pm] reservation.
Pricing is subject to change without notice. Learn about club membership or hire a captain for a Skippered Sail if club membership isn't for you. 
How to Get Fleet Rated for Bareboat Chartering
Bareboat charters are available for members only who have successfully completed the required ASA Certification Courses or have undergone a successful Fleet Rating Checkout.
New members who are beginners can gain access to our fleet by completing ASA Certification Courses at Modern Sailing:
Completion of our Berkeley ASA 103, Sportboat Basic Coastal Cruising certifies sailors to charter our Berkeley Sportboat Fleet.
Completion of ASA 103, Basic Coastal Cruising on a 30'+ cruising boat in Sausalito or Berkeley certifies new sailors to charter Silver Fleet (30' – 32').
Students who completed ASA 103 on a cruising boat can add the Sportboat Fleet rating by completing the Upgrade to Sportboat Fleet Clinic.
Students who completed ASA 103 on a tiller-steered sportboat can add the Silver Fleet Rating by taking the Upgrade to Silver Fleet Clinic.
ASA 103 graduates who have skippered 4 on-the-water days (4 or more hours each) can qualify to charter the Gold Fleet by completing the Gold Fleet Upgrade Clinic.
Completion of ASA 104, Bareboat Cruising certifies sailors to charter Silver, Gold (33' – 37'), and Platinum (37' – 44') Fleets.
To charter catamarans, completion of ASA 114, Cruising Catamaran at Modern Sailing Sausalito is required. 
Experienced sailors joining the club are not required to possess certifications, but must submit a sailing resume and successfully complete a Fleet Rating Checkout with one of our instructors. To get started on scheduling a Fleet Rating Checkout, complete and submit this electronic Request Form.
If joining the club within 1 year after completing ASA 103 or above at Modern Sailing, a Fleet Rating Checkout is not required.
If rejoining the club within 1 year from the last charter, a Fleet Rating Checkout is not required.
How to Get Site Rated to Charter at Both Locations
Students who completed ASA 103 and/or are Silver Fleet Rated (or above) in Sausalito can get rated to charter in Berkeley by joining a Berkeley Orientation Sail.
Students who complete ASA 103 or are Sportboat Fleet Rated (or above) in Berkeley can get rated to charter in Sausalito by completing an Upgrade to Silver Fleet Clinic or Sausalito Orientation Sail.
Completing ASA 103 at one location and ASA 104 at the other location qualifies members to charter at both locations.
Once rated to charter at both sites, your original Fleet Rating will remain the same at both sites.
Click here to explore yacht charters on San Francisco Bay.
For more information, contact us. We would be happy to answer any questions that you have about membership and chartering.