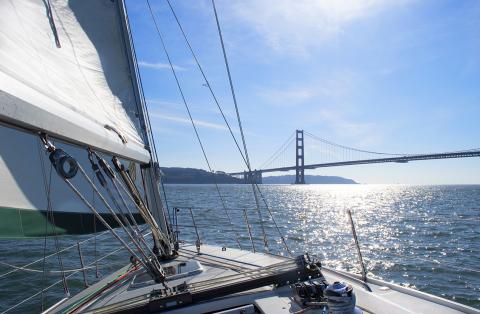 When an instructor certifies you to charter at Modern Sailing either by completing ASA 103 or a Fleet Rating Check-out, you've proven that you have what it takes to safely sail on San Francisco Bay. Are you ready to reserve your first bareboat charter? Besides your sailing skills, what else will you need to know to ensure your first charter goes smoothly? Where can you find the help and the information that new skippers need most?
Here are five resources and some bonus tips to help you enjoy a fun, safe and successful first charter. 
1) Experienced Crew
Whether you're an inexperienced sailor or an experienced sailor who's never sailed San Francisco Bay before, consider the importance of a skilled crew to support you. A first charter may not be the best time for an inexperienced skipper to take out friends and family who have never sailed. Ideally, invite one or more experienced skippers to join you as crew. Be sure to communicate your goals for the day before you agree to sail together. 
The sailing community is all about sailors helping sailors, and many experienced sailors are always willing (if not eager) to share their knowledge. The Bareboat Buddy List email distribution group and the Modern Sailing Facebook Crew List are helpful for finding crew who are not only experienced sailors, but experienced with chartering at Modern and with the unique challenges of sailing San Francisco Bay. Joining Club Sails is also a great way to meet experienced sailors and skippers. For everyone's safety, Club Sail capacity is currently reduced and masks are always required.
To request to be added to the members-only Bareboat Buddy List, simply send us an email.
2) Our Website
The new Member Resources page makes it easy to find our many in-house articles chock full of tips to help members make the most of their San Francisco Bay sailing charters. You'll also find lots of essential advice on safety and accident prevention.
3) Charter Forms
Our electronic charter forms are more than just pre-departure and post-charter paperwork. They contain important information to help reduce your risk of accident or injury. When a charterer skims over or skips "the fine print" and unknowingly ventures into hazardous areas or behaviors on the water, unnecessary damage or loss can occur, for which the charterer will unfortunately be liable. 
On the day of your charter, be sure to bring a mobile device able to access the Internet and your email, as you will need this technology to complete the "Boat Check-Out" (pre-charter) and "Boat Check-In" (post-charter) forms. We recommend that you carry your mobile device in a waterproof pouch on a lanyard to prevent its loss to the drink. A customer service representative will send you an email with links to both charter forms on the morning of your charter.
To make the inventory check on the Boat Check-Out Form go more quickly, engage your crew in helping you locate the boat's inventory items on the form's checklist. It's also helpful to have more than one crew member know where specific charter items are stored. After completing the boat's inventory checklist and reporting any existing damage, the form will then provide information about unique aspects of the boat, followed by the Skipper Responsibilities and Charter Policies agreement. This is where you'll find some of the essential information you and your crew will need to know to ensure a safe and successful charter.
The screenshots below show the three most important areas of the form to focus on (circled in green).

UNIQUE ASPECTS OF THE BOAT
Provides information on how to start and stop the engine, direction of prop walk, or advice specific to a feature of the boat.
SKIPPER RESPONSIBILITES: PREDEPARTURE
Please read and review this checklist with your crew before you cast off. 
SKIPPER RESPONSIBILITIES & CHARTER POLICIES AGREEMENT
This section advises you of your responsibilities of a skipper, details our safety-oriented charter policies, and provides emergency contact information. Be sure to review with your crew also. 
After signing and submitting your Boat Check-Out form, you will receive a complete copy of your submission in your email that you can refer to later if needed. (Check your Junk folder if it doesn't show up within 5 minutes.)
A copy of the Skipper Responsibilities and Charter Policies are also available on Our Charter Fleet webpage.
Note the key areas off-limits to Modern Sailing yachts:
Platinum Fleet and Catamarans: Pier 1.5 in San Francisco is restricted.
All Boats: Piers 39 & 41, Aquatic Park in SF, and Sam's Café in Tiburon are restricted.
All Boats: Anchoring at China Cove (northside of Angel Island) is restricted due to underwater hazards.
Charterers may not sail outside of San Francisco Bay beyond the line of demarcation between Mile Rock and Point Bonita.
Upon Returning To Dock
Use your "Boat Check-in: Skipper Responsibilities" electronic charter form as a guide for putting the boat away at the end of your charter, and be sure to submit the form before you leave the boat. After submitting your Boat Check-In form, you will receive a complete copy of your submission in your email.
3) Your Boat's White Binder
Every boat has a white binder containing the ship's papers: Coast Guard and insurance documentation, a tow service membership card, emergency contact information, and tips for operating your boat's unique features. The white binder will also contain paper copies of the charter forms for your reference.
4) Our Friendly Team
Need help finding a charter inventory item? Have a question about the boat? Call the office at (415) 331-8250 or on VHF channel 68. If necessary, the office will send a Fleet Services Specialist to assist you. 
For sailing and docking-related advice, ask to speak with one of our licensed captains. During business hours on any given day, Captains Bill Moreland, Leigh Hunt, or Kira Maixner are available for questions.
5) Practice and Additional Training
You've demonstrated that you have the skills to safely charter a Modern Sailing yacht, but sometimes even when the skills are there, the confidence isn't quite. If you're newly ASA 103-certified and feeling a bit shaky about chartering for the first time, some additional practice and training will grow your skills and boost your confidence.
Docking seems to cause the most anxiety for new skippers, and the ASA 118, Docking Endorsement Clinic is a favorite way for sailors to learn strategies for coping with the complications of wind and current and increase confidence when it comes to docking. 
Sailing Clinics, RDevelopment Sails, Private Lessons, Club Sails, or simply crewing on another member's charter are all excellent ways to prepare for your first charter.
6) Bonus Tips for New SF Bay Sailors
Surprise! We're not done after five... We've assembled some valuable bonus tips from our instructors specifically for sailors new to SF Bay.
Avoid sailing close to the Golden Gate Bridge towers, especially the south tower. Dangerous eddies near the towers have caused boats to collide into them.
Always check the wind and tides and plan your sail accordingly. Windandtides.com is a useful resource specific to SF Bay.
During an ebb tide, chop in the mouth of the Bay (the Golden Gate Strait) can make for a very bumpy ride, risking injury to your crew and damage to the vessel. Inexperienced skippers and crew are advised to avoid this area.
Practice reefing at the dock with your crew.
Preset a reef in the mainsail at the dock if the wind is forecast to be 15 knots or above, and 2 reefs if forecast to be 20 or above. Rule of thumb for SF Bay: It's always easier to shake a reef out underway than it is to tuck one in.
Before setting sail, practice docking once or twice in the morning when the wind is calm. 
Wind noise may hamper communication with crew, especially crew at the bow. Practice hand signals that you may need to use to communicate manuevers. 
Time your return to dock for just before sunset when winds are most likely to be calm.
If you return in the afternoon when the wind is up, you may call the office on VHF channel 68 to ask for personnel to stand by and be ready to catch your lines when you come in. The office will be in VHF range after passing the Spinnaker Restaurant.
Ready to book your first charter?
Do you enjoy booking with our friendly customer service team? Contact us. We'd love to hear from you!
Article by Mary Elkins on August 27, 2020