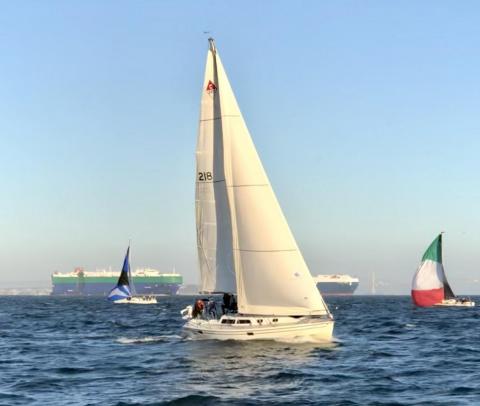 Some of San Francisco Bay's challenge and appeal as sailing grounds is the fascinating array of ships, tugboats and pilot boats, Coast Guard vessels, dredgers, tourist and commuter ferries, and many kinds of power and sailboats that share the Bay. The most awesome and fearsome of these are the large commercial ships.
As we all know, these massive vessels are surprisingly fast through the water but are very slow to alter course. For this reason, sailboats are always the "give-way vessel" in every navigation situation. To give ships a safely wide berth, you'll need to keep eyes and ears open for approaching vessels, especially when conditions are hazy or foggy.
Here are some tips to help inform your avoidance maneuver planning.
Where is that ship going?
When you see a vessel approaching, plan to stay out of its path by knowing the location of shipping channels and where ships are likely headed. 
This chart image of the central bay provides details on the buoys that delineate shipping channels, as the well as arrows showing the direction of traffic in the channels.

Study your SF Bay chart and know the locations of important navigation buoys - in particular, Blossom Rock, Harding Rock, Little Harding, Little Alcatraz (GR"AZ" bell buoy) and the mid-channel markers east of Angel Island.
Built from AIS data tracking, this brief video reveals typical traffic patterns in SF Bay. You'll see that westbound ships leaving the bay often follow the main channel that lies between Alcatraz and Angel Island (Harding Rock and G1 buoys). Inbound ships often follow the channel between the city front and Alcatraz. Cruise ships travel along the city front west of Alcatraz on their way out.

Compare this video with the central bay chart area to identify where ships make their turns.
Automatic identification system (AIS) technology uses transponders on vessels to transmit vessel information, location, heading, and/or destination. This information is used by vessel traffic services to help monitor and guide traffic, and the technology comes in handy for sailors confronting conditions of poor visibility with no radar aboard. Mobile apps put AIS technology in the palm of your hand, and there are many available in the Apple App Store and Google Play to choose from.

Keep in mind that not every vessel has an AIS transponder. There is no substitute for crew on watch, so never rely on AIS alone to keep you safe.
Two Suggested Mobile AIS Apps
| | |
| --- | --- |
| Ship Finder Lite |   |
| | Not available for Android devices. Love SF Lite? Upgrade to the full ad-free Ship Finder for $4.99. |
| | |
| --- | --- |
| Marine Traffic |   |
| | Highly rated! AIS data and nautical charts with pilotage information available for use within the app (additional cost for chart, read app description for details). |
Article by Mary Elkins on October 8, 2019