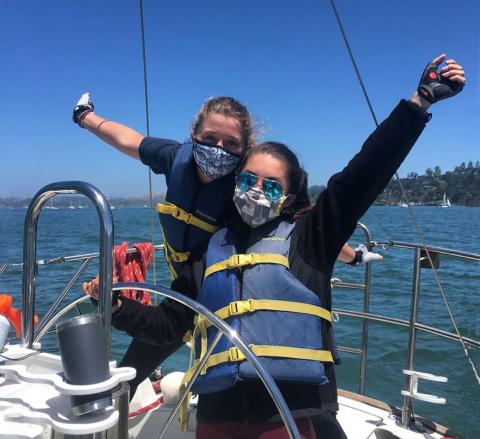 Purchase your Modern Sailing Club Membership Initiation online and gain instant access to all the benefits of membership!
Monthly membership dues are $45 per month and begin on the 1st of the month after you sign up.
There are no contracts to sign - membership is month-to-month.
After purchasing, you'll immediately be able to sign up for any ASA Course, Sailing Clinic, or Local Expedition at the discounted member rate, sign up to join Club Sails, and begin getting qualified to bareboat charter.
Two sailors can share a membership for $60/month. To convert your Individual Membership to a Partner Membership, please contact our office. (Contact information is provided below.) There is no additional initiation fee to convert to a Partner Membership.
Be sure to check out the Member Resources section of our website for helpful information about your Modern Sailing membership and sailing San Francisco Bay!
---
LINKS TO PURCHASE ONLINE
For Students and Non-Charterers: Purchase Membership Initiation Online - $375 (Purchase this package if you do not require a Skills Check-out because you have completed a qualifying ASA certification course at Modern Sailing within the last 3 years, or if you do not wish to bareboat charter.)
 
For Experienced Skippers and Charterers: Purchase Membership Initiation + Skills Check-Out Bundle - $500 (Purchase this package if you are an experienced sailor who does not wish to take a qualifying ASA Course and would like to qualify for chartering by performing a Skills Check-out with one of our instructors.)
---
Bareboat Qualification for Experienced Sailors
Are you an experienced sailor who would like to bareboat charter? After you follow the link above to purchase your Membership Initiation and Skills Check-out Bundle, be sure to also request to schedule your Skills Check-out by filling out this online form:
Request Form: Checkouts, Challenges, Private Lessons
.
ASA Courses for Bareboat Charter Qualification
Students may qualify for bareboat chartering by successfully completing the following courses at Modern Sailing School & Club (within the last 3 years prior to membership initiation):
 
Novice Sailors Can Save $$$ with these Membership + Course Packages!
Are you planning on taking two or more ASA Courses, beginning with ASA 101? Check out our money-saving ASA Course / Membership Packages, which are also available for purchase online.
Questions? Please contact our friendly Customer Service Team at (415) 331-8250 or send an email to office@modernsailing.com.