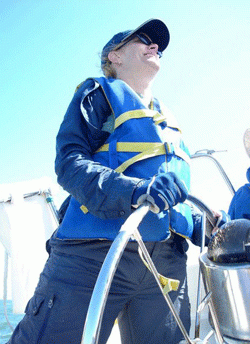 Check out our most popular package! If you are looking to gain the skills and experience necessary to skipper a sailboat on San Francisco Bay, this is the perfect money saving package for you! Included in this package is a Club Membership, which will give you access to sail our fleet and great discounts on courses. This special includes the first three levels of the American Sailing Association certification scheme.
After successfully completing these three courses, you will feel confident and comfortable chartering boats up to 44 feet for day sails and overnights with friends and family!
Modern Sailing Club Membership Initiation Fee*
ASA 101, Basic Keelboat Sailing
ASA 103, Basic Coastal Cruising
ASA 104, Bareboat Cruising
ASA 118, Docking Endorsement
Site Orientation Sail
$3565 - Save $395!
To purchase, please call us at (415) 331-8250, email us, or Purchase Online. (Enroll in courses after purchasing this package.)
*Monthly dues are $65 individual / $80 partners and begin the 1st of the month following initiation.