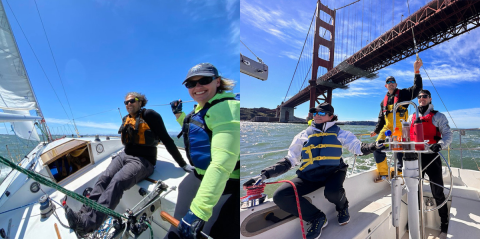 At Modern Sailing, we recognize that a broad range of interest areas exist within the world of sailing, and our two locations in Sausalito and Berkeley strive to provide the widest variety of boats and sailing opportunities available to beginning and experienced sailors in the Bay Area.
The variety of boats at our two locations gives beginning students two learning tracks to choose from - the Cruising Boat Track or the Sportboat Track. Once you've completed ASA 101 on either track, you will take your second course, ASA 103, on the same track. However, know that both tracks lead to ASA 104, which is taught aboard a 35' to 40' cruising boat. (We'll explain this more as we get deeper into this article.)
If you're a beginning sailor, it might be difficult to know which track is the right choice for you. To help inform your decision, let's have a look at the differences between sportboats and cruising boats and what the experience of sailing either type might be like for you.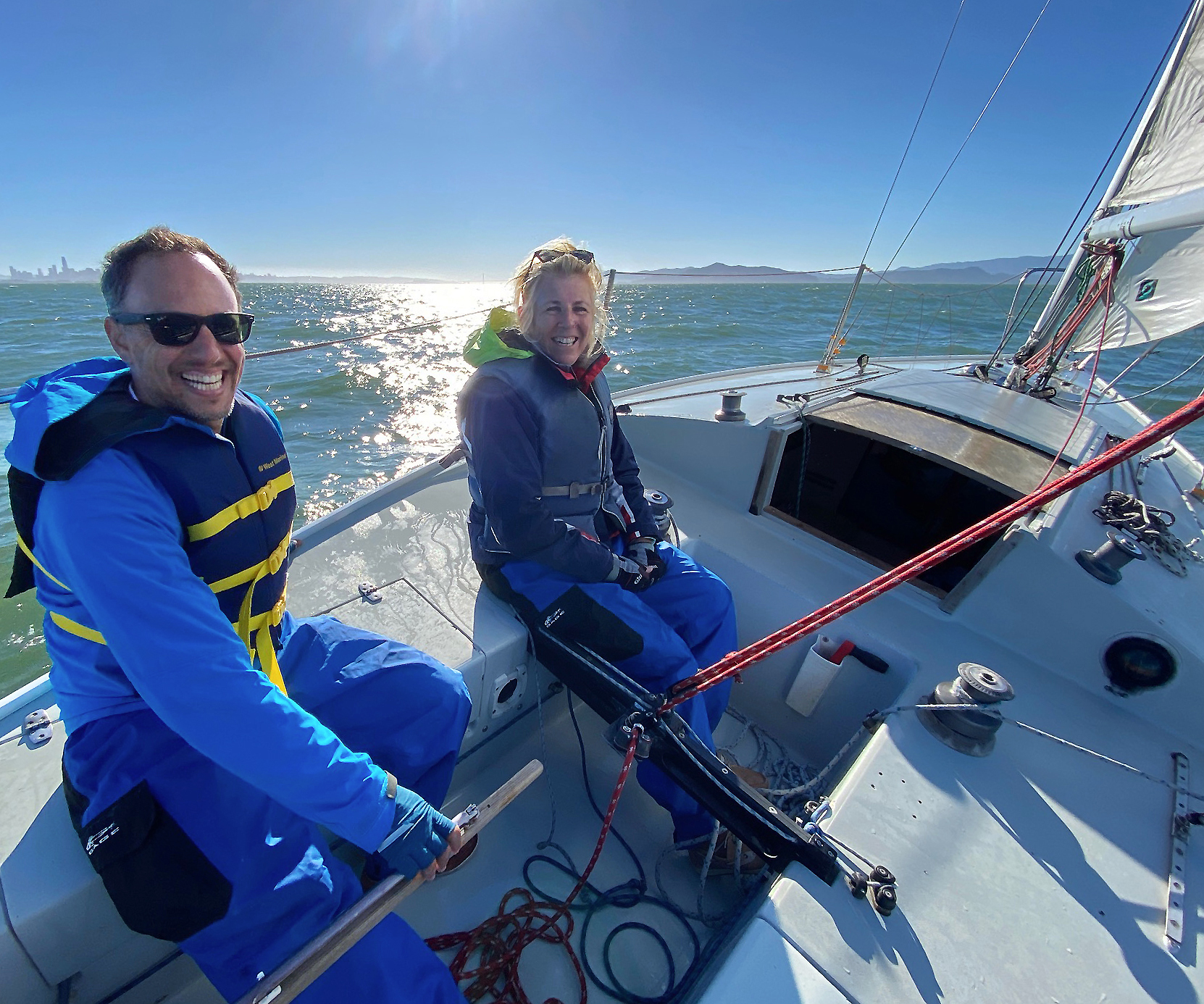 About Sportboats
Starting your sailing education on the Sportboat Track in Berkeley, you'll take the first two courses in the ASA series, ASA 101 and ASA 103, on J/24 boat model. Class size is limited to three students.
These nimble, zippy 24-foot boats come equipped with tiller steering and 4-6 horsepower outboard motors. Their rigging is technical and manual, giving you lots of ways to control the shape of the sails. Before you go sailing, there is some work to do to prep the boat. This includes "hanking on" (attaching) the jib (headsail) to the forestay and running sail control lines from the sails to the cockpit and/or mast where crew members can reach them. Before you exit or enter the Berkeley Marina, both sails need to be hoisted so that you can fall back on your sailing skills should the little outboard motor struggle against strong wind or currents.
These sportboats are also considered light and "tender," which means their motion on the water is more readily influenced by the forces of wind, waves, and weight. Shifting crew from side to side around the cockpit or decks of a sportboat will affect the angle at which it sits in the water. Also, small modifications to sail size or shape will change the way the boat handles. Through the tiller as you steer, you will be able to perceive these changes easily. This kind of instant feedback will teach you a lot about sail trim, and this knowledge will benefit you if you choose to pursue racing or start sailing bigger boats.
Below deck, it's apparent that the sportboats are built for recreational daytime sailing and racing. There are no electrical outlets nor a galley stove. You'll find a portable cassette toilet, a galley sink, and a portable ice chest. The berths provide just enough room for an average-sized adult to lie down.
The sportboat's low profile means that crew will sit closer to the water, making for a high probability of getting splashed in mild to moderately windy or choppy conditions. You'll want to be prepared for this inevitability by wearing appropriate foul weather gear (or any waterproof outerwear) that will keep you dry. (Learn more about how to dress for sailing on San Francisco Bay to stay warm and dry.)
Given their high-performance characteristics, sailing these responsive and maneuverable J/24s and J/80s in the windy Berkeley territory can be a thrilling experience! They also sail swiftly in light wind, which means you can enjoy sailing even in the wintertime when the wind is often very light or fickle.
If you enjoy adrenaline-boosting outdoor adventure sports, learning to sail on the Sportboat Track may be the next exhilarating challenge you are looking for. Keep in mind that once you have completed ASA 101 and ASA 103 on a sportboat, you can always take an additional ASA Course or Sailing Clinic to add cruising boats to your skillset.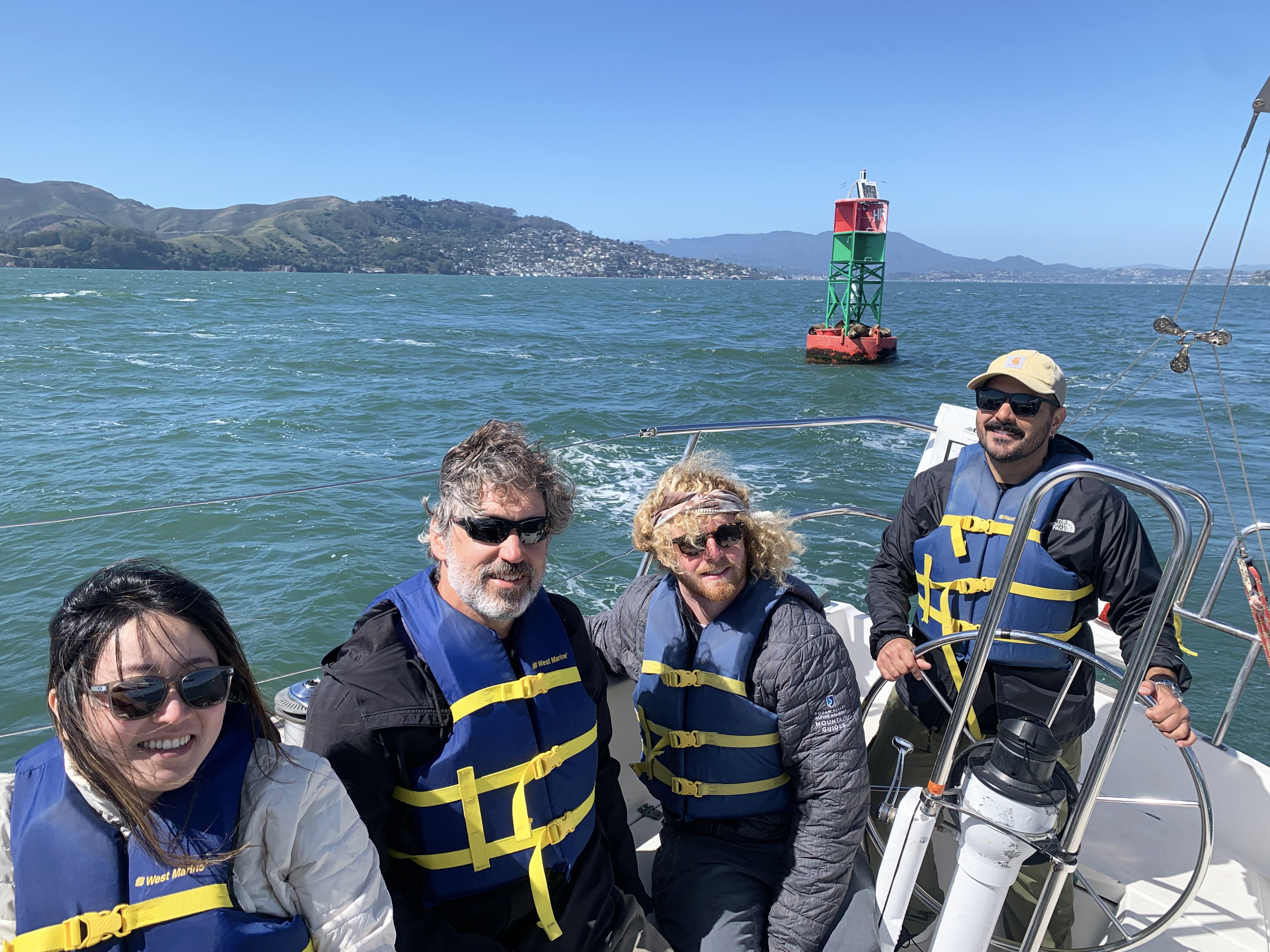 About Cruising Boats
Starting your sailing education on the Cruising Boat Track, you'll take ASA 101 and ASA 103 on a Catalina 30 (like Cohiita) or Catalina 320 (like Phoenix). Cruising Boat Track courses are available at both Berkeley and Sausalito, which means you have more options on the calendar to choose from. Class size on cruising boats is limited to 4 students.
These sturdy 30' to 32' sailboats are equipped with an inboard diesel engine that can power through wind and currents outside the marina. The jib rigging is less technical because the jib is on rolling furler, meaning it doesn't have to be hanked on, hoisted and doused, just unfurled (pulled out) or unfurled (rolled up). Perhaps the biggest difference for new students is that the Catalinas are wheel-steered rather than tiller-steered, which can make learning to steer a bit easier since it's more like steering a car.
In contrast to sportboats, cruising boats are heavier and more stable. They are less "tender" - it takes stronger wind and waves and more weight to affect their motion and balance. Small changes to sail trim will be less perceivable. The cockpit and deck are higher above the waterline, which means drier sailing. It's still possible to get wet, but it will take choppier conditions to produce a splash big enough to reach you. Aboard a cruising boat, even on seemingly calm days, it's always a good idea to keep your foul weather gear with you. You never know when you might need it.
Below deck, cruising boats are designed for sailing longer distances and living aboard in reasonable comfort. The Silver Trainers (some of the Catalina 30s) are less well-equipped for living aboard, but the Silver Plus, Gold, and Platinum Fleet models are ideal for overnight and multi-day charters. In most of our cruising boats, depending on the model, you'll find electrical outlets, a propane or alcohol stove and/or oven, a refrigerator and/or built-in icebox, freshwater tanks, a marine head (toilet) with blackwater holding tank, an onboard shower, a salon dining table, and comfortable berths for sitting and sleeping. These boats can be quite luxurious! Some also come with robust electronic navigation systems. The cockpits are also larger, enabling you to bring more crew along.
If sportboat sailing isn't attractive to you and you envision more relaxed cruising experiences in your sailing future, the Cruising Boat Track is an ideal starting point for you.
At this point in the article if you still feel unsure which track to choose, we recommend that you start with the Cruising Boat Track. In our experience, most beginning sailors will feel more comfortable learning aboard a bigger boat.
What if you choose the Sportboat Track and later decide you want to sail cruising boats?
Whether you choose the Sportboat or Cruising Boat Track, ASA 101 and 103 will lead to the ASA 104, Bareboat Cruising course on a larger cruising boat. In Berkeley, completing ASA 104 certifies Modern Sailing members to charter boats in our Platinum Fleet. Completing ASA 104 also makes members and non-members eligible to take any Sailing Clinic that is taught aboard a cruising boat.
Additionally, ASA 104 certification enables you to apply for your International Proficiency Certificate, which is required by many international bareboat charter companies worldwide.
Want to start chartering or learning aboard cruising boats before ASA 104, or simply not take ASA 104 at all? Completion of the 2-day Upgrade to Silver Fleet Clinic qualifies members charter 30' to 32' cruising boats and take any cruising boat Sailing Clinic with ASA 103 as a prerequisite. 
What if you chose the Cruising Boat Track and later decide you want to sail sportboats?
Complete the 4-day Upgrade to Sportboat Fleet Clinic in Berkeley. This clinic makes Silver Fleet Rated members eligible to charter the J/24s, J/80, and J/88. Upgrade to Sportboat students will also meet the prerequisites to advance their skills in our fun sportboat Sailing Clinics.
The table below provides a side-by-side comparison of the aspects of the Sportboat and Cruising Boat Tracks, with a few other details to take into consideration.
 
 

Sportboat Track

Cruising Boat Track
ASA 101 and 103 Boat Models
 

Tiller-steered J/24 or J/80
 

Wheel-steered Catalina 30 or Catalina 320
 

Student to Teacher Ratio
 
Propulsion
 

Inboard diesel auxilary engine
 

Sailing Characteristics




 

More sail controls
Lighter, more responsive boat
Greater probability of crew getting wet
Below deck, minimally equipped for day sailing

 

Simpler rigging
Heavier, more stable
Lower probability of crew getting wet
Below deck, equipped with comfortable liveaboard features
 

Recommended Fitness Level
 
Thrill Level
 
Racing Opportunities






 

Complete the Racing Clinic and Spinnaker Clinic in Sausalito to join Modern's professionally coached races on Catalina 320s in Sausalito or  J/105s (wheel-steered) in Berkeley



 

Options to Upgrade to Gold/Platinum Cruising Boat Fleet Rating


 

Completion ASA 101 and 103 leads to ASA 104 on a 38' - 42' cruising boat
Completing ASA 104 qualifies members to charter from the Gold and Platinum Fleets
ASA 103 graduates have the option to take ASA 104 in Sausalito

Completion of ASA 101 and 103 leads to ASA 104 on a 38' - 44' cruising boat
Completing ASA 104 in qualifies members to charter from the Gold and Platinum Fleets
ASA 103 graduates have the option to take ASA 104 in Berkeley

Add Sportboat or Cruising Boat to Fleet Ratings and and/or Clinic Eligibility

 

Complete the Upgrade to Silver Fleet Clinic after ASA 103 to gain access to charter Premium Sportboat Fleet and Silver Fleet and join any Sailing Clinic on cruising boats that have ASA 103 as a prerequisite.

Complete Berkeley's Upgrade to Sportboat Fleet Clinic after ASA 103 on a cruising boat to gain access to charter Sportboats and Premium Sportboats and join Berkeley's sportboat clinics.

 

Get Site Rated to Sail at Both Locations (members)

After ASA 103 in Berkeley, complete a Sausalito Orientation Sail, or
After ASA 103 on a sportboat, complete the Upgrade to Silver Fleet Clinic, or
Complete ASA 104 at the location where you did not take ASA 103 (Sausalito)

After ASA 103 in Sausalito, complete a Berkeley Orientation Sail, or
After ASA 103 on a cruising boat, complete the Upgrade to Sportboat Clinic in Berkeley, or
Complete ASA 104 at the location where you did not take ASA 103
Learn more about how to get Fleet Rated for bareboat chartering.
Do you have questions or need some help making your decision? Please contact us for assistance. Our friendly office team is happy to help!