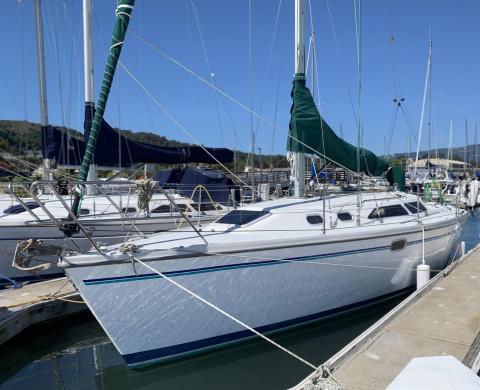 Phoenix is a Catalina 320 in our Sausalito Silver Plus Fleet. The 320 features modern construction with Catalina's hallmark comfort value. With a high-performance and large volume hull design, the 320 is light on the helm and tracks well under sail or power. Motion and heeling are gentle and predictable. Phoenix makes a comfortable multi-day charter yacht as well as a fun and nimble performer under sail.
Host up to six guests with a spacious cockpit, stern pulpit seats, and comfortable forward and aft cabins.
Beyond bareboat charters on San Francisco Bay, Phoenix is used for Modern Sailing's Race Program. Interested in racing aboard Phoenix? Learn more about our Recreational Race Program and join the team for some fast and fun competition on the Bay!