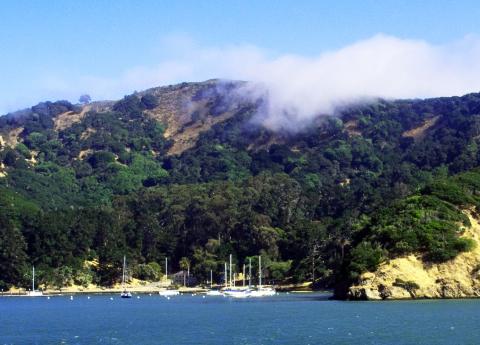 Angel Island State Park is the largest natural island in the San Francisco Bay and is an attractive destination for bay boaters. Ayala Cove, accessible within Racoon Straight on the north side of the island, has the largest public docks and moorings on the bay and is well-protected from wind and swell. This makes Ayala Cove an ideal location for your overnight charter experience.
Treat your friends and family to a premier bay adventure with a sail to Angel Island. Dock or moor at Ayala Cove and barbeque on the boat or enjoy a picnic ashore. Explore the island's hiking trails and historic landmarks and let the spectacular views of the surrounding Bay Area take your breath away. 
---
DOCKING AT AYALA COVE
Available on a first-come, first- served basis, the docks offer 19 boat slips for day use (8:00 AM to sunset). The fee for day use is $15,* whether for a short time or the full day. If paying cash, bring exact change in case the register is closed. If a Ranger is not available, you may pay at the "Self Pay" station near the head of the boat dock. The California State Park Annual Day-Use Pass can be used to pay day use dock fees. Fees go toward maintaining the Cove.
MOORING AT AYALA COVE
Moorings are $30 per night.* From 10:00 PM to 8:00 AM, boaters are not allowed on the island without a permit to camp on one of the island's 9 campsites. The California State Park Annual Day-Use Pass cannot be used for overnight mooring.
Mooring Instructions
SERVICES AVAILABLE ON ANGEL ISLAND
Campsites
Convenience Store
Day Use or Picnic Areas
Gear Lockers
Ice Vending
Restaurant
Restrooms
Snack Bar
*Cash or check only. Prices are subject to change.
MORE INFORMATION
California State Parks Store - Purchase Annual Day Use Passes
Angel Island State Park - Ayala Cove Marina
Angel Island Conservancy - Boating and Camping
Angel Island State Park Ranger Station - (415) 435-5390
Ayala Cove Kiosk - (415) 435-5390
Questions? Email Us or call (415) 331-8250.