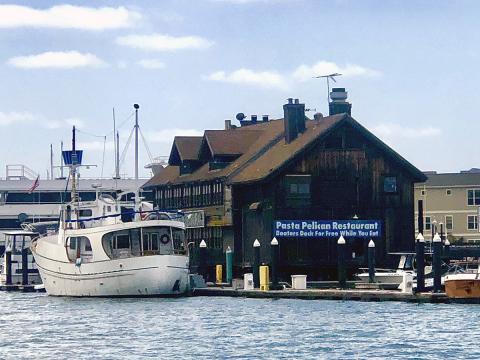 Are you craving some variety to spice up your San Francisco Bay sailing excursions? For a change of pace and scenery, try a dock-and-dine expedition!
This handy menu of Bay Area dock-and-dine locations will help facilitate your planning. We highly recommend calling ahead to check availability and confirm pricing. 
---
Sausalito / Richardson Bay Dock and Dine
Clipper Yacht Harbor / Fish Café
(415) 332-3500
Tie up on south dock for lunch at Fish Café.
Schoonmaker Point Marina
(415) 331-5500
Tie up on north dock for Le Garage Café.
---
Central Bay Dock and Dine
Ayala Cove Docks and Moorings
(415) 435-1915
$15 fee for day use. Tie up for Angel Island Café or use one of the park barbeques (bring your own charcoal).
Learn more about Visiting Angel Island by Boat.
Note: Sam's Anchor Café in Tiburon is prohibited to MSC charter boats due to shallow depth and high risk of running aground.
---
San Francisco Dock and Dine
San Francisco Marina
(415) 831-6322
Day rate: $2/ft. Tie up, walk to Marina District.
South Beach Harbor
(415) 495-4911
Day rate: $55. Tie up, walk north on Embarcadero to explore a wide variety of dining options.
Note: The guest dock at Pier 39 Marina is currently closed for construction. Please check the Pier 39 Marina website for updates.
---
Alameda / Oakland Estuary Dock and Dine
Jack London Square, Oakland Estuary
First come, first served.
Free tie-up, walk to numerous restaurants.
Pasta Pelican, Oakland Estuary
(510) 864-7427
Free tie-up if you eat at the restaurant.
Quinn's Lighthouse, Oakland Estuary
(510) 536-2050
Free tie-up if you eat at the restaurant.
Grand Marina, Oakland Estuary
(510) 865-1200*
Rate: $1/ft. Bike/Uber to downtown Alameda.
See our Local Cruising Guide: Jack London Square for detailed information about navigation, guest docks, and great restaurants in the Oakland Estuary.
---
East Bay Dock and Dine
Marina Bay Yacht Harbor, Richmond
(510) 236-1013
Day rate: $18. Tie up and walk to Lara's Café.
Berkeley Marina, Berkeley
(510) 981-6742*
Day rate: $18. Tie up, walk to Skates Restaurant.
---
North Bay Dock and Dine
See our Local Cruising Guide: 2-Day Tip - Sail to Benicia for a detailed list of guest docks and great restaurants accessible by boat in the North Bay Area.
---
Could your docking skills use some seasoning?
Our ASA 118, Docking Endorsement and Platinum Fleet Docking and Manuevering Clinic will help you get prepared to dock safely and confidently in a variety of conditions and situations.
---
Additional Resources