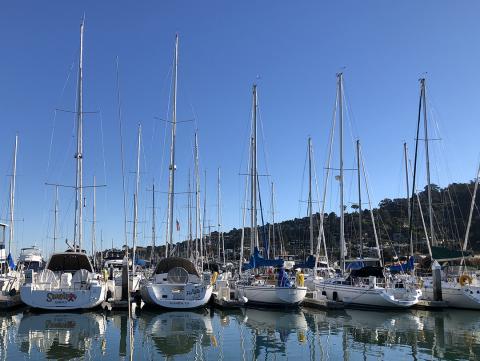 Love the idea of boat ownership, but not the maintenance? Place your yacht in the Modern Sailing charter fleet and enjoy more of the benefits of ownership while we manage the finer details of her care and berthing. Sail when you want to - we'll do the rest! When our members and students are sailing your yacht, her income helps offset her expenses.
Almost two-thirds of the Modern Sailing charter fleet are owned by third parties. Our boat owners help make it possible for hundreds of trained and vetted MSC club members to experience the joys of sailing San Francisco Bay in comfort and luxury with their family and friends. In return, a share of the charter revenue and professionally managed maintenance and repair services can lighten the costs of boat ownership. 
There is currently space available in our Silver and Platinum Fleets for sailboats ranging in LOA from 30 - 32' (<10 years old) or 38 - 44' (3-cabin model, <5 years old).
Boat Owner Testimonial
David Morris, owner of J/105 Resolute, listed for us in his own words what he appreciates most about having his boat professionally managed as an Modern Sailing charter yacht and teaching vessel:
It's the best way to own a boat because you get help and professional service.
Your boat is kept up to in tip-top shape with a full-time fleet staff.
Boat ownership can be very lonely when you're left to your own limited skills and knowledge, but Modern helps with regular maintenance.
You have access to a community and get to be around advanced sailors.
These advanced sailors with great knowledge, such as Katie, give you feedback on how to make your boat better.
There's a satisfaction as a boat owner that you are a part of community of sailors old and new.
You have the satisfaction that your boat plays a part for a new sailor who is beginning an exciting new sailing career.
What does it take to be a Modern Sailing Yacht?
Our members will enjoy vessels less than 5 years old and similar to Helix (Beneteau Oceanis 30.1), Fiore Italia (Beneteau Oceanis 31), Attitude Adjustment (Beneteau Oceanis 41), and Ry Whitt (Jeanneau Sun Odyssey 409). Less common models are gladly considered as long as they are less than 5 years old and appropriately equipped for bareboat chartering. Older models will be considered if they are in excellent condition. Eco-yachts such as the sensational Salona 41 are at the top of our wish list.
Benefits of Placing Your Boat in a Charter Fleet
Share charter revenue to offset the costs of ownership.
All the details of routine maintenance, cleaning, and repair services are managed and provided by Modern Sailing's fleet technicians and locally outsourced experts.
Berth at your choice of our Berkeley or Sausalito locations.
Sail your yacht when you want to - with advance reservation.
Receive the discounted member price on our ASA Courses, Sailing Clinics, and Local Expeditions.
To learn more about Modern Sailing's professional Yacht Management Services, please give us a call at (415) 331-8250 or send us an email.