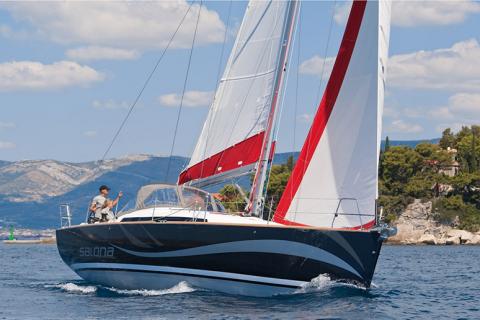 Passion for sailing, love of the ocean, and caring for the environment seem to go hand-in-hand, and many modern sailors are on the lookout for ways to reduce the impact that boating has on our environment while enhancing the sailing experience. And with electric automobiles now commonplace, you've probably guessed that the boating industry isn't far behind. 
As Sail Magazine wrote in 2018, it is not a question of if sailboats go electric, but when. For the benefit of our oceans and for boaters who want a quiet, no fumes, low-maintenance boating experience, Green Yachts, a nationwide brokerage specializing in green boating, believes the time is now. Over the last five years, advancements in marine electric propulsion technology have culminated in lower voltage, higher range, longer-lasting electric motors that can not only keep up with diesel engines, but also offer some distinct advantages: 
Low Maintenance - no oil, belt, or impeller changes and longer lifespan.
Improved Safety - no oil or fuel fires or spills.
Silent Operation - auxilary propulsion almost as pleasant as sailing!
No Diesel Fumes or Odor.
Are you an eco-minded sailor considering boat ownership, but leery of the effort and expense to maintain? We should talk! We currently have a vacancy in our Platinum Fleet and a 3-cabin version of the sensational Salona 41 with the Oceanvolt 10kW Electric Servoprop motor is at the very top of our wishlist. It doesn't get more modern than this!  
MSC provides our members with a wide selection of modern yachts to enjoy sailing SF Bay in comfort and luxury, and nearly two-thirds of our fleet are owned by third parties. Place your eco-yacht in the Modern Sailing School & Club charter fleet and:
Sail at your pleasure with advance reservation.
Your share of the charter revenue helps offset the costs of ownership.
MSC will manage the finer details of your yacht's care and berthing.
An electric motor is a huge advantage to boat owners and charter companies because it requires less maintenance and therefore offers more uptime in a charter fleet. Oceanvolt's white paper highlighting the profitability of an electric versus diesel-powered boat in charter supports this claim with actual data. Also, Green Yachts' 3-year guarantee offers reimbursement for lost revenue should the S41 ever become unavailable for charter due to Oceanvolt electric propulsion issues (unrelated to damage caused by accidents or operator error).
Interested in eco-yachts such as the Salona 41? Graham Balch, Managing Broker of Green Yachts in San Rafael can introduce you to the world of electric boating. As the nationwide brokerage leading the world in new and used electric sailboat and powerboat sales, Green Yachts also sells electric motors, custom solar arrays, eco-friendly bottom paint, and other green boating products.
Graham Balch, Managing Broker
(415) 755-5858
graham@greenyachtsales.com
https://greenyachtsales.com/about-green-yachts
 
---
Article by Mary Elkins on August 27, 2020