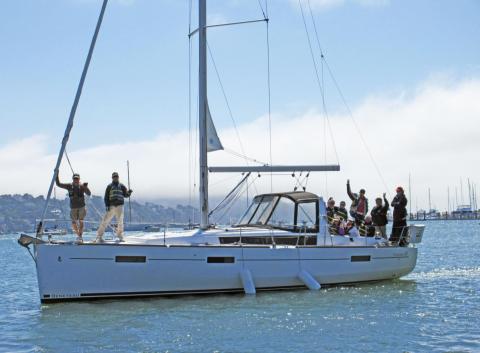 Each boat in the Modern Sailing charter fleet is unique in terms of capacity, features, and equipment. Choosing the ideal combination of features enhances your crew's overall enjoyment of the experience. To choose the right boat for your next charter, ask yourself these four questions:
What is your fleet certification level - Silver, Gold, Platinum or Catamaran?
How many people will be aboard?
What will be the duration of your charter (one day or multi-day)?
What are your preferred features and equipment?
We recommend calling to make your reservation two to three weeks in advance of your charter to increase the odds that your ideal boat is available for booking. The further in advance, the better your odds!
You can learn a lot about each boat by visiting the Boats & Rates webpage and clicking into each of the boat pages, but for your convenience, the MSC Boat Features and Specifications.pdf document embedded below provides all the same information in one place.
Each Fleet is listed on 4 separate pages, beginning with Silver. You'll notice that we've split the Silver Fleet into two types: Silver Trainers and Silver Plus.
Click on the boat's name to be directed to its webpage where you can see photos and charter rates. Scroll down over the embedded document to see all 4 pages. (The document may not fully display on some mobile devices. If not, tap here to view it.) 
Fleet Levels
Your choice of vessels first depends upon your fleet certification level. Learn more about how to qualify to charter from the Silver, Gold, Platinum, and Catamaran Fleets. 
Crew Size
The "Charter Comfort Rating" specifies the number of people that can comfortably share the cockpit while sailing. Over-crowding the cockpit can make the sail a less pleasant experience for everyone, so be sure to check this rating to ensure the boat accommodates your crew size.
Charter Duration
Are you sailing for one day, or are you staying aboard for one or more nights?
Note that some boats' overnight capacity ("Comfortably Sleeps Total #") and day sail comfort ratings can differ. The total overnight capacity counts all available berths, including salon settees.
Silver Plus vessels are preferred over the Silver Trainers for overnight charters.

Be aware that the Silver Plus v-berths are best suited for diminutive sailors or children and may not comfortably accommodate taller adults.
The aft cabins are quite roomy for sailors of all sizes.

The Silver Trainers are an excellent and economical choice for day sails.

Without functional stoves, ovens, and showers, most Silver Trainers are less suitable for overnight stays.
Light trainers such as Carita and Passion are perfect for practicing sail trim skills. Adjustments to trim will be readily apparent. Be sure to reef early.
Very few Silver Trainers are available on the weekends, as they are often being used for courses and clinics.

All Gold and Platinum yachts and catamarans are outstanding for both day sails and overnight charters. 
Did you know that you receive a discount for multi-day charters?

2 days = 10% discount off the total rate
3 or more days = 15% discount
These discounts are subject to change, but you will always receive at least a 10% discount for 2 or more days.
Preferred Features and Equipment
The MSC Boat Features and Specifications document provides detailed information about the equipment aboard.
Do you prefer a traditional mainsail,  in-mast furling mainsail, or stack packs and lazy jacks?
Do you consider autopilot, chart plotters, and RADAR to be features important to the success of your charter?
Also consider the liveaboard features that may be important to you and your crew's comfort and enjoyment.
Want to rock your favorite tunes over the boat's stereo system? Some boats have CD players, bluetooth, and/or audio jacks.
To keep your crew cozy on those chilly SF Bay nights, some boats feature diesel cabin heaters.
Consider your galley needs. Do your meal plans require a refrigerator, freezer, or microwave?
Love to grill? Some boats come with a BBQ. If your chosen boat does not have its own BBQ, you can request a rental when you make your reservation. The price to rent a BBQ is $25 per charter (regardless of the duration). Propane canisters are available for purchase in the office for $8, or you can bring your own.
Ready to book your next charter? Call our friendly office at (415) 331-8250 or email us. Our knowledgeable customer service representatives are happy to answer any questions you may have and help you make your reservation!
Article by Mary Elkins on June 18, 2020