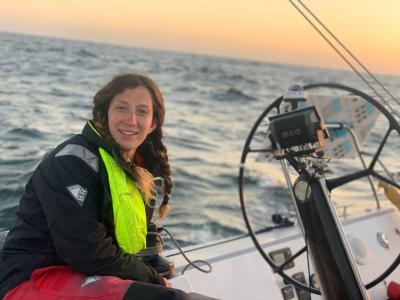 Assistant School Director, Berkeley
Katie is an avid racer, cruiser, and sailboat captain based out of Oakland, CA. Her sailing began right here in the Berkeley Marina at the Cal Sailing Club. There she got her first taste of sailing and racing on small boats, and since then has sailed and raced extensively aboard boats of all sizes. Her racing career has taken her on two trips to Hawaii, twice around Vancouver Island, and all over the West Coast of North America. She has navigated aboard many ocean and coastal races including two Vancouver Island 360 races, a Transpac, and a Pacific Cup, taking third in her division in 2014. Katie has also worked as a delivery captain on sailboats on the West Coast, in the Bahamas, and back from Hawaii. Her favorite cruising ground to date is the Inside Passage in British Columbia. 
Here in San Francisco Bay, Katie races and coaches aboard a wide range of boats, as well as racing her own Express 27. Katie began teaching sailing in 2012 and above all is passionate about passing on her love of sailing to others.