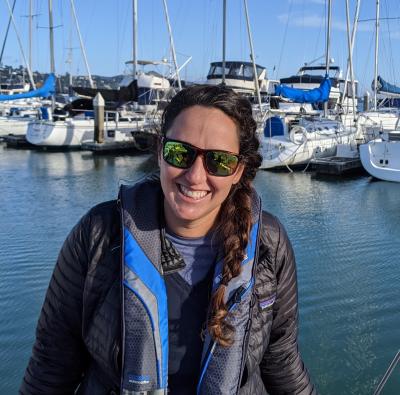 Assistant School Director, Sausalito
Captain Kira is a California Bay Area transplant after moving from landlocked Colorado in 2012. She has been boating since she was a youngster and sailing since the spring of 2013. After meeting a brand-new boat owner, she began sailing regularly on the San Francisco Bay. Her first sail was wet and wild aboard a J/88 racing yacht, but from that first day, she knew that sailing would play a huge part in her life. Soon she was sailing 3 to 5 times a week and taking lessons at Modern Sailing. In 2014, she finished her ASA 101, 103 and 104, between chartering on the Bay most weekends and planning sailing trips from San Franciso to San Diego and in Italy.
In 2016, Captain Kira joined the crew of a race team sailing from Miami to Havana. In Havana, the team took first place for that year's RORC Islands in the Stream Series. Kira was also on the crew that took 3rd place in the annual Rolex Big Boat Series that year. In December 2017, Kira began working towards earning her Captains License, earned it in 2018, and began teaching at Modern Sailing that spring.
Kira loves introducing new sailors to her favorite sport. While she enjoys teaching people from all walks of life, she is most passionate when it comes to women and sailing. She strives to create an inclusive and supportive community encouraging women to take the helm.
Alongside her role as Assistant School Director, Kira continues to teach ASA courses at Modern Sailing and challenges herself by participating as crew in world-class regattas.