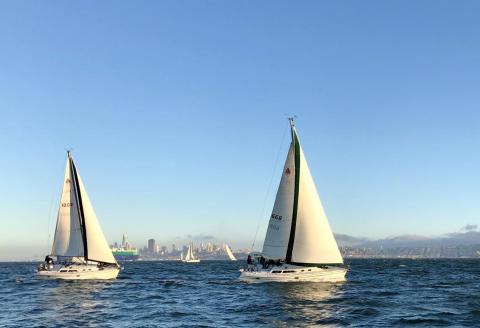 Now you can experience the refreshing exhilaration of sailboat racing on SF Bay - MSC's Recreational Race Program returns in August! The Golden Gate Yacht Club has scheduled Friday Night Beer Can Races August through September, and we've entered two to three of our boats in each race. To help limit the spread of COVID-19, crew are required to wear masks or other facial coverings.  
Recreational Race Clinic
To join MSC's Race Team, start by completing the Recreational Race Clinic. The Race Clinic begins with the Racing Fundamentals Classroom Session (held outdoors) on Friday, July 31 from 6:00 - 8:00 PM. For the on-the-water training sessions on the following Saturday, Sunday, and Saturday, two boats are available for up to 3 students each (a co-ed boat and a Wind & Women boat). As of July 15, the summer Race Clinic is fully booked, but cancellations can happen, so we encourage you to join the waitlist.
GGYC Friday Night Beer Can Races
The GGYC Beer Can Races run every other Friday night from 5:00 - 10:00 PM. Two co-ed boats and a Wind & Women boat are open for enrollment, except for August 7 (2 co-ed boats). Maximum crew size is 3 racers and one race coach/instructor. Racers and coaches are required to wear face coverings. MSC boats will be flying white sails only (no spinnakers) for these races.
August 7 
August 21 
September 4
September 18 
More races will be added to the schedule as conditions allow.
Need to stock up on races?
First, log into your Online Store account. Then, come back to this page and click on your choice of Race Packs below to purchase online.

*Single Race Drop-In can only be purchased after purchase of a Race Pack 5, 7 or 10.
Questions about our Recreational Race Program? Please call our office at (415) 331-8250 or email us.