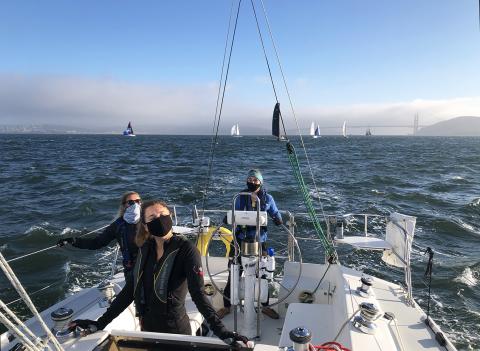 Now you can experience the refreshing exhilaration of sailboat racing on SF Bay! We've entered four Corinthian Yacht Club Fall Series Races and opened enrollment on our schedule for racers to sign up.
To help limit the spread of COVID-19, crew are required to wear masks or other facial coverings.  
Recreational Race Clinic
To join MSC's Race Team, start by completing the Recreational Race Clinic. 
CYC Fall Series Races
The CYC Fall Series Races run every other Saturday from 10:00 AM - 3:30 PM. Maximum crew size is 3 racers and one race coach/instructor. Racers and coaches are required to wear face coverings. MSC boats will be flying white sails only (no spinnakers) for these races. 
October 17 
October 31
November 14
November 28
If you find that there are no seats available, please join the waitlist. When we have three sailors waitlisted per race, we will open another boat for enrollment! 
CYC Friday Night Series Summer Season Results
Need to stock up on races?
First, log into your Online Store account. Then, come back to this page and click on your choice of Race Packs below to purchase online.

*Single Race Drop-In can only be purchased after purchase of a Race Pack 5, 7 or 10.
Questions about our Recreational Race Program? Please call our office at (415) 331-8250 or email us.