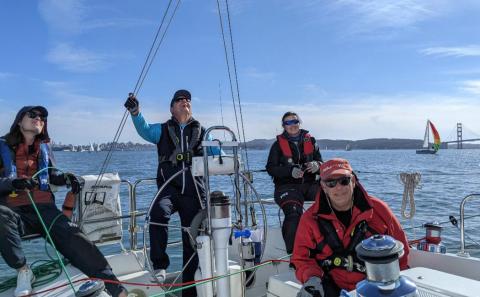 Why Race?
Beyond the obvious fun and challenge, learn about five of the life-enhancing benefits you can experience by racing  with the Modern Sailing Recreational Race Team in local yacht club races on San Francisco Bay.
1. Sailboat Racing Builds Sailing Skills Quickly
With a classroom session and three days of training on the water, MSC's Recreational Race Clinic will get you ready for the races. While racing with a USCG-licensed race coach aboard, you'll hone your skill base and learn advanced steering, sail trim, and spinnaker skills. Our more experienced racers are also happy to share their knowledge and help novice racers grow and learn. Racing in a wide variety of conditions, responding to strong currents, changing winds, and heavy boat traffic will become second nature.
Also, If you've recently completed your ASA 103 certification at Modern Sailing, the Race Clinic counts as 3 days earned towards your ASA 104 6 on-the-water days prerequisitie.
Our Recreational Race Program emphasizes continuous learning, teamwork, safety, and fun. Frequent participation in races will help both you and your fellow racers have a blast fast-tracking your sailing skills.
2. Expand Your Circle of Sailing Friends
As a member of our team, you'll have the opportunity to sail with and meet many other Bay sailors both within and outside of Modern Sailing. We also gather with other teams at local yacht clubs after races for awards ceremonies, refreshment, laughs, and sharing sailing stories.
If you're a woman interested in learning and racing with other women sailors, our Wind & Women Program will connect you!
3. Improve Teamwork and Communication
Are you a boat owner or bareboat skipper? You'll learn strategies to help your crew work together safely and efficiently while having fun. These skills can also carry over to your personal and professional life.
4. Physical Health Benefits
Sailing, and especially sailboat racing, can be great full-body exercise. Handling lines, steering, and moving about the boat engages every muscle in your body. When racing, you'll need to move more quickly than you ordinarily would on a leisure sail. Even simply seated, your core works to maintain your balance as the boat skips along. Learn more about the health benefits of sailing with the Health Fitness Revolution article "Top 10 Health Benefits of Sailing." Race as often as you can to enjoy these benefits.
5. Mental and Cognitive Benefits
All sailors know there's nothing like time on the water to clear and refresh the mind. You'll enjoy taking in some fresh air, beautiful scenery and an array of colorful race boats. Even in calm conditions, sailboat racing requires focus, invigorating the mind by giving it a break from everyday routine. Learn more about this benefit with the Discover Boating article "Your Brain on a Boat".
Racing in particular necessitates quick thinking and fast responses, helping to maintain and sharpen mental acuity. The continuous learning that comes with racing also promotes neuroplasticity, keeping your brain flexible, able to adapt and acquire new skills in other areas of your life. 
Ready to race?
You can get started by joining our next Recreational Race Clinic!
Learn More about MSC's Recreational Race Program
Our partner club in Berkeley, Inspire Sailing, also has a Race Program! 
Article by Mary Elkins on March 5, 2020
Updated July 14, 2022