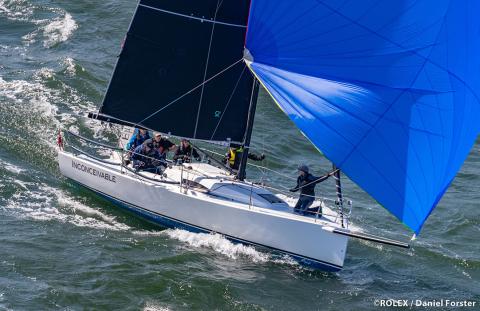 Students at Modern Sailing and our partner site Inspire Sailing are fortunate to learn from some phenomenal instructors who continually hone their skills and advance their knowledge through their own racing and cruising adventures.
Case in point, three of our instructors participated in the Rolex Big Boat Series again this year!
Cpt Kira Maixner - Jib and Spinnaker Trimmer, SV Inconceivable (J/88)
"I always love sailing at RBBS and this year was my seventh time participating in the event. Due to a series of unfortunate events in 2019 and 2021, my team hasn't made it to the final race since our first Rolex together in 2018. Our big goal in 2022 was to make it to the finish line on the fourth day with no injuries and no boat damages. This year we had all sorts of weather and winds that crescendoed into rain and squalls on the Day 4. Conditions were challenging on the last two days and competition was fierce in the J/88 Fleet. I'm happy to report that we made it to the final race on the final day and we even placed fifth! We had some great moments and met our goal, but next year we'll have to put it all together to climb to a space on the podium. I hope our fleet continues to grow and I'm already looking forward to RBBS 2023!"
Kira is Club Manager, Instructor, and Race Coach at Modern Sailing. 
Cpt Katie Cornetta - Trimmer and Tactician, SV Rakusu (J/105)
"This year's BBS was full of all the elements that make this event so much fun and then some!  We had big winds, strong currents, top boat speeds, and even rain and squalls on Day 4! I was on a J105, Rakusu, doing jib trim and tactics. The crew was comprised of a great group of sailors with great attitudes. Having never sailed together, we made huge progress over the weekend with a respectable ninth place finish in a 29-boat fleet; only six points out of fifth place! It was a fantastic regatta and can't wait to get out and do it again next year.
"We are sail # 157 leading the pack!"
Katie is an Assistant School Director and Race Coach at Inspire Sailing.
Cpt Laura Parent - Tactician, SV Eclipse (Express 37)
For the second year in a row, Laura sailed as tactician in the one-design Express 37 fleet on an all-female boat.
---
Interested in learning to race from amazing instructors like Kira, Katie, and Laura? Check out the race programs available at Modern Sailing and Inspire Sailing.
---
2022 Rolex Big Boat Races - Results
To see more photos of the Rolex Big Boat Series visit the Rolex BBS home page or Instagram @bigboatseries. Also, check out the work of talented photographer Daniel Forster.