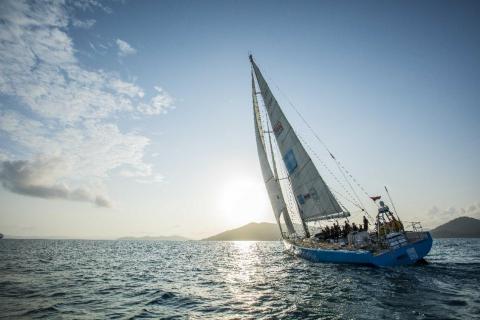 Clipper Round The World Yacht Race Update - January 2020
All the way from Fremantle, Australia, former Modern Sailing student and Global Destinations client Dr. Holly Williams sent us an update on her progress with Team UNICEF in the Clipper Round The World Yacht Race.
"Happy New Year, everyone! Leg 3 from Capetown, South Africa to Fremantle, Australia was a grueling 33-day slog through the Indian and Southern Oceans. We sailed an extra 1500 nm and 9 days with a diversion back to Durban for medevac of two crew - acute appendicitis and a broken jaw. This made our stopover in Fremantle extremely short but we managed to get the boat ready for Leg 4. We sailed around the southern tip of Tasmania and up to the Whitsundays, spending Christmas and New Year's at sea. My Team UNICEF came in 3rd place. Our fundraising and awareness campaigns for UNICEF have been going well. Much of this stopover has been taken up by sail repair but I did get to have one day off to go scuba diving. Tomorrow we begin Leg 5 of the Race - to China. Hope all is well with you. Cheers."
We admire Dr. Holly's dedication to sailing and to the advancement of children's wellness worldwide. To learn more about Holly and support her UNICEF fundraising campaign, visit her JustGiving page Holly's Clipper Round the World Race 2019-20. You can also read about, see photos, and watch videos of all the gritty, inspiring, and entertaining details of life aboard an ocean racing yacht by following the Clipper 2019-20 Round the World Yacht Race - Unicef page on Facebook.
Fair winds and following seas, Holly and Team UNICEF!