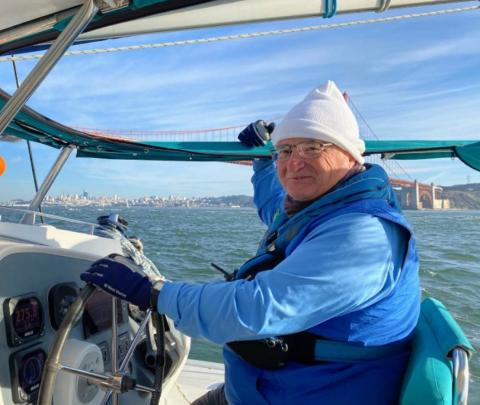 With the 2021 Club Ambassador Award, the team at Modern Sailing recognize Jim Haussener for his outstanding contributions to the club in 2021 and years past. With this award, Jim will also receive a Modern Sailing logo jacket, hat, and club burgee.  
Jim Haussener has been a Modern Sailing club member since 2016 and one of our Club Skippers since 2018. In 2021, Jim skippered over 30 Club Sails! Jim has helped make it possible for office staff to add plenty of Club Sails to the schedule, which enables dozens of club members to enjoy sailing excursions together. 
Jim was no novice when he first came to Modern Sailing in 2015 to complete our ASA 101/103, Basic Keelboat / Basic Coastal Cruising Combination Course. He began sailing over 51 years ago when his father bought him an El Toro - with a hole in it. Jim fixed the boat, read Royce's Sailing Illustrated, paid his father back, and joined the junior program at the Palo Alto Yacht Club. To go sailing, Jim would ride his bicycle to the yacht harbor with his sail bag strapped to the back.  
Favorite sailing memories from his past involve minor incidents - burying a Hobie's lee bow and flipping it over in the Carquinez Strait and driving a boat underwater in the Redwood City Creek. In college, Jim raced a bit as a club sport and fondly recalls sleeping on the beach with his Laser at his side. "There is quite a bit to sailing and messing around in and on boats," Jim reflects. "I enjoy the freedom and ability to clear my mind. Years ago, it was pointed out that I am nicer on a boat. Tinkering on boats and even haul-outs are enjoyable."
Being a member of Modern Sailing has allowed Jim to keep his skills up while learning a few new ones, experience a variety of boats including catamarans, and to charter boats from reciprocal charter clubs such as Marina Sailing in Southern California. Jim says, "During this past year, when we all have been sheltering, Modern Sailing has a allowed me to keep on smiling and help others develop confidence in their boating skills and learn about San Franciso Bay. Several years ago, I met Mollie at a boat show and signed up with Modern Sailing. It was an exceptionally good decision."
Jim has been taking his passion for sailing abroad with charters in the British Virgin Islands and helping to bring a catamaran through the Panama Canal. Plans to sail the Mediterranean and South Pacific are also in the works.
"Last summer," he tells us, "I took a friend with me for a few hours on the Bay and he rated it as one of the top ten things in his life." Jim says that enabling people to experience and enjoy what he loves as the most rewarding of aspect of sailing for him, and rates it as his greatest accomplishment as a sailor.
We have to agree, and this is the reason Jim is our 2021 Ambassador Award honoree. Thank you, Jim, for everything you do for Modern Sailing School & Club and for sharing the joy of sailing with so many of your fellow club members!