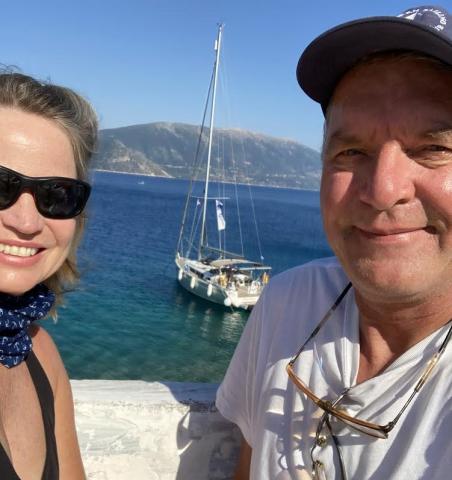 Vincent Latour and Julia Frink have been students and members of Modern Sailing since 2019. As very active and social members of the club, Julia and Vincent were our first-ever couple to be nominated and awarded our Ambassador Award for 2020. In March of 2022, Vincent went on to become a Club Skipper. Julia and Vincent have chartered in Greece twice and share in their own words about what they enjoyed and learned about chartering and sailing this area.
Best Time of Year to Sail the Ionian Sea in Greece
"In the Ionian in Greece, we chartered in late September/early October 2019 and then in 2021, the first week of June. The season starts to wind down on the Islands the first week of October and many tavernas and other concessions begin to close down.
"We did have a very intense rainstorm for a few days too. And the following year we heard the region had an October "Medicane," a Mediterranean hurricane that badly damaged many harbors and fishing boats.
"For the June trip, they had just opened up from COVID, so there weren't any crowds but I think it is usually REALLY busy in the summer. We just got lucky."
Best Aspects of Sailing the Ionian Sea in Greece
"In the Ionian in Greece, our favorite aspects were easy island hopping, welcome greetings from the friendly restaurant owners who offered free mooring, water and electricity and a shower all in exchange to eat at their fantastic and affordable restaurants. This was really special. And also the history. On our second trip we allowed some time to visit the Acropolis and Delphi. The scenery is cute villages, the people are friendly, the cuisine is awesome and very affordable. Good and affordable wines. AMAZING iced coffees. Great bakeries. We enjoyed long-lining and anchoring away from the busy harbors some nights.  We also enjoyed walking around the villages in the mornings before our sails and after dinners. And these restaurant owners will even come out and help you get the boat in place by directing you, catching your lines, and sometimes will use their RIB, to push your bow over if needed.
"When given the choice between the Ionian and the Aegen for beginning charterers, we recommend to go with the Iionian. There are no tides and little current. Island-hopping is easy. You are never more than 8 miles from land. You can see the other islands on the horizon.
"We got lucky and saw a huge school of dolphins that played around our boat.
"We also took a week-long, private RYA sailing course on our first trip and on our second trip we hired a 'skipper assist' for the first day to help us review long lining, stern to mooring, etc which was the best money ever spent. We really liked Sail Ionian, the company and people we chartered with."
Challenges and Lessons Learned
In the Ionian, there was not a lot of variety of nationalities, mostly British people.
Having to get back to the harbors fairly early to secure a spot on the dock.
You need to get good at mooring stern-to, which isn't a negative but something to keep in mind.
The flights are long. There used to be more direct flights to Preveza but last time we had to fly into Athens and then leave our rental car parked for a week. We got a cheap one without air conditioning. Driving in Greece is CRAZY!! Everything is in Greek, often even on Google Maps. Be prepared for a hair-pulling-out adventure.
What Julia and Vincent Would Do Differently Next Time
"We wouldn't change anything. We've had amazing trips there. We would like to go with more people either in a flotilla, a larger monohull or a catamaran. We had a great time just the two of us but we'd love to share the fun with other sailors/friends."
Julia and Vincent's Advice for Other Modern Sailors
"Please don't tell anyone, we want to keep it a secret (except to MSC members)!"
Modern Sailing Members: Do you have any questions about sailing the Ionian See in Greece for Julia and Vincent? They are happy to help! You can connect with them via the members-only Facebook Crew List or send us an email and we'll forward it to them to put you in touch.
Have you sailed or chartered outside of San Francisco Bay? If you are willing to share your experiences with other Modern Sailing members, let us know!
---
Does the idea of a sailing vacation around Greece or another exciting destination appeal to you, but you need some guidance to get started? First, know that most international charter companies require sailors to possess an ASA 104, Basic Coastal Cruising certification and the International Proficiency Certificate. If you have questions about how to prepare for international chartering or any other kind of sailing adventure, give our friendly office team a call at (415) 331-8250 or send us an email. We're happy to help you plot your course towards making your sailing dream come true!