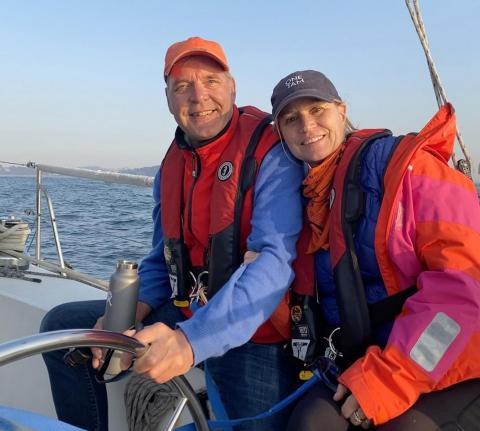 Julia Frink and Vincent Latour are the first couple to ever be nominated together for our annual Ambassador Award. The team at Modern Sailing recognizes them for their embodiment of our community spirit of sailors helping sailors to learn, practice, gain confidence, and share the passion for sailing. The couple maintains a strong connection with the MSC community by frequently joining Club Sails and through utilizing the Modern Sailing Crew List on Facebook and the Bareboat Buddy List email distribution group. They are well-known for inviting other members to crew on their charters and for volunteering to join and support new skippers on their very first charters. 
Julia and Vincent's first sail together at Modern Sailing was in March of 2019. Julia had been researching schools to give Vincent sailing lessons as a birthday gift so he could get certified to charter, and decided it would be fun and practical to join him. Although sailing was never on her bucket list, she also realized Vincent would need skilled crew to sail with and she wanted to be helpful whenever they might sail together. Previously, Vincent had only sailed 44 years ago during a one-week sailing course on the big lakes and canals in the north of the Netherlands. Although he enjoyed it, he did not pursue the sport any further until Julia surprised him with the gift of ASA 101, Basic Keelboat Sailing and ASA 103, Basic Coastal Cruising courses two years ago.
Vincent found his ASA 101 course experience to be exhilarating, even though half of the course was in the pouring rain. They both got hooked on sailing! Since then, they quickly became very active sailors and members of Modern Sailing, joining Club Sails and chartering with other members together as often as possible. As a result, they have come a long way together in a very short period of time.
To her surprise, Julia discovered that she enjoys all the rituals of getting a boat ready to sail and then putting it back together at the dock afterwards. She also enjoys the teamwork aspect of sailing. Among Vincent's favorite sailing experiences are the long-ago Netherlands sailing course, which he describes as a "Zen-like experience," chartering a 37' boat with Julia out of Greece in the fall of 2019 (only a few months after they completed ASA 103), and chartering Phoenix with Julia on his birthday. Vincent's birthday on February 19, 2021 was the first time they had ever chartered on the Bay together as double-handed crew - without any other members of the club aboard.
Julia says that after classes and many Club Sails and charters at MSC, she is becoming more and more confident and competent. "I always thought sailing would be too expensive, but with Club Sails and chartering with friends or other club members, it's affordable and fun! I also have met so many people through Modern Sailing."
Vincent says of his experience at Modern Sailing, "I made friends and a lot of connections here. I am still friends and still sail with people even after they moved out of the area. Modern Sailing has also helped me to gain the confidence to be the skipper in charge on a windy, busy day on the Bay in a relatively short time."
This year, Vincent plans to take ASA 104, Bareboat Cruising and the Recreational Racing, ASA 118, Docking Endorsement, and Night Sailing Clinics. Another long-term goal is to take the Club Skipper Clinic and become one of MSC's official Club Sail skippers. Julia also plans to take the ASA 118 clinic. A private lesson to learn how to perform Crew Overboard Recovery when double-handing is also in their education plan. Both Vincent and Julia dream of chartering in the Caribbean, the Mediterranean, or the Adriatic Sea out of Croatia, hopefully with friends they've made at Modern Sailing. They are aiming for September when the winds are still good and charter prices are generally lower. They are hopeful that they will be vaccinated and travel will be less complicated by then.
We at Modern Sailing applaud and celebrate the remarkable journey that Vincent and Julia have taken together over the last two years, and especially for bringing so many other Modern sailors along with them! 
---
Julia shared with us what she posted on Facebook on Vincent's birthday. She feels this summarizes her experience of becoming a sailor with Modern Sailing.
Two years ago today for my sweetheart, Vincent's, birthday, we held a big, overnight celebration at the West Point Inn with friends and family. It was a fun and most memorable birthday.
My gift to him was sailing classes so that he could be certified to charter. Somewhere along the line in doing research, I decided to get certified with him too.
Since then we have been on many Clubs Sails, charters and even went to Greece to get certified in the British system. We then had the exciting and terrifying experience of chartering a 37 foot boat for a week on our own.
Since COVID, our local sailing club has been opened and closed like all businesses, but almost every chance we had we would join the Club Sails or charter with friends and other club members.
I started getting pretty confident and competent at it too.
"Sailing was never on my bucket list. I always thought it would be too expensive and too much work. What's ironic is probably my favorite part IS all the work that's involved. I really enjoy the rituals of getting the boat ready to go out and putting it back at dock.
And if you join a club, you can go out for $50 - $75.
So today for celebrating Vincent's birthday, we called the club to charter a boat for just the two of us (and we can sleep in it). The woman that answered the phone told us that the staff had nominated us to be the club Ambassadors.
We almost cried. That the staff nominated us was so touching. Who cares if we win. I think that was the best birthday gift.