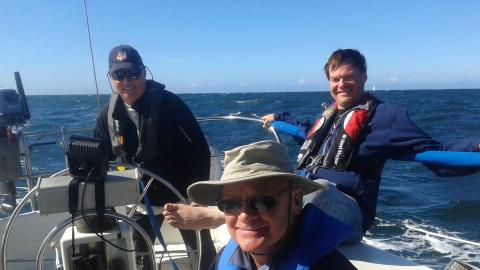 Weekend Trip, 2.5 days and 2 nights
Have you been dreaming of a coastal cruising adventure close to home that you can fit into a single weekend? Join MSC for a sail down the coast to Half Moon Bay!
This two-night expedition starts at MSC base at 4:00 PM on Friday evening to provision, plan the course, do a safety briefing, and meet the crew. Sleep aboard the night before to prepare for an early departure on Saturday morning. 
Once out the gate, you'll spend the day sailing downwind, watching for whales, and surfing ocean swells. Upon arrival at Half Moon Bay, the crew can venture ashore to dine at one of the many seaside restaurants like Sam's Chowder House that boast fresh catches and local delights. Other evening activities include a walk down the beach or enjoying a night cap at local favorites, Ketch Joann Restaurant and Harbor Bar or the Half Moon Bay Brewing Company. After breakfast on Sunday, we will make our way back up the coast, aiming to arrive at MSC base in time to clean up and disembark before sunset.
PRICES
Per Cabin (catamaran): Members $895, Non-members $1,095
Per Berth (monohull): Members $625, Non-members $795