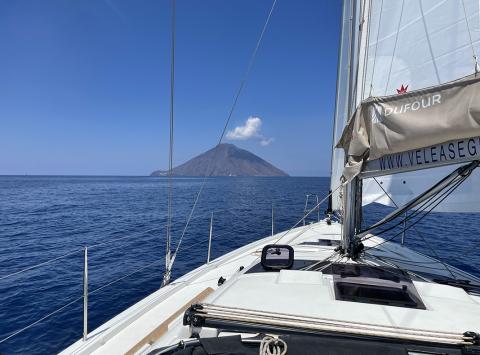 Steve Fillipow came to Modern Sailing in October 2020 as an experienced sailor and became certified to charter Silver Fleet boats via a Fleet Certification Check-out. In 2021, he completed the Gold Fleet Upgrade Clinic and has been chartering a mix of Silver and Gold Fleet boats ever since.
Steve's first international vacation charter was out of Corfu, Greece on the North Ionian Sea. He has most recently chartered out of Capo D'Orlando, Sicily, Italy. In this Members Review Destinations article, Steve shares his thoughts about sailing among the Aeolian Islands around Sicily.  
Greece vs. Italy as a Sailing Charter Destination
"Honestly, Italy and Greece were both fantastic.
"Our Ionian charter was our family's first charter experience, so it will always be a favorite. The winds (5 to 10 knots) were consistent and manageable - we only reefed once. All of our anchorages were reasonably sheltered except one, but our Med moore (my first!) was quite secure. Food and islands were a delight.
"If I had to choose a favorite, it would be the Aeolians, but that probably has more to do with my wife's Sicilian heritage (her parents are both from Sicily) and I felt more confident with my second charter, making it less stressful for this skipper."
Best Time of Year to Sail the Aeolian Islands of Italy
"Both charters (Italy and Greece) were in June. We were told that the summer season really picks up in Italy the fourth week of June, and we chartered the week before. It was a great time to go." 
Best Aspects of the Sailing Vacation in Italy
"My favorite aspect of the sailing vacation is the family time. We have time to talk, learn, share and laugh... without the usual distractions - lots of unstructured time. After that, it's the food. Our daughters now plan our meals and prepare the most amazing lunches - it is my favorite time of the day. We also get off the boat every evening - never have dinner on the boat. We also love wandering through the tiny villages and interacting with the locals.
"Carmelo and Maria, the owners of Veleasegno Charter (out of Capo D'Orlando) were fantastic!"
Challenges and Lessons Learned
"We generally didn't depart early enough to catch the morning breezes, which meant running the motor until about 2:00 PM when the winds got above 5 knots.
"I would also note that the language barrier can be a problem for some people. Our general experience is that there are more English speakers in the tourism/sailing business in Greece than in Italy. However, my wife speaks Italian and our charter company had an English translator (not really needed) to make sure that I understood the pre-departure briefing.
Would Steve Would Do Differently Next Time
"I would skip Panarea (a bit too exclusive and fancy for our taste) and I would plan ahead and get to Stromboli earlier in the day and book a guided hike up the volcano. The ancient "Lighthouse of the Mediterranean" is truly amazing!"
Steve's Advice for Other Modern Sailors 
Selecting a charter company - "When selecting a charter company, investigate/consider Zizoo. Pricing is better than the global brands and in both of my trips, the sailboat has been excellent, with great communications and support from the charter company."
Planning - "The book Italian Waters Pilot (Rod Heikell) is a must have."
Comfort - "Always add the cockpit cushions to the contract to avoid grumbling from the crew."
Modern Sailing Members: Do you have any questions about sailing around the Aeolian Islands for Steve? He's happy to help! You can connect with him via the members-only Facebook Crew List or send us an email and we'll forward it to him.
---
Does the idea of a sailing vacation around the Aeolian Islands or another exciting destination appeal to you, but you need some guidance to get started? First, know that most international charter companies require sailors to possess an ASA 104, Basic Coastal Cruising certification and the International Proficiency Certificate. If you have any questions about how to prepare for international chartering or any other kind of sailing adventure, give our friendly office team a call at (415) 331-8250 or send us an email. We're happy to help you plot your course towards making your sailing dream come true!