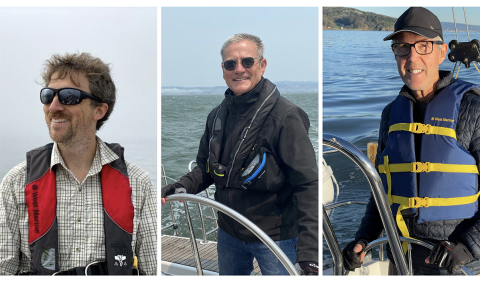 In November, Modern Sailing graduated a new batch of Club Skippers from our most recent Club Skipper Clinic. Meet three of our newest Club Skippers – Rik Williams, Christopher Dann, and Bill Lawler, who are now certified to skipper Club Sails! 
We thank Rik, Christopher, and Bill - and all our Club Skippers - for stepping up into a leadership role that serves the members of club. 
Rik Williams
"When I moved to San Francisco in late 2016, I'd sometimes look out at the boats on the Bay and wonder, 'how do you do that?!' After a year of watching, I signed up for ASA 101 at Modern Sailing, and the rest is history -- I've since been through most of Modern's ASA courses, skippered and crewed on numerous day and overnight charters, tried my hand at recreational races and Inspire's J/105 fleet, and am in the process of buying my own boat (a Westsail 28). Shoreside, I can usually be found exploring local trails and breweries with my partner, Brooke, and our Lab mix, Wilson.
"As a Club Skipper I'm excited about the opportunity to get out on the water more, learn from other club members, and help newer sailors gain experience and build confidence. I look forward to sailing with you soon!"
---
Christopher Dann
"I have enjoyed being on the water in the SF Bay since I was a teen. I formalized my sailing knowledge at first with the US Sailing curriculum at OCSC (now Inspire Sailing) and then with the ASA curriculum at Modern Sailing. I really enjoy chartering boats here and have also done some sailing in the Mediterranean and the Caribbean. I am hoping to do some chartering in the South Pacific as soon as possible. I am very excited to be a Club Skipper and I look forward to sailing with other members of the club!"
---
Bill Lawler
I began sailing in 2018 when I moved to Marin County. I was looking for a hobby that was outdoors, physically active, social, and unique to the Bay Area. Sailing ticked all the boxes.
Since joining Modern Sailing, I've completed ASA 101 through 105, the Night Sailing Clinic, and Club Skipper Clinic, and the Gold Fleet Docking Clinic at Inspire Sailing. I'll be going on my first charter in the US Virgin Islands in January 2023.
I wanted to become a Club Skipper to share my enthusiasm for sailing on the SF Bay, meet other club members, and gain more experience sailing the Gold and Platinum Fleet boats."