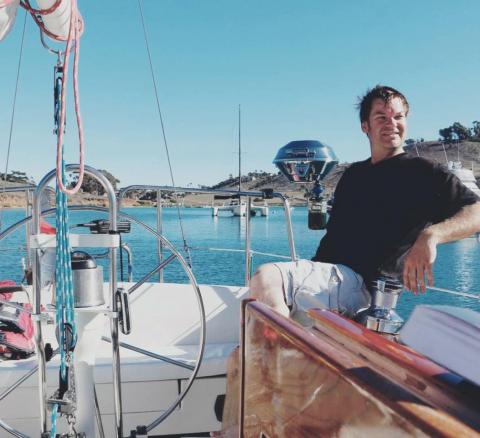 - Originally Published December 30, 2020
- Updated August 9, 2022
Warren says he knew after completing a few classes at Modern Sailing that he was going to cross oceans. He became a member and student of Modern Sailing School & Club in 2014 and completed courses ASA 101 through ASA 106, Advanced Coastal Cruising in only five short months. In 2015, he joined MSC's Recreational Race Program and began participating in local races – until he set his sights on broader horizons – a world circumnavigation.
The ASA 104, Bareboat Cruising course included two overnights, and the ASA 105/106, Coastal Navigation/Advanced Coastal Cruising Combination Course had several nights spent at anchor on the way to Monterey. "Once I had experienced sailing to another port and spending time there, I knew it was for me." 

"The classes covered a lot of ground and formed a solid skill base for my own boat ownership," he says. "They were also fun enough that I would recommend the ASA 105/106 combination course as a great vacation even for sailors who don't need the instruction. Club Sails built my confidence, especially with navigation rules approaching other vessels."
Warren began his circumnavigation in 2018 with the Pacific Cup, a race across the Pacific Ocean from San Francisco to Hawaii, finishing third in his class. Since then, he has sailed his Morgan 382 Eliana over 30,000 nautical miles – across the Pacific to French Polynesia and Indonesia, through the rugged Indian Ocean and around Cape Agulhas, across the Atlantic from South Africa to Brazil, and through the Caribbean, with stops to explore many countries and cultures along the way.
The biggest challenge he encountered was with finding trustworthy and reliable crew. He had to kick one unruly crew member off the boat in Fiji. In Indonesia, his crew departed and left him to sail singlehanded because they were unable to wait for a good weather window. Now Warren prefers to singlehand over taking on crew he doesn't know. He has also enjoyed the company and support of some excellent crew and certainly prefers to sail with someone he knows and trusts over sailing singlehanded.
Warren was mostly able to avoid bad weather. The worst he experienced was 45 knot winds and 15-foot seas, during which he stayed below and let the boat sail itself. His most frightening moments at sea involved lightning. A bolt once struck the water right next to the boat, giving the crew member who was steering at the time a painful shock through the wheel.
Although Warren has discovered many wonders to enjoy at each of his destinations, Fiji's spectacular waterfalls, the friendly people of Indonesia, Madagascar's playful lemurs, Cocos Keeling's sparkling clear waters, the wild beauty seen on an African safari, and the "awe-inspiringly fantastic" Carnival in Brazil are among his most vivid and cherished memories. Fiji stands out as a place he'd love to live someday.
By mid-2020, Warren had nearly completed his circumnavigation upon arrival at the eastern coast of the United States. At the present time, he is working to save up some money and preparing Eliana for the journey towards the Panama Canal. He is also in the process of finalizing the paperwork required for his USCG Captain's License. Once he makes it back to San Francisco, Warren plans to work again for awhile to save up more money for sailing to the many destinations he still dreams of visiting.
Warren's advice to anyone dreaming of sailing around the world is, "Just go! The boat is ready for it long before you are. Too many people get caught up with upgrades and refits and never leave. Spend that money on the trip itself, not the boat." He has found it possible to outfit Eliana with everything he needs in various countries along the way and saved on costs by buying used parts in good condition from other cruisers.
You can learn more about and follow Warren's adventures on his Facebook Page and Instagram.
We at Modern Sailing are proud of and inspired by Warren! We congratulate him on his epic journey and we look forward to following his continued adventures.
---
Update 11/17/2021
With two crew members, Warren sailed non-stop for 12 days from Virginia to St. Thomas, USVI. He is currently making preparations to sail for the Panama Canal within the next month or two. From there, he will head north back to San Francisco Bay to complete his circumnavigation.
---
Update 5/25/2022
Warren is sailing north up the California Coast and will be completing his circumnavigation in San Francisco Bay very soon. His estimated arrival date is June 4, conditions permitting. MSC CEO Leigh Hunt will be taking some of Warren's friends and family out to welcome him home as he sails under the Golden Gate Bridge. If you're chartering on June 4 and would like to join the welcome, please let us know. We're also hosting an extra special Après Sail and we invite you to join to say "congrats" to Warren.
Warren is living proof that with a supportive community, smart preparation, inspired determination, and a bit of luck, sailing dreams do come true. We are so excited to welcome him home and celebrate the completion of his epic journey!
Check Eliana's position at MarineTraffic.com. We hope for as many boats as possible to join us in a very warm welcome!
---
Update 5/4/2022
Congratulations to Warren Holybee! Warren and Eliana were greeted at the entrance of San Francisco Bay by family and friends from Modern Sailing as he completed his circumnavigation of Planet Earth. We can only imagine how this moment felt for Warren - but his huge smile is a hint!
To see more photos of Warren's June 4 arrival in San Francisco Bay, see our post about it on Facebook or Instagram.
Photo by Lyon Omohundro 2022 / lyonseyephotography.com
---
Update August 9, 2022
Warren's circumnavigation story has found its way into the pages of our favorite sailing publication, Latitude 38!
Congratulations again to Warren on his amazing accomplishment!  We're so delighted for his story to reach and inspire a broader audience of sailors. We're especially honored to have played a small part in Warren's journey.
You can view the full article through the ISSUU portal or open the PDF version. You'll find Warren's feature on pages 93 and 94.
---

Do you have a dream of sailing near or far? Whether you want to sail around San Francisco Bay or around the world, we can help you acquire the skills and experience that you'll need to go with confidence. Begin with an email or a phone call to our friendly office at (415) 331-8250. We are happy to answer any questions you may have about preparing to make your sailing dreams come true.