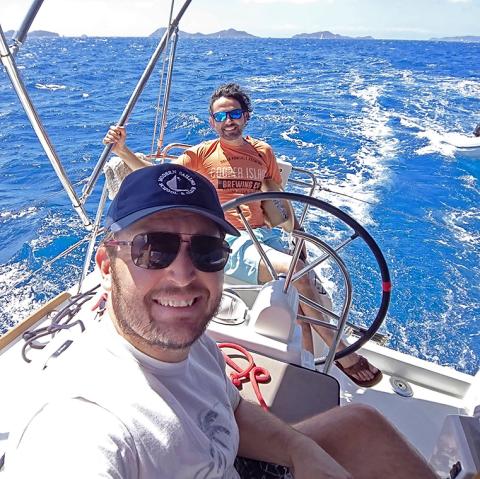 Emre Colak has been a student and member of Modern Sailing since 2018. After completing numerous ASA Courses, Sailing Clinics, Club Sails and bareboat charters at Modern Sailing, his first bareboat charters beyond the Bay were out of San Diego and the British Virgin Islands, co-chartering with friends he met at Modern Sailing. Learn from Emre about what he enjoyed and learned about chartering and sailing among the British Virgin Islands.
Best Time of Year to Sail the British Virgin Islands
"I chartered in March with Murat Soyupak, who is also a Modern Sailing member. It was high season for BVI. We had a great time and the weather was excellent, but high season did make a few things like finding mooring balls and making restaurant reservations more challenging."
Best Aspects of Sailing the BVIs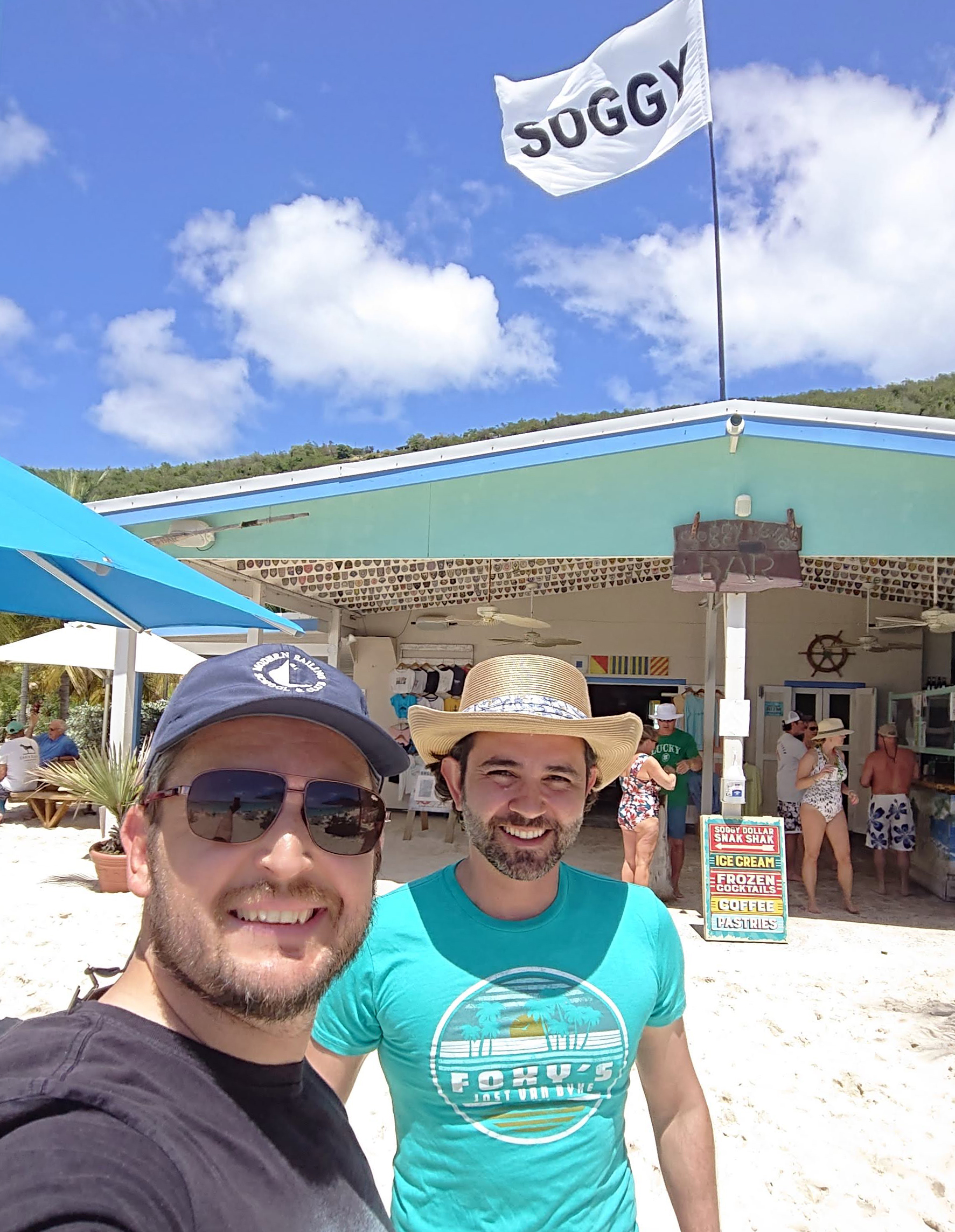 "Nature in the BVIs was beautiful. There were lots of great beaches and natural wonders like the Baths on Virgin Gorda Island. I especially recommend Guana Island for a swimming stop.
"Food was great, we had lots of seafood including lobsters. Our boat had a barbecue which we used a few times.
"Sailing conditions were great. We had constant 15 to 20 knots of winds with 25 to 30-knot gusts pretty much every day. The other thing that made sailing great was that there were quite a few small islands and coves that we could visit every day. Navigation was pretty easy too because we've never lost sight of land.
"Some of the islands had some pretty cool beach bars that were active during the day and at night. I liked Willy T's on Norman Island, the Bitter End Yacht Club on Virgin Gorda and the Soggy Dollar Bar on Jost Van Dyke. Some of them were pretty low-key and some were sort of fancy. "
Challenges
"Because it was high season, finding a mooring ball was sometimes difficult. A lot of the reservable balls would fill up as soon as the reservation window started, and we would have to arrive at our destination somewhat early to get a first-come-first-serve ball. We had to anchor a few times because we couldn't get a ball. Also, due to high season and COVID, the ferry from USVI took a long time and it was delayed."
What Emre Would Do Differently Next Time
"I would try to avoid high season and go in January, February or later in April. I was told that the weather would be similar but it would be less busy and the charter would cost less as well. Also, if I had the time, I would charter for 10 days instead of 7 as there were other islands that I was not able to visit due to lack of time and did not want to rush things either."
Emre's Advice for Other Modern Sailors
"I chartered with a local company instead of the name brand charter companies. They had much better rates, the experience was more personalized and everything went great. So that might be something that people may want to look into before choosing a charter company."
Modern Sailing Members: Do you have any questions about sailing around the British Virgin Islands for Emre? He's happy to help! You can connect with him via the members-only Facebook Crew List or send us an email and we'll forward it to him.
Emre's Education at Modern Sailing
ASA Sailing Courses: ASA 101, Basic Keelboat Sailing; ASA 103, Basic Coastal Cruising; ASA 103, Bareboat Cruising; ASA 114, Catamaran Cruising; ASA 118, Docking Endorsement
Sailing Clinics: Angel Island Mooring Clinic; Night Sailing Clinic; Mastering Sail Trim; Electronic Piloting and Radar Clinic; Catamaran Development Clinic
---
Does the idea of a sailing vacation around the British Virgin Islands or another exciting destination appeal to you, but you need some guidance to get started? First, know that most international charter companies require sailors to possess an ASA 104, Basic Coastal Cruising certification and the International Proficiency Certificate. If you have any questions about how to prepare for international chartering or any other kind of sailing adventure, give our friendly office team a call at (415) 331-8250 or send us an email. We're happy to help you plot your course towards making your sailing dream come true!