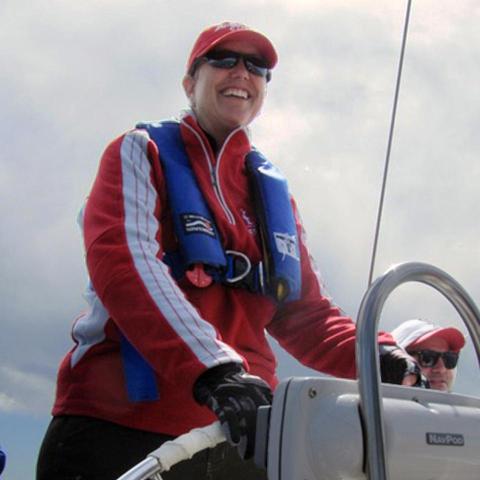 Heather Stewart is one of Modern Sailing's outstanding Club Skippers and a leader among our sailing community. She admits it was a long struggle with her self-confidence to go from white-knuckle dinghy steering to catamaran cruising and encouraging others to take the helm. Her inspiring sailing story began simply in 1986 after graduating college when she worked as a canoe instructor for the Girl Scouts in Long Beach. Before camp started, a friend of hers who was one of the sailing instructors enlisted Heather to help rig a pair of sailing dinghies. Soon after, Heather was sailing, albeit anxiously.
The entirety of the sailing instruction she received from her friend was, "Okay, get in and follow me. Push that thing the opposite way you want to go." And off they went – tall Heather ducking low and nervously white-knuckling both the tiller and mainsheet. The following year, Heather was appointed as the director of a Girl Scout camp on Catalina Island, where she worked for three years. As director she didn't have a lot of time to sail, but she learned enough to occasionally be a helper to the sailing instructors.
Heather moved to the Bay Area in 1994, coincidentally on the day of the Northridge earthquake. It took 6 years of watching sailboats out on the Bay until she finally decided she wanted to go sailing too. She found a group of lesbian women sailors and joined them for one sail on their boat. Shortly thereafter, Heather heard about the Gay Games VI, which would be in Sydney, Australia in 2002 – and the sport of sailing was going to be offered for the first time ever. Heather immediately decided she wanted to be a part of that! There was a total of 150 spots available. The San Francisco sailing group she connected with was well-organized and quick to sign up as soon as registration opened. Thirty sailors (10 teams total) from San Francisco were able to go to Sydney to compete. But first, Heather needed to really learn how to sail… and race!
Heather then became a member at Cal Sailing Club (CSC) in Berkeley and spent nearly every Sunday for almost 2 years learning how to do just that. She practiced and raced with different skippers, learned a variety of tactics, and studied the Rules of Racing.
As motivated as she was, Heather was forced to confront some fears and a lack of self-confidence. She did not grow up sailing like her Gay Games team skipper and started out not knowing anything at all about the sport. As she began earnestly learning to sail at CSC, it became clear that her beginner's knowledge from camp was next to nothing. She disliked the boat heeling and didn't care at all for the idea of capsizing. Nonetheless, she faced her fear and learned how to capsize and recover, despite not enjoying it one bit.
Her "grassroots" Gay Games team practiced at Cal Sailing Club and at Lake Merritt in Oakland. The team skipper was connected to the Cal Maritime Academy Sailing Director, who at that time was Susan "Charlie" Arms. Charlie also happened to be a college classmate of Heather's at Cal State Long Beach. It was quite the coincidence! Charlie helped Heather's team to access a J22 sailboat so that they could practice on what would likely be a close match to the kind of boat they'd sail in the Sydney races.
Heather's team was motivated to put in the best performance possible and so trained often, even losing weight to meet the total boat weight limits. Little did they know that the host yacht club, the Cruising Yacht Club of Australia (CYCA, also the host of the famous Sydney-Hobart Regatta), had bought a brand-new youth fleet for their club. Her team was the first to sail the new model, the Elliot 6.0, which was nothing like a J22! (These boats also became the women's keelboat class in the 2002 Olympics.)
Just before the races they had spent nearly 2 years preparing for, Heather's team had only a few hours of practice on the Elliot 6.0. In the process, the crew had to completely change their roles. Heather was moved from pit to "foredeck," and the foredeck crew became the spinnaker trimmer. Despite the surprise boat and crew changes, the experience in Sydney was absolutely amazing. Her team also finished 7th out of 23 in the fleet. Considering the top teams had professional coaches and her own team had trained in humble Lake Merritt, they felt they did very well!
Heather and team racing an Elliot 6.0 at the Sydney Gay Games.

The experience had Heather completely hooked on sailing for life. Every Gay Games since has offered sailing and Heather has traveled around the world to compete in each of them: Sydney in 2002, Chicago in 2006, Cologne, Germany in 2010, Cleveland in 2014, and Paris, France in 2018.
Despite her team's success at the Sydney Gay Games, Heather still felt a lack of confidence as a sailor. She continued to work on it by spending a couple of years on a Melges 24 team to become more comfortable with heeling, broaches, and round-ups.
"That Melges team was great," Heather recalls. "…And it was very much not. I'm a 6-foot tall, large woman. I'm not a small, sporty gal. I may not be a butterfly and getting me off the rail and quickly to the other side isn't exactly a ballerina move for me. But, I was still quite capable as a crew. My teammates made some comments and decisions about my role in the team that were extremely hurtful and emotionally crushed me. That's when I decided I wanted to quit racing all together. I wanted to learn to be a skipper, drive big boats, and just have fun with friends."
So, in 2007, Heather decided to pursue the US Sailing certifications Basic Keelboat through Bareboat Cruising at OCSC Sailing. OCSC's tag line was "Inspire Confidence," which Heather felt fit this phase of her sailing journey perfectly. The more she chartered as the skipper, inviting friends to join her and bring their friends who had never sailed before, the more confidence she built. Her new goal was to gain enough experience to confidently charter a boat in the British Virgin Islands on her birthday, and she succeeded. She had a fabulous experience with her friends on a 38' catamaran, which she had never sailed before!
"Having my sister, who is prone to seasickness, and some of my close friends come from around the country to join me [in the BVIs] and the successful fun and safe experience made me so happy and proud. I achieved my goal. I'll never forget as we were anchored at Jost Van Dyke and at sunset time, just watching hundreds of pelicans diving for their meals. It was beautiful and impressive! I have great memories of that trip," she says.
Heather's most cherished sailing memories involve her family. When her family came to San Francisco to celebrate her 50th birthday with her, she took them all out sailing to watch some of the America's Cup/Louis Vuitton Series races. As Heather's mom battled pancreatic cancer, one of her two final bucket list activities was to go sailing with Heather. It meant everything to Heather to be able to make that happen.
Heather sailing with her mom in San Diego.

It was Heather's desire to formally learn catamaran sailing that brought her to Modern Sailing in 2016. She successfully earned her ASA 114, Catamaran Cruising certification and completed a Platinum Fleet Skills Check-out, which qualified her to charter both catamarans and all monohulls at Modern Sailing. In 2019, Heather decided she would take the Club Skipper Clinic and join the ranks of member skippers who lead MSC's social sails. To this day, Heather skippers Club Sails as often as she can. She also remained a member and skipper of J24s and the bigger boats at OCSC until it closed during the COVID pandemic.
The challenges of docking at Modern Sailing with its intense summer winds, like it or not, have helped to continually sharpen Heather's skills and confidence. "As a Club Skipper with Modern, I have made mistakes and misjudged the wind strength when docking," she admits. "It can be embarrassing when I'm the person who's supposed to be able to manage that process. I've had to continue focusing on the lessons, assess the successes, and try not to beat myself up for it… We all make mistakes sometimes – we have to learn and move on!"
In addition to the confidence that sailing has inspired in her, Heather remains an avid sailor because the sounds, the ocean smell, the different perspectives being out on the water, and the freedom to explore have become a form of meditation for her. She also loves sharing a unique experience with both friends and folks she has never met before. When encouraging new sailors to drive the boat or helping them learn a new skill, the excitement and inspiration they discover in the process keeps Heather inspired as well. Sailing is a sport that has given her so much – and continues to give her even more as she introduces others to the sport. She finds empowering other women skippers and helping them grow in their own knowledge and confidence to be extremely rewarding.
"When I would have guests tell me at the end of the day that they had a great time and would love to sail with me again, that was the inspiration that helped my confidence to grow. I still make mistakes, there is still a ton more learning that can be done, and I can still experience a sensible fear in extreme conditions… but I have achieved my primary goal, the ability to be the skipper and take friends out sailing for fun."
For the last 15 years, Heather has also been dedicated to fostering a more visible LGBTQ+ sailing community by keeping the SF Sailing Team active with social activities and group sails. The SF Sailing Team started with the Sydney Gay Games, and as people's lives moved in different directions, Heather has maintained some effort at keeping the team alive. San Francisco submitted a bid to host the 2022 Gay Games, bringing it back to where they started. Heather was asked to be the sailing coordinator, but the bid was lost to Hong Kong. The pandemic put a hard pause on most of that anyway, but to help buoy a robust LGBTQ+ sailing community in the San Francisco Bay Area remains one of Heather's goals as a sailor.
Heather heading out for a sail on a Modern Sailing catamaran with her SF Sailing Team friends. 

With her retirement coming soon, Heather is looking forward to sailing mid-week and doing some bareboat charters at various locations, either her own charters or with flotillas. She has no desire to own a boat of her own, but rather greatly appreciates the charter club experience for the opportunities to make new friends and share costs. She also prefers not to deal with the hassles of managing boat maintenance and repairs on her own.
We at Modern Sailing are happy to keep our boats ship-shape and ready to sail for sailors like Heather! We are also delighted and proud to have Heather as a member of our club, one of many outstanding skippers who help provide opportunities for sailors of all ages, genders, and identities to enjoy sailing, to learn, gain confidence, and become part of a supportive community.