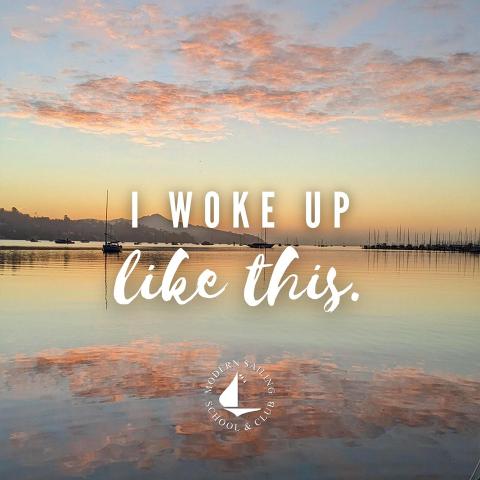 Are you traveling a long distance to come sail with us? Looking for a place to stay overnight? Staying aboard one of our yachts may be a great option for you! The gentle movements of the boat, marina sounds and smells, and sunsets and sunrises over the water can be a divine experience for some sailors. It's not at all like staying in an AirBnb or a hotel, so the uninitiated may find it educational - or complicated. Others find everything about the experience soothing and restful.
There may be some challenges in store if you aren't prepared to utilize a boat's available systems and features. This article will help inform you about what a "liveaboard" booking is and how you can make the most of your experience staying aboard overnight.  
What is a "liveaboard" booking?
When you book a "liveaboard," you are able to stay on the boat overnight, but cannot take the boat away from the dock. 
Advance reservations are not available. Liveaboard bookings can only be made on a same-day basis.
Plan to fully disembark by 8:00 the next morning so that MSC fleet staff have time to prepare the boat for the day's use. If not, you may be subject to a late fee and/or a cleaning fee of $75 per hour.
Be aware that you may be moved around to different boats if you stay multiple nights due to bareboat charter demands on our fleet. This is why you must not leave any items on board the boat when you disembark in the morning.
Charter certification is not required to book a liveaboard.
Liveaboard bookings cost substantially less than Full Day Charters.
A Note About Full Day Charter Bookings
Our Full Day Charter bookings allow departure from the dock, meaning that if you are charter-certified, you and your crew can get underway and anchor or moor anywhere within San Francisco Bay that is not restricted to MSC yachts. You may also opt to stay the night at dock. Your Full Day Charter gives you control of the vessel from the time you arrive (anytime after 9:00 AM) up to 8:00 the next morning.
If you book consecutive Full Day Charters, the boat is yours until 8:00 the morning after your last booked day. For example, if you book for a Monday through Wednesday, the boat is yours up to 8:00 AM Thursday.
You also receive discounts for consecutive Full Day Charters.
Two consecutive days = 10% off both days
Three or more consecutive days = 15% off all days
Learn More about Charter Policies and Definitions.
Multi-day ASA course students can stay aboard a Silver Plus Fleet vessel for $50 or receive a $25 discount to stay aboard a Gold, Platinum, or Catamaran Fleet vessel.
LIVEABOARD RATES
 
Boat Size
 
Multi-day Student*
 
Non-Student**
 
Silver Plus Fleet (30' - 32')
$50
$75
Gold Fleet (33' - 37')
$100
$125
Platinum Fleet (38' - 44')
$150
$175
Catamaran
$200
$225

*The Multi-day Student Rate only applies to the first overnight before the course begins, the nights between the days of a multi-day course, and to the night before the last day of class.
Choosing Your Liveaboard Vessel
The Member Resources article Choosing the Right Boat for Your Charter will help inform your selection. You will be able to see at a glance which boats offer desirable liveaboard features. To see photos and details for every boat in our fleet, see the Boats & Rates page. Keep in mind that advance reservations are not available, which means that your choice of vessel for same-day bookings may be limited.
Considerations
Will you need a space heater? It can get chilly overnight! Some boats come equipped with an onboard heating system. If so, be sure you understand how to turn the system on before our staff leave for the day. Or, you can request a space heater that plugs into a 110v outlet. See Cozy Winter Chartering - MSC Boats with Cabin Heaters and Hot Water.
Will you want to take a shower aboard? Some boats do not come equipped with onboard showers. Another option is to shower at the Sausalito Fitness Club at 3020 Bridgeway for a nominal fee. Please call ahead to verify pricing. There is also an Anytime Fitness located at 140 Donohue Street. Keep in mind that before you leave the boat in the morning, you will need to pump out any water remaining in the shower basin and wipe surfaces dry.
Will you have mobile devices to charge? See Onboard Electricity Basics and FAQ.
Do you plan to cook aboard?
If you haven't been trained on how to use a propane stove, please ask for assistance. Propane systems can be dangerous if used improperly.
Some boats come equipped with a microwave, which can be a great option for heating instant meals or leftovers.
You can request a BBQ to be installed on the stern rail. Unless your boat has its own dedicated BBQ, the cost is $40 to rent one. Propane canisters for BBQs are available in the office for $12.
What to Bring
Pillow(s) and bedding or sleeping bag
Personal toiletries
Towels
Ice or portable cooler, if your boat does not come equipped with electric refrigeration and you intend to keep perishable food aboard.
Toilet paper, paper towels, trash bags, hand soap, dish soap, and cleaning supplies are provided by MSC. 
Parking
Park in Parking Lot B within the first two rows facing the marina. (Lot B is the large parking lot on the east side of the Marinship office complex.) Leaving your vehicle in Lot A (the small lot adjacent to the south side of our office) may result in your vehicle being towed.
Please acquire a parking pass from the Modern Sailing office and leave it face-up on your vehicle dashboard.
Sleeping in your vehicle in the parking lot is not permitted. If your vehicle has overnight accommodations on board (such as an RV or camper/van) and you are participating in a multi-day course, please notify Modern Sailing staff as we may need to make special arrangements.
Checking In
Arrive no later than 4:00 PM, well before the office closes, so that someone will be available to assist if you have any questions. If you have no option but to arrive after 5:00 PM, please call our office by 4:00 PM to obtain the boat's slip number and lock combination.
Locate and test the cabin lights. If cabin lights don't turn on, you may need to switch on a lighting circuit at the electrical control panel.
Power up the refrigerator if you plan to keep perishable food aboard. Typically, the switch to turn it on will be on or near the electrical control panel. Learn more with the Member Resources article Charter Boat Icebox and Refrigerator Basics and Best Practices.
Switch on the fresh water pump. See Managing Water Use on a Multi-day Sailing Expedition.
Check the galley cabinets and drawers to ensure you have everything you need for cooking or dining aboard. If you need additional cookware, please check with the office.
Review the boat's white binder for policies and any important information that you may need to know about the vessel.
Test the toilet to ensure you understand how it works.
Ask for help before the office closes if there is anything you do not understand about using the boat.
Around Town
Groceries, Sundries, and Supplies
Mollie Stone's is a 5-10 minute walk from our marina. Mollie Stone's offers groceries, toiletries, a full-service deli, salad bar, and hot food bar. There is also a Peet's Coffee located inside.
Target is a few miles away.
7-11 - convenience store, no fuel
West Marine - boating supply store in the Target shopping center, in case you need any sailing gear such as gloves, shoes, or foul weather clothing.
Launderland - coin laundry, no website: One Gate Road Bldg. A - Corner of Gate 6 &, Bridgeway
Dining Out
Sausalito offers countless restaurants located within walking distance of our marina. Use a map app on your mobile device to choose a place to eat, or ask an MSC team member for advice. Within walking distance, we have frequented and can recommend:
Lighthouse Cafe - Breakfast/lunch
Fred's Coffee Shop - Breakfast/lunch, small patio
Saylor's Restaurant - Mexican local with a nice bar and happy hour, large outdoor patio in back
Sausalito Seahorse - Italian seafood restaurant with live music
Fish Restaurant - seafood, large outdoor dining on the waterfront
Le Garage - French bistro, small patio, wine bar
Walk About
A path that crosses in front of our marina invites you to stretch your legs, get some fresh air, and enjoy beautiful waterfront scenery on foot. If you follow the path to the north, you'll find it an easy shortcut to Mollie Stone's and a handful of restaurants only a few blocks away. The southern path leads between the Army Corp of Engineers yard and the Marinship Park field, past the Bay Model to downtown. 
Important Notes about Staying Aboard
Check your footwear and please ensure you have non-marking soles. It's best practice to remove your shoes before going below decks. This will make your morning tidy-up routine a lot easier.
Bathrooms: There are bathrooms with toilets onshore next to the MSC office. Please ask for a bathroom key if you would like to use the onshore restroom, and be sure to return the key the next morning.
Toilet Paper: No paper of any kind in toilets (please dispose of paper products in trash bins).
Pets are not permitted on boats.
Fishing gear of any kind, including crab pots, are prohibited.
Smoking: Modern Sailing sailboats are a smoke-free zone (this includes vaping) everywhere onboard.
Alcohol: Please refrain from bringing red wine on boats. It stains decks and interiors.
Checking Out
Please be off the boat no later than 8:00 AM so that our Fleet staff will have time to prepare the boat for the day's use.
Please leave the boat clean. Carry off your personal items and garbage. Dumpsters are located behind the MSC office.
If you used any galleyware or cookware, please wash items thoroughly and leave them in the sink to dry.
If you put ice in the icebox or refrigerator, be sure to pump out water after use. (Again, refer to Charter Boat Icebox and Refrigerator Basics and Best Practices.) 
If you noticed any problems or questionable issues during your stay, please inform an office team member.
Do you have questions about staying aboard overnight, or wish to make your reservation? Please give us a call at (415) 331-8250 or email us. We're happy to help!