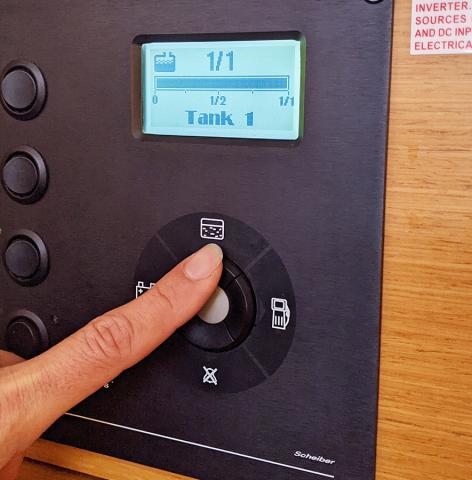 It's no fun when your water tanks run dry during a multi-day sailing charter or passage. Time wasted at the dock refilling water tanks could be better spent out on the water enjoying nature and the magic of sailing! With communication and mindful conservation, you and your crew can extend your boat's freshwater supply for days. How much water will you and your crew need during your multi-day charter? How can you stretch your water supply to make it last as long as possible? Should you run out of water, where do you go and how do you fill up? 
How much water will you use during your bareboat charter?
Tank water will be used for washing hands and face, brushing teeth, showers, and washing dishes. If you plan to swim or snorkel, you may want to shower afterwards and/or rinse the salt out of swimsuits and snorkeling gear before setting them out to dry. You can save more or less water during these activities depending on how conservative you are with use.
Each crew member will require about 1.5 gallons of drinking water per day. Exclude this amount from your planned tank water use - you'll want to bring bottled drinking water with you. MSC does not recommend using charter boat tank water for drinking or cooking. Even hygienic tank water won't taste very pleasant. Please bring bottled drinking water. If you're interested in avoiding plastic waste, consider utilizing refillable jugs.
Calculate a Daily Use Goal
First, find out your boat's freshwater tank capacity. Check the MSC Boat Features and Specifications spreadsheet found in the Choosing the Right Boat for Your Charter article*. If you're bareboat chartering abroad, ask the charter company about tank capacity, or search for the boat model's specifications at www.sailboatdata.com.
Divide the number of gallons in the tank (a) with the number of number of days you have the boat chartered for (b).
a ÷ b = c
In the example below, a crew of four's 100-gallon water tank is full at the start of their 6-day charter. Can they complete their itinerary without needing a refill?
100 ÷ 6 = 16.67 gallons per day total
A good goal for this crew is to use under 17 gallons total per day. They will need to be very conservative in their water use if they wish to avoid a trip to the dock. Just in case, they should locate a place along their itinerary where they can fill their tanks if needed.  
*Please note that some of our Silver Trainer vessels do not have functioning freshwater systems. If in doubt, please call the MSC office at (415) 331-8250.
Monitor Water Tank Levels
If you're chartering for more than one day, take a moment to familiarize yourself with the boat's tank monitoring system and check water levels before leaving the dock. 
Most modern boats have a tank monitor installed in or near the main electrical control panel, as shown in the picture below. 

During a multi-day charter, check water levels in the afternoon and again in the morning - ideally 2 to 3 times daily. If you find you're consuming water much more quickly than anticipated, have a conversation with your crew about ways to improve water conservation.
Some boats are equipped with two water tanks. Press the water tank monitor button to toggle between displays for Tank 1 and Tank 2.
NOTE: If your boat is equipped with two water tanks, you may need to manually switch over to the second tank when the first tank runs dry. Every boat is different. If you need some help understanding your boat's freshwater system, ask for the assistance of a fleet specialist by calling the main office (415) 331-8250 or hail on VHF radio channel 68.
How to Conserve Water on a Charter Sailboat
Hygeine
When washing hands and face and brushing teeth, open the tap just enough to allow a trickle from the faucet. It may take a bit longer, but you'll use a lot less water to get the job done. Rinse toothbrushes in a cup with a small amount of drinking water.
Conserve a little: A "navy shower" will conserve water and get you clean from stem to stern. Briefly turn on the water - just enough to get yourself wet - then turn it off while you soap up your body and shampoo your hair. Turn the water on again just long enough to rinse.
 
Conserve a lot: If you're in an area suitable for swimming, bathe in seawater and rinse in freshwater. Jump in the drink, climb back aboard to soap up your hair and body, and jump in again to rinse. Then rinse off the saltwater quickly in the shower. Very refreshing! A dry shampoo product and a "sponge bath" (or washcloth) will use the least amount of water. Consider alternating between a shower and a sponge bath every other day to save the most water. 
Washing Dishes
Conserve a little: Have crew members wipe crumbs and sauces off their plate and utensils with their napkins. Also, one-pot meals are superb for sailing trips - less cookware to wash! Apply dish soap, lather, and rinse dishes under a small trickle of fresh water from the galley faucet.
 
Conserve a lot: Wash dishes thoroughly in a bucket of seawater. Follow with a quick freshwater rinse in the galley sink to remove the salt.
Where and How to Refill Your Boat's Water Tank
If your water tank runs dry, it's time for a trip to the dock. Our article Multi-Day Charters: Fueling Up and Pumping Out will help you find a Bay Area location to fill up.
Use the deck cap key (found in the navigation table on most boats) to twist open the deck cap. Twist to the left to open and to the right to seal.
NOTE: Deck fill caps are clearly labeled to indicate whether they provide access to a water tank, fuel (diesel), or waste tank. Double-check the deck fill cap to ensure you are filling the water tank and not the diesel tank. (It has happened!)  
NOTE: Be aware that at public fuel/water/pumpout docks, sometimes sailors will insert water hoses into waste tank portals to flush out holding tanks. For this reason, to avoid contaminating your freshwater supply, hold the water hose above the deck and do not allow it to touch any part of the water tank portal.
---
Learn how to make the most of your time on the water - visit the Member Resources section of our website for more sailing and charter tips! On the subject of multi-day chartering, you might enjoy articles such as these: