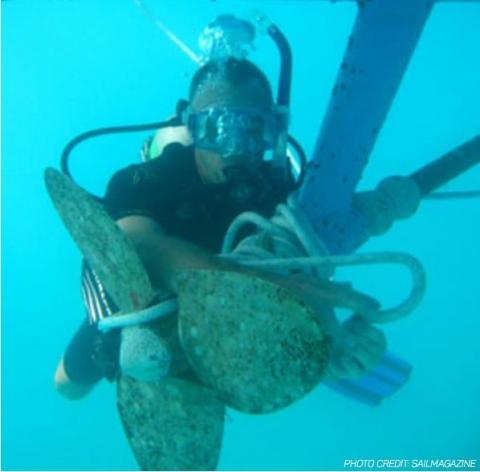 A dock line dangling in the water can too easily ruin a perfectly good day of sailing - and worse. A fouled propeller often comes with costly consequences. The good news is that "prop wrap" is very easy to prevent.
What are the possible consequences of a prop wrap?
Loss of auxiliary propulsion and secondary accidents (collision, grounding, etc) that may occur due to propulsion loss
Needing a tow back to the dock
A professional diver must be hired to cut lines away and inspect for damage
Breakage or distortion of the propeller, prop shaft, cutlass bearing, and/or engine mounts
Haul-out, extensive repairs, and downtime, which can add up to thousands of dollars in costs
Charterers are liable for the cost of tow, dive, and repairs when the prop is fouled by lines aboard the boat.
What are some of the most common causes of prop wrap?
Dock lines are very common culprits. Due to their length, spring lines are the most common type of dock line to foul propellers. Sheets can also foul the prop if they go overboard.
While underway, always keep a lookout for crab pots, discarded fishing nets, and other types of debris in the water. Keep in mind that a spinning propeller tends to draw in anything that comes near it.
What are the signs that a propeller is fouled?
When shifting the engine into gear, the engine vibrates abnormally or abruptly clunks to a halt. There may also be rattling or grinding noises coming from underneath the boat.
If you suspect that your boat's propeller is fouled, do not try to force the engine into gear. Instead, take immediate action to prevent a secondary accident. (See our article Handling Emergencies Part II: Propulsion Loss and 10 Steps to Stay Safe Until Help Arrives.)
What is the best way to prevent prop wrap? 
Here is what Modern Sailing recommends:
During your pre-sail crew briefing, emphasize the importance of keeping lines out of the water with your crew. It is a critical safety matter. 
 
Bring all dock lines with you. These lines may become necessary to you and your crew in the event of an emergency.
 
When departing the dock slip, bring dock lines on deck as quickly as possible. Until you're ready to coil and stow the line, ensure its bulk is laid near the center of the deck well away from the toe rail.
 
Remove all dock lines from deck cleats, lifelines, or pulpits and stow in cockpit lockers. If a dock line is stiff and difficult to remove from its deck cleat, pour some water on the line to often soften it enough to work it loose. Do not tie your lines in a "larkshead" on the lifeline or pulpit. Due to the high risk of a larkshead coming undone and leading to a prop wrap (we've seen it many times), this practice is now forbidden by Modern Sailing charter policy. The best practice is to stow the lines in a locker or below deck.
 
Coil your dock lines neatly before stowing so you won't find them tangled up when you need them most.
Enjoy watching this helpful video from West Marine on how to neatly coil lines for safe stowing.
---