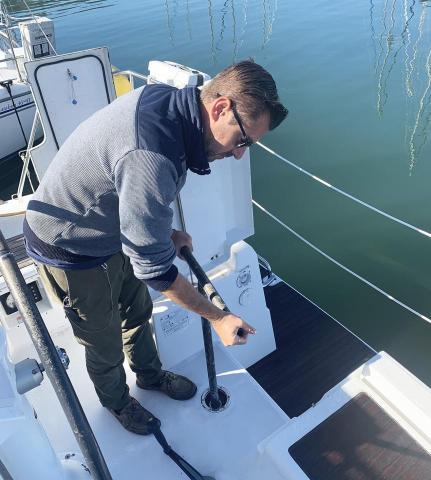 Sailboats consist of hundreds of parts, large and small, which are constantly subjected to the stresses of sun, salt water, and wear and tear. As even new and diligently maintained boats can experience a problem, every prudent sailor must know how to respond - and it begins with preparation before you even leave the dock.
Before leaving the dock, locate and check:
Emergency Tiller - In the event of a steering failure, you may need to react quickly to keep your crew and boat out of harm's way. Know where to find the emergency tiller and practice installing it. If you're unsure of how to install the emergency tiller, contact the office to request a Fleet Technician's assistance.
Anchor - If the boat's steering or propulsion is disabled, you may need to drop anchor quickly to avoid drifting into hazards.

Check the anchor rode to ensure that it will be free to run.
Also verify that the bitter end of the rode is securely attached to the boat.

VHF Radio - Ensure that it is turned on.

The Modern Sailing office monitors Channel 68 during business hours. If you are in the main Richardson Bay channel within the vicinity of the Spinnaker Restaurant, you'll be within range to communicate with the office.
After receiving your clearance to depart from the office on Channel 68, switch your VHF radio to Channel 16.

The Boat's White Binder - USCG and insurance documentation, SeaTow membership card, and instructions for calling for help are inside the white binder.
Flashlight - verify that it powers on. If not, contact the office to request batteries or a replacement.
Emergency Flares
Fire Extinguishers
Air Horn
Bungs (Wooden Plugs) and Rubber Mallet
First Aid Kit
Spare Line or Lines
Type IV Throwable PFDs
Always Brief Your Crew - Instruct your crew on how to start and stop the engine, where to locate and how to use safety equipment, and other emergency procedures.
Stay tuned for "Part II: Propulsion Problems" in our Handling Emergencies series, to be published the second week of November 2020. 
New to sailing? Learn about pre-departure safety checks in detail and much more in ASA 101, Basic Keelboat Sailing and ASA 103, Basic Coastal Cruising courses. Questions about on-the-water safety? Call (415) 331-8250, email us, or stop by our office and ask to speak with one of our knowledgable captains.
Want to learn more seamanship and safety tips? Check out the Member Resources section of our website. New articles are added frequently!