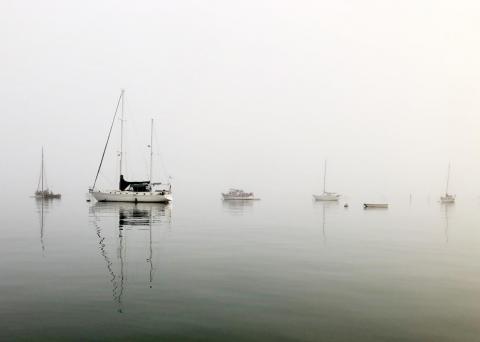 You know the basics of anchoring already. Do you know where to find information about your chosen boat's specific equipment? Among the Modern Sailing fleet, windlasses and ground tackle vary from boat to boat. A few additional tips will help inform smooth and successful anchoring experiences for our members.
On Our Website
To learn more about your chosen boat's anchor type/weight and rode type/length, go to our Boats & Rates webpage. Click on the name of your boat of interest, scroll down past the description, and click "Additional Info." You'll see a list of the boat's specifications and equipment, including ground tackle. All MSC yachts in the Gold, Platinum, and Catamaran Fleets are equipped with electric windlasses. Silver Fleet yachts Kele, Great Expectations, Kokomo, and Phoenix also have electric windlasses.
In Boat Check-Out Forms
As you fill out the electronic Boat Check-Out Form on your mobile device, be sure to review the "Unique Aspects of this Boat" section. Windlass power switches can be tricky to find on some boats, while others require a specific minimum engine RPM to run the windlass. If either is the case with your boat, you'll find helpful information in this section of the form. After you submit your Boat Check-Out Form, you'll receive a copy of it in your email that you can refer to later. 
On The Boat
If your next sailing excursion includes a plan to drop anchor, familiarize yourself with your boat's ground tackle before you leave the dock.
Check the boat's white binder for a paper copy of the Boat Check-Out Form with a "Unique Aspects of the Boat" section, and/or additional windlass documentation.
Check the windlass. Start the engine, flip the windlass power switch on and test the windlass. Using the handheld controller or foot buttons, feed out some chain, then feed it back in.
Check the bitter end. Ensure that the bitter end of the rode is secured to an appropriate attachment point. 
Ready to run? Ensure that the rode is neatly flaked or piled and is ready to run.
To snub or not to snub? If you're planning to anchor overnight, or for just a short time in possibly windy or choppy conditions, you'll want to snub the chain to reduce chain noise and take potentially damaging strain off of the windlass. Some MSC boats have a snubber aboard, while others have a simple spare line that you can apply as a snubber with a rolling hitch to the chain. Know where your snubber or spare line is stowed and practice your rolling hitch before you go. If you need a refresher, watch this brief ASA Knots Made Easy - Rolling Hitch video.
Questions? For help aboard, raise the MSC office on VHF channel 68.
Rode Calculation and Depth Calibration
All MSC yachts' depth sounders are calibrated to measure and display the distance from keel to seabed, not the depth from the waterline.
This ASA Bite-Sized Lesson video demonstrates how to calculate the length of rode to deploy for a 7:1 scope. To account for a keel-to-seabed depth calibration, add your boat's draft to the height of the bow above the waterline in the calculation.  (Bow Height + Draft + Depth) x 7 = RODE
Weighing Anchor
Before you weigh anchor, bring a bucket and deck brush forward to wash mud and detritus off the chain as it comes up onto the bow. Check that the anchor is locked securely in place before you leave sheltered waters. When you return to dock, rinse the tackle, windlass and locker with fresh water from a hose to deter salt corrosion.
Anchor Won't Weigh?
If the windlass controls are suddenly unresponsive, the circuit may have overloaded and tripped the breaker. Reset the windlass switch and ensure engine RPMs are sufficient to meet the demands of the windlass.
Do not apply excessive engine power to forcibly haul on a fouled anchor. This can cause bodily injury or damage to the vessel, windlass, and/or tackle, for which the charterer would be liable.
If the anchor seems irretrievable, call the Modern Sailing office at (415) 331-8250 for advice. After business hours, tie a fender to the fouled anchor's chain, detach it from the boat, and leave a voice message to inform the office. The next day, the fender will help a diver locate and retrieve the anchor. If the loss occurs in a restricted area or is due to negligence, the charterer is responsible for the cost of anchor retrieval or replacement.
Restricted Anchorages
Be sure to read the Charter Policies section of your Boat Check-Out Form to remain informed of areas off-limits to Modern Sailing yachts. In particular, the China Cove anchorage is always restricted due to underwater debris and anchoring hazards.
Best SF Bay Anchorages: More Info Coming Soon
MSC is currently developing a webinar to help sailors prepare to make the most of SF Bay and its anchorages. Dates and details will be announced at the end of May. Also, a Local Cruising Guides section will soon be added to our website. In the meantime, Clipper Cove (by San Francisco Bay's Treasure Island Harbor) and Paradise Cove (off Tiburon just north of Point Chauncey) are popular SF Bay anchorages.