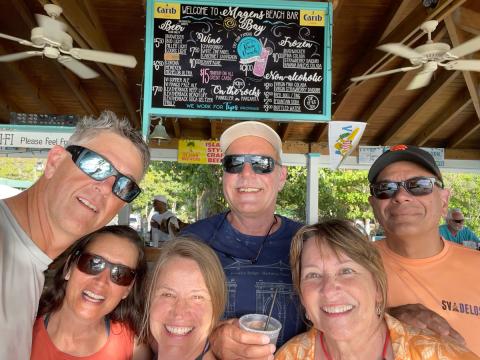 In April 2022, Club Skipper Vincent Latour and member Julia Frink chartered a 40' catamaran in the US Virgin Islands with Neethling and Karlien Prinsloo and Bob and Karen Fernandez, friends they met at Modern Sailing. Learn about their experience sailing and exploring this area.
At the end of this article, you'll find out how to contact Vincent if you have any questions about chartering out of the USVI.
Best Time of Year to Sail the USVIs
"We went the last two weeks of April. The timing was perfect. Good weather, not too busy."
Best Aspects of Sailing the USVIs
The USVIs are US territory, which means that you can fly to the USVI without a passport (although a passport still serves as the best form of identification). This makes the USVIs a doable destination for an impromptu charter when not all members of a US crew possess a passport. Also, there is no language barrier or currency exchange to contend with.
"The US Virgin Islands are a very easy place for a beginner cruiser to start chartering beyond the Bay. There are many places to anchor around St. Thomas, but St. John was all mooring balls (no anchoring allowed, to protect the reefs and seabed). The benefit is no worries about dragging your anchor and neither about picking your distance to other boats to avoid swinging into them. Go outside of the season and there are plenty of mooring balls available. Worst case, you motor or sail to the next cove, which is not far. Mooring balls are $26 a night, paid to the St. John National Park.
"The snorkeling and the beaches were amazing.

"Sailing a figure 8 around St. Thomas and St. John was not too difficult. 

Challenges and Lessons Learned
"You have to take taxis everywhere and they have a very limited schedule. We ended up walking a fairly long distance one day because the taxis had stopped coming to that area.
"In our experience, the people weren't that friendly. The food was disappointing. We ended up cooking all our meals but the food in the stores was subpar and expensive for the quality. And many fresh produce or meats sold out early.

What Vincent Would Do Differently Next Time 
In the USVI, we would go with a company that allowed us to go to the British Virgin Islands. We were restricted to the USVI.
I would invest in a better mask, snorkel and fins.
Bring a GoPro for underwater photos.
Charter a bigger catamaran. (One of the sleeping berths of the catamaran we chartered was too small for a couple.)

Vincent's Advice for Other Modern Sailors
If you have a Senior (62 and over) National Park membership, ( I bought one there for less than $90), bring it with you. You'll get a big discount on the mooring balls at St. John.
Plan on a place to re-provision and to get water around the 4th day.
Better to pay a little more and get a boat not older than 3 years and for three couples. Step it up to a 44'+ catamaran.
This area is perfect for a novice (catamaran) sailor.
Get the "Cruising Guide to the Virgin Islands."
Modern Sailing Members: Do you have any questions about sailing the US Virgin Islands for Vincent? He's happy to help! You can connect with him via the members-only Facebook Crew List or send us an email and we'll forward it to him to put you in touch.
---
Have you sailed or chartered outside of San Francisco Bay? If you are willing to share your experiences with other Modern Sailing members, let us know!
Does the idea of a sailing vacation around the USVIs or another exciting destination appeal to you, but you need some guidance to get started? First, know that most international charter companies require sailors to possess an ASA 104, Basic Coastal Cruising certification and the International Proficiency Certificate. If you have questions about how to prepare for international chartering or any other kind of sailing adventure, give our friendly office team a call at (415) 331-8250 or send us an email. We're happy to help you plot your course towards making your sailing dream come true!