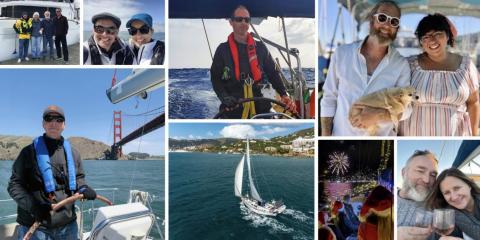 Need a healthy dose of inspiration? At Modern Sailing School & Club, we can think of no better way to look back on the year than by sharing the stories of past and present MSC club members, students, and employees who have succeeded in taking some major steps towards making their dreams of sailing and cruising come true. You'll see what's possible for sailors from all walks of life to achieve.
The first two stories below are new and the others are updates on some of the sailors we featured in 2021 and late 2020. (Others could not be reached for comment.) Click on their names to read their original Sailor Spotlight stories.

Jen and Christian Philips 

NEW! The Philips have cancelled their membership with Modern Sailing for good reason - they are now the proud owners of their very own catamaran! What are their sailing plans with their new cat? 

NEW! Having crossed the Atlantic Ocean with the 2021 Atlantic Ralley for Cruisers, lifelong sailor Yves has crossed off one of the most monumental items on his bucket list. Yves is noodling a new sailing dream now. Find him on LinkedIn if you'd like to connect.

 

UPDATE: Former MSC Fleet Manager Timmy, his wife Ari, and their Chihuahua Papi have sailed to Mexico aboard their Allied Princess 36 Hosea! They are currently spending some time at a marina in Mazatlan, Mexico for a bit of boat work before they head south for Panama. Follow their adventures on Instagram at @sailing_hosea.

UPDATE: Koren became a first-time sailboat owner in 2021 and is enjoying sailing Sugar around San Francisco Bay while she further develops her ability to be a self-sufficient skipper. On December 11, Koren and Sugar participated in their first Sausalito Lighted Boat Parade. To see the amazing full-sized photo that was picked up by Latitude 38 and several Sausalito Instagram accounts, click on Koren's name above. Follow Koren on Instagram at @sausalito.sailor. 




UPDATE: Featured in last year's Modern Sailor Success Stories, Kate and Warren haven't done a lot of sailing on their new boat this year, as they welcomed a baby boy into their family in September. Congratulations to Kate and Warren!




UPDATE: Warren is back in the Caribbean, soon headed west for Panama. Since 2018, he has sailed his Morgan 385 Eliana over 30,000 nautical miles and has nearly completed a circumnavigation. Follow Warren's journey on Instagram at @wholybee.




UPDATE: Ken and Linda took possesion of their catamaran in 2020 and have since faced all the harsh realities of owning a boat and living aboard in a hot and humid climate (Florida). In spite of some frustrations, they are determined to sail for the Bahamas at the end of January 2022 and cruise for at least one season before reassessing their future sailing plans. 

UPDATE: Our 2020 Top Student, Paul remains a very active member of the club. In May, he completed our Club Skipper Clinic to become one of our newest Club Sail skippers. He also joined MSC's Recreational Race Program and has participated in two team practice sessions and four races. His goal for 2021 is continue sailing and racing, including on our partner club Inspire Sailing's sporty J-boats. 




UPDATE: Mary and her partner Tim survived a difficult year in Grenada and are now finally partaking in the joys of the cruising lifestyle - beautiful sailing, snorkelling, sight-seeing, and making friends with other cruisers. In early November, they achieved a new milestone, their first multi-day crossing from Grenada to the US Virgin Islands. In December, they also raced their Oyster 435 in the inaguaral Three Sheets Regatta and took third place overall. Follow Mary on Instagram at @sailing.novaturient and on YouTube at Sailing Euphoria Too.

 
---
Are you as inspired as we are by these amazing sailing success stories? Call our friendly office at (415) 331-8250 or email us to find out how Modern Sailing can help you prepare to sail San Francisco Bay - or beyond!