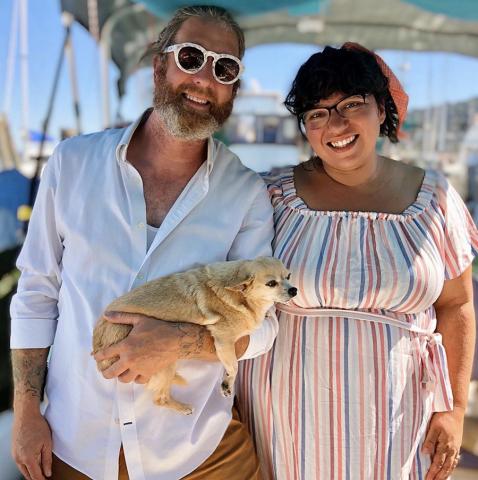 Timan "Timmy" Eatherton joined Modern Sailing's Fleet Services Department in mid-May of 2017, only two weeks after I started as a Customer Service Rep. We became friends instantly because of our mutual passion for sailing (which was more of an obsession) and we were both only beginners with much to learn. Prior to joining MSC, Timmy harbored an intense fascination with sailboats and sailing, which he indulged by insatiably consuming videos and books on the subject - but he'd never sailed before. Four years later, Timmy is embarking on the adventure of a lifetime - sailing the world with his wife Ari Davalos and their Chihuahua Papi on a boat of their own.
On the evening of June 9, 2017 it was my privilege to be aboard for Timmy's unforgettable first sail. It became apparent to us right away that he had a knack for sailing when a big gust of wind heeled the boat over hard and he reflexively eased the mainsheet, then trimmed it again after the gust passed. Amazed, we asked him how he knew to do that. Timmy attributed the reflex to both his study of sailing and that he had sailed in his dreams (literally) many times.
Timmy's first time steering on the helm, coached by Modern Sailing CEO Leigh Hunt.

After completing our ASA 101/103 combination course in late August, Timmy skippered for the first time on September 5, 2017. It was again my priviledge to be his crew for that sail. A few days later, he joined me as my co-skipper for my first time skippering a sail. After that, we sailed together frequently with coworkers after work. His warm and hilarious personality inspired me to give him the nickname "Timmy Sunshine."
As a Fleet Technician, when it came to figuring out a boat problem, he was like a dog with a bone and he learned quickly. A year later, he earned his ASA 104, Bareboat Cruising certification at MSC. However, it was frequent sailing with coworkers and mentors that helped his skills progress very rapidly.
Timmy's first time skippering a sail on September 5, 2017.

Timmy's comedic and vibrant personality and enthusiasm for sailing made him one of my favorite people to sail with.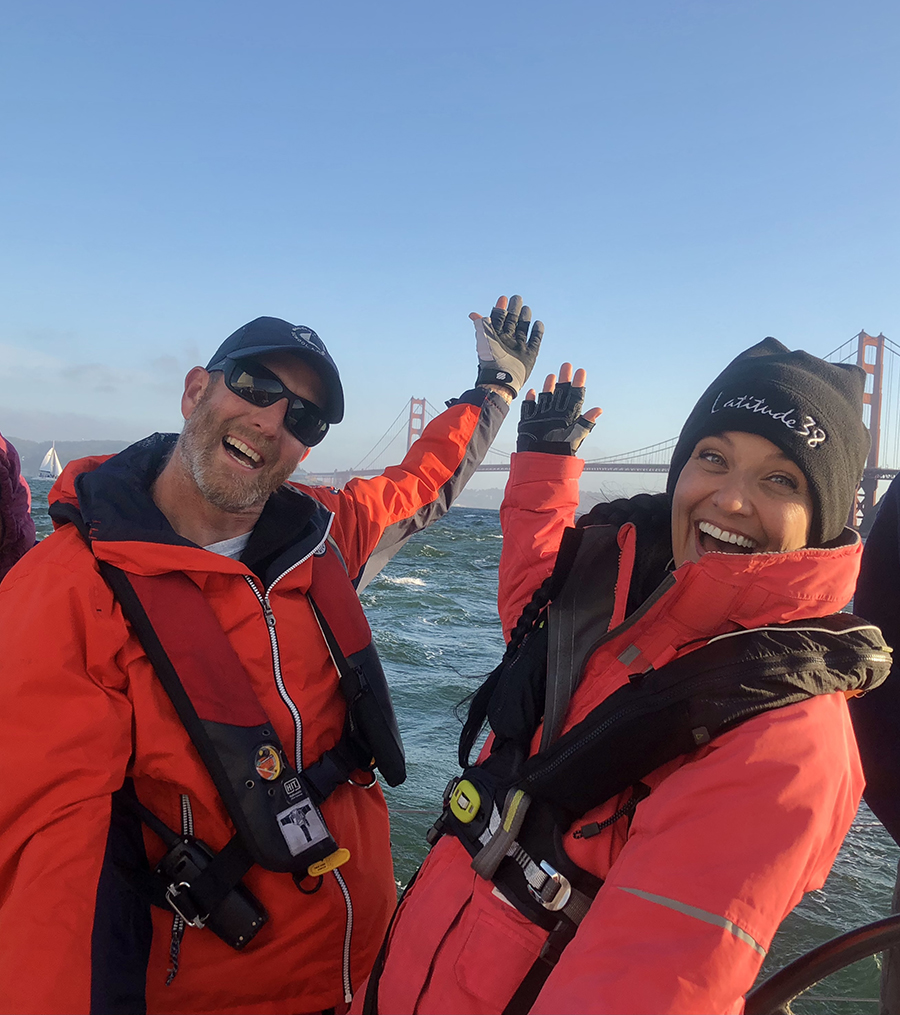 Less than a year after joining MSC, Timmy purchased his first boat, a Ranger 24 named Squidly. He sailed her often after work and on weekends, sometimes with his wife Ari, with coworkers, or single-handed. 
 
Timmy's wife Ari frequently joined us on our after-work evening sails. Through Timmy and friends at MSC, she also learned to sail.
When I moved to Florida in June of 2019, Timmy purchased my Islander 28 Zephyrus from me. But what he really needed for his long-term sailing goals was a sturdy ocean-going sailboat big enough to comfortably accommodate him, Ari, and Papi, not to mention plenty of provisions and spares. In late 2020, Timmy upgraded to an Allied Princess 36, Hosea, and began an extensive renovation and refit to prepare her for long-range cruising.

His budget-friendly refit is one of the most creative and ingenius we've ever seen! SV Hosea has been transformed into both a cozy home and seaworthy cruiser.

This spring, Timmy was promoted to Fleet Services Manager, even with his well-known target of cutting the docklines to sail away by the fall. We were glad to make use of his mad skills for as long as we could!
In only four years, boatloads of passion and being a Modern Sailing student, Fleet Technician, and boat owner helped Timmy acquire all the skills he needed to become a self-sufficient cruiser. Now the time for Timmy to sail away has finally come. He and Ari plan to sail south very soon to join the Baja Ha-Ha, then pass eastward through the Panama Canal bound for the Caribbean. (Since I'm currently in the Caribbean, lucky me! I can hardly wait for my friends to get here!)
Staff at Modern Sailing are both sad to see him go and ecstatic to see his sailing dreams finally coming true. After all, helping sailors achieve their biggest goals is the most rewarding aspect of what we do! We will be following SV Hosea's adventures on Instagram, and we wish Timmy, Ari, and Papi fair winds and following seas!
---
UPDATE December 29, 2021: Timmy, Ari, and their Chihuahua Papi have sailed to Mexico! They are currently spending some time at a marina in Mazatlan, Mexico for a bit of boat work before they head south for Panama.
---
Love to sail? Looking for a job? Among the benefits that Modern Sailing employees receive is a complimentary sailing education and plentiful opportunities to sail and learn with friends and mentors. Learn more on our Careers page.