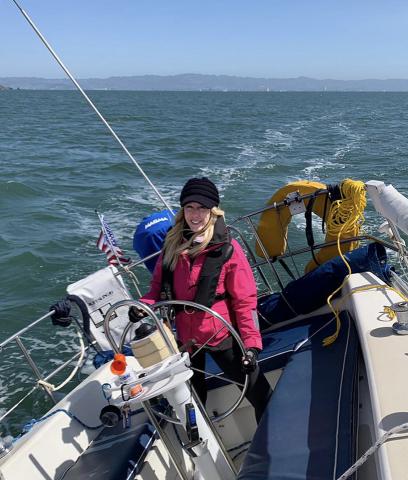 Having grown up with power boats in Massachusetts, Koren spent a lot of her life around boats and on the water – but had never been on a sailboat until only a few years ago. After receiving a sailing education and lots of practice by chartering at Modern Sailing School & Club, Koren found the inspiration and confidence to buy a sailboat of her own.
Koren moved to the Bay Area in 2017 and within a couple of years, found that she really missed being on the water. She felt that sailing could a great way spend time on the water and to meet some of the Bay Area's large sailing community, so she began researching sailing schools. "Modern Sailing and Sausalito seemed like the best," she says, and she went for it.
Koren has come a long way from when she purchased MSC's 2019 New Year Special, the "Resolve to Sail Basic Keelboat" package. By the end of April, she was ASA 103, Basic Coastal Cruising certified and was absolutely bitten by the sailing bug. A few weeks after completing ASA 103, Koren began to charter frequently while she continued her sailing education. ASA 118, Docking Endorsement, ASA 104, Bareboat Cruising, ASA 114, Cruising Catamaran, the Angel Island Mooring Clinic, and the Recreational Race Clinic quickly followed.
When Koren moved to Sausalito in 2020, she began to search for a boat of her own so that she could enjoy the freedom to sail single-handed, whenever, and wherever she wanted. She also wanted to learn boat systems in-depth, the kind of knowledge that only comes with experience. Koren found and purchased a 1986 Watkins 29, which she says is similar to some of the Silver Fleet boats at MSC. She christened the boat Sugar, named after her dog who had recently passed away. In keeping with the mariners' tradition, Koren also busted a bottle of champagne on the bow for good luck.
"Modern pretty much taught me everything I know about sailing," Koren says. "I felt very comfortable chartering boats after 103 and 104, and the clinics (docking, racing) helped me improve my skills. Through Modern, I met most of the people I sailed with before I owned a boat, via classes, post-sail drinks, or Club Sails. The skills I learned from classes and chartering at Modern made me confident enough to eventually purchase my own boat."

"Owning a boat has been a bit different," Koren tells us. "I got a crash course in lots of new things, and I was a bit paranoid the boat would sink during the first few weeks. Fortunately, she's still floating! The instructors at Modern have been very helpful since I purchased my boat - I even did a private lesson on my boat to help me with docking and side-ties."
The reasons Koren has fallen in love with sailing are many. "I love being so close to nature. I love when the engine goes off and you just hear water and wind. I love the camaraderie of sailing with other people. I also love the sailing community in Sausalito – I have a whole new set of neighbors at my marina, and everyone is incredibly helpful and eager to share knowledge."
Now that she has her own boat, Koren is able to explore the challenges and freedoms of sailing single-handed. "For now, I'm practicing to be more proficient when single-handing my boat. I've mastered docking and undocking myself, but still feel a bit nervous raising the sails when I'm by myself. Eventually, I'd like to do a longer passage." After some blissful naps aboard Sugar, she is also considering trying out overnight expeditions. 

Sailors like Koren are the reason we love to do what we do at Modern Sailing. We're amazed and proud of her rapid progress from beginning sailor to boat owner and we enjoy following Koren's sailing adventures on Instagram!
---
UPDATE December 29, 2021: Koren and Sugar participated in their first Sausalito Lighted Boat Parade. This fabulous photo was picked up by several Sausalito Instagram accounts as well as Latitude 38.
---
Looking for a fun way to stay active and spend time on the water? Want to make new friends among a welcoming and supportive community? Or are you a new boat owner, looking for an excellent instructor to provide private lessons on your boat? We can help! Call our office at (415) 331-8250 or send us an email.