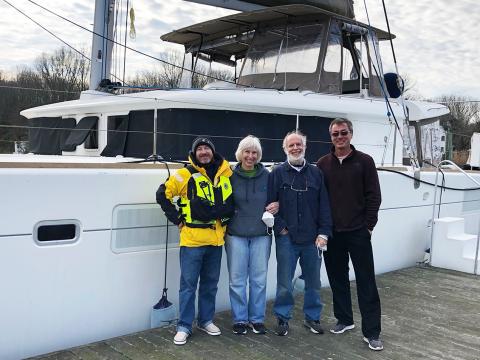 2020 was a monumental year for MSC club members Ken and Linda Hargreaves. Last May, they they crossed the Pacific Ocean for the first time as delivery crew aboard a 55-foot catamaran. Another major milestone was reached in early December with the long-awaited purchase of their first boat, a 2014 Lagoon 450 catamaran! 
Accompanied by Captain Adam Yearwood, Ken and Linda headed out from Annapolis for their maiden sail on their catamaran to Norfolk, Virginia. After sitting out some bad weather in Norfolk for four days, they then proceeded with Captain Peter Amos to Beaufort, North Carolina, where they plan to leave the boat while they prepare their house in California to be rented out. The couple's trip from Norfolk to Beaufort was much more exciting than originally anticipated. Another couple (who are living on their Lagoon 450 in the New York City area) also joined them for this leg of the trip, and they were very thankful for the extra crew.
The first nineteen hours of the trip from Norfolk to Beaufort was easy going. After a 6:00 PM departure and motoring through the night, they eagerly unfurled the jib at first light. With the wind on their beam, they made speedy progress along Cape Hatteras, which lived up to its notorious reputation that day. The boat performed strongly in sustained winds of around 45 knots and gusts over 50 knots. The biggest gust was recorded at 54.5 knots! A rogue wave blew out the small side hatch of the master cabin, flooded in, and proved the bilge pumps and alarms were working perfectly. Linda had wanted to get another mattress for their berth, and with a thorough seawater soak, the wave granted her wish! Luckily, there was no rain to make matters worse, but a dense mist, kicked up by the churning waves, hovered eerily over the unsettled sea. As beautiful as it was, the Hargreaves decided that once in a lifetime is enough to see that. Along the way, they were treated to visits by many dolphins and even a juvenile whale, which they will never tire of seeing.
At the end of the journey, Ken skillfully backed the big cat into a narrow slip that was only two feet wider than the boat itself. Safe and sound in Beaufort, Ken and Linda are feeling very lucky and excited for the future. They plan to live aboard and sail their catamaran for the next five or more years and to ultimately explore the pristine atolls of the South Pacific.
Regarding their experience with Modern Sailing, Ken and Linda say, "The classes have been invaluable. The camaraderie is unsurpassed. We have made some lifetime friends through Modern Sailing. While in Annapolis, we spent a day sailing on the Chesapeake with a friend from Modern Sailing, Tim Welch." (Tim recently moved to Annapolis and is now a proud owner of a Beneteau.)
We at Modern Sailing are so thankful to have played a part in helping Ken and Linda prepare for their adventure of a lifetime, and we congratulate them on the purchase of their catamaran. We especially look forward to following their adventures in the years to come!
Ken and Linda's Lagoon 450 as they head out for their maiden sail.
---
UPDATE December 29, 2021: Ken and Linda and their catamaran are currently in Florida and preparing to sail for the Bahamas at the end of January. Linda says that the adjustment to full-time boat life has been tougher than they imagined. Every other day the notion of throwing in the towel crosses their mind, but they have decided not to decide until after they have experienced a full season of cruising in the Bahamas. (The author encourages them to give it at least a year, knowing from experience that once the real cruising begins, the lifestyle starts to get a lot more fun!) 
---
Do you dream of sailing adventures near or far? We can help you acquire the skills and experience that you'll need to get out there with confidence. Your journey can begin with an email or a phone call to our friendly office at (415) 331-8250.