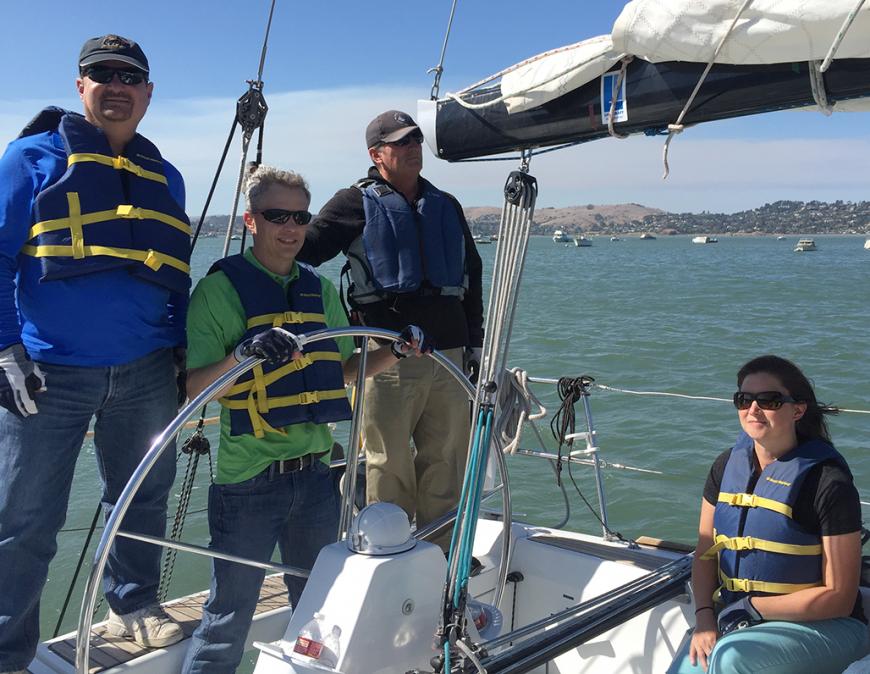 Après Sails and Parties
During the warmer months our sailing students, members, and their guests enjoy a complimentary Après Sail social from 3:30 to 5:00pm on Saturdays and Sundays. During the cooler months, our Après Sails are held on alternating Saturdays or Sundays.  We serve complimentary snacks, wine, beer, and beverages while you unwind with your crew and meet new sailing friends. On special occasions, we'll serve gourmet hor d'ouvres, pizza, paella, or BBQ. Subscribe to our Weekly Email to stay informed on upcoming events!
Club Sails
Maintain your sailing skills and meet new friends - Join a Club Sail!  Weekend Club Sails are fun, informal and skippered by members of the club who are both friendly and supportive. The sails are scheduled for either Saturdays or Sundays. All experience levels are welcome. Experience and practice all aspects of managing a boat and crew for your own bareboat charters. Crew members are encouraged to assist the skipper with the sail. Members may sign up two non-member adult guests at the member rate.
We offer a variety of unique and and fun social venues for our members:
Weekend Prime Time Club Sails (10:00am - 3:30pm)
Full Moon Club Sails
TGIF Sails
Jazz By The Bay (May - August)
Wednesday Sunset Sails (high season only)
Angel Island Club Sails
Giants Games (anchored in McCovey Cove)
4th of July Fireworks Club Sail
Sausalito Lighted Boat Parade (December)
Spectator Boats - watch exciting international big yacht races on the water
View Schedule of Club Sails / Enroll Online
Flotillas
As a club, we strive to provide an active, supportive, and relaxing social environment for our members to further their sailing education and experience. Our flotillas are a perfect opportunity for you to practice your sailing skills either on San Francisco Bay or in exotic waters with the support and social camaraderie of a group. You will confidently be able to bring family for friends along, knowing that there is support all around you. Even if you have extensive cruising experience, you will enjoy the group dynamics and social flavor of sailing in a flotilla.