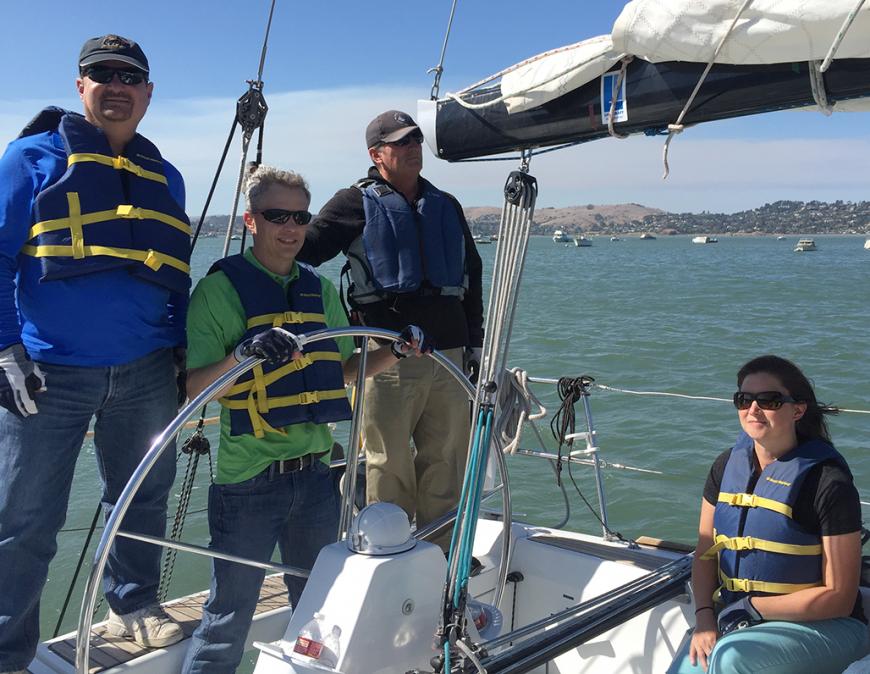 Member Only Club Sails
Maintain your sailing skills and meet new friends - Join a club sail!  Weekend club sails are fun, informal and skippered by members of the club who are both friendly and supportive. The sails are scheduled for either Saturdays or Sundays. All experience levels are welcome. Experience and practice all aspects of managing a boat and crew for your own bareboat charters. Crew members are encouraged to assist the skipper with the sail.
There are three ways to sign up for a Club Sail - by phone (415) 331 - 8250, email, or online by clicking here.
BBQs and Parties
We take our celebrations very seriously. During the warmer months our members, students and their guests enjoy BBQ's and themed parties. A delicious assortment of food including main dishes, salads, desserts, vegetarian options and a variety of beverages are set out. In the winter months we continue the fun with parties, hot spiced apple cider, hot cocoa, chili and soup days with gourmet sandwiches, and we have breakfast events throughout the year.
Join our "Get Connected" events and enjoy frosty Margaritas and delicious appetizers while meeting other members. This is a great way to find crew for upcoming sails or to join a charter as crew. Spending time at our many celebrations is a great way for members to unwind after a great sail and meet new friends.
Full Moon Sails
Enjoy a Full Moon sail with friends and members. The sail typically starts before the sun goes down, so you not only get a big beautiful moon, but the incredible sunset too! This sail is informal and skippered by a member who is friendly and supportive. All experience levels are welcome, and everyone is encouraged to assist with sailing the boat.
Flotillas
As a club, we strive to provide an active, supportive, and relaxing social environment for our members to further their sailing education and experience. Our flotillas are a perfect opportunity for you to practice your sailing skills either on San Francisco Bay or in exotic waters with the support and social camaraderie of a group. You will confidently be able to bring family for friends along, knowing that there is support all around you. Even if you have extensive cruising experience, you will enjoy the group dynamics and social flavor of sailing in a flotilla.