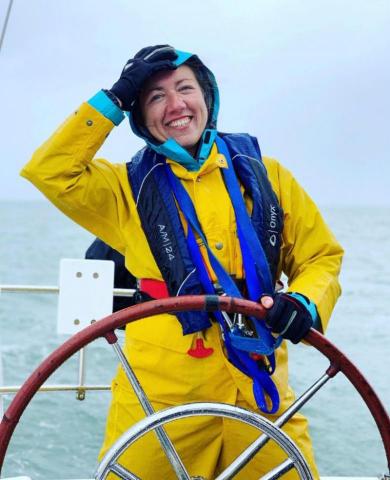 Banish the winter blues and cool your cabin fever with more time on the water! Modern Sailing gives members five reasons to love winter sailing.
15% Winter Savings on Bareboat Charters
Log lots of on-the-water days for less! Bareboat charter rates are discounted through March 13. Check out Our Charter Fleet page for pricing details.
Winter Charter Bonus Special
When you charter 5 times between January 1 and March 13, we will credit your account 10% of the total you paid for your 5 charters!
Multi-day Charters are discounted 10% for two consecutive days and 15% off for three or more consecutive days. Your consecutive full-day charters will count as one charter towards the requirement of 5 charters to receive your Winter Charter Bonus.
24-Hour Cancellation Policy
As 24-hour weather forecasts are more reliably dialed in than 72-hour forecasts, we enable you to make well-informed decisions about whether or not to sail, without late cancellation concerns. When you provide 24 or more hours advance notice, you can cancel your charter reservation with no penalty. (Spring/summer cancellation policy requires 72 hours notice.). 
Test Your Mettle (and Stay Safe)
In the event of extreme weather or wind conditions materializing, we'll make a safety call and cancel the day's on-the-water activities. Typically, forecasted or present wind speeds of around 30 knots or more (sustained) will prompt us to a decision point about whether or not to keep our boats berthed for the day. If necessary, our office staff will collaborate with students and instructors to reschedule the day's lessons. Of course, there's no cancellation penalty for charterers when we must declare a no-sailing day. Otherwise, when it rains, it's business as usual for our hardy instructors, captains, staff, club members, and students.
We recommend that every aspiring sailor, when ready and confident, test their mettle by trying out sailing in a mild to moderate wet weather event on San Francisco Bay. With the right clothing, gear, and preparation, it's very possible to stay warm, dry, and safe. Many sailors even find sailing in the rain refreshing or invigorating. 
However, we discourage charterers from venturing out in conditions that they may feel unnerved about or unprepared for. If the wind is predicted to be 20 to 25 knots sustained on the day of your charter and you feel uncomfortable about going out, please contact our office to communicate your concerns.
Also, if conditions deteriorate beyond your comfort level while you're out there, douse your sails and head on in. Practice safety first by knowing your limits. 
Our Heavy Weather Sailing, Electronic Piloting and Radar, and Advanced Sail Trim Clinics can boost your skills and confidence to prepare you for sailing in less-than-fair conditions. Also read our article How To Find Your Way Back to Harbor in the Dark or Fog to get prepared for possible poor visibility conditions.
Are you and your foul weather gear ready for the challenge? Gusty and shifty storm winds will strengthen your skillset and help you prepare for sailing in a wider range of conditions. If you have sailing goals that may one day take you over the horizon, sailing in soggy weather will be excellent practice for the squalls that all long-distance sailors and cruisers eventually encounter. The experience will also add new dimension to your sailing resume and fireside stories. And you'll find that after a soggy sail, hot cocoa or cider never tasted better!
Easy-Going Fair Weather Sailing
You might be surprised at how beautiful winter weather on the Bay can be in between storm systems. Watch the forecast and jump on those sunny days when you can! You'll enjoy light winds and gentle sailing when the winter weather is sunny or partly cloudy. As in the spring and summertime, bring layers of clothing to don as needed.
Learn to make the most of light winds with our Light Wind Sailing Techniques Clinic.
Questions? Contact our friendly office. We're happy to help!