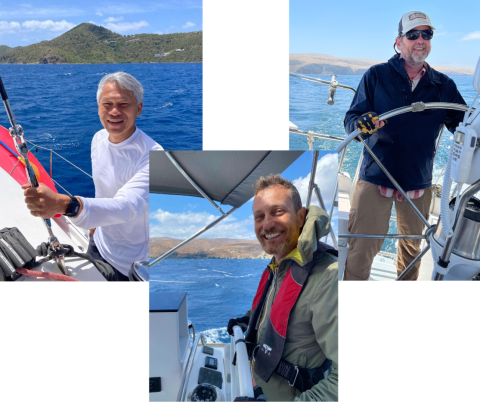 Every winter at Modern Sailing, we take a moment to recognize members who have taken the helm and sailed the extra nautical mile during the previous year. Meet the recipients of our 2022 Top Charterer, Top Student, and Ambassador Awards! 
Our Member Award honorees serve as a highlighted example of the many fine sailors we are lucky to have as part of our community. These members stand out for their passion for getting out on the water to learn, practice, and assist other sailors they meet along the way. You might have come across them skippering a Club Sail, leading or participating in a race or event, or offering assistance to a fellow classmate or member. In addition to our acknowledgement and thanks, these exceptional sailors will each receive a coveted Modern Sailing logo jacket. 
We also want to give a nod to past honorees with our Member Awards Hall of Fame and to recognize our 2022 Commodores Club inductees (our most frequent charterers of the year). You will see some of the names in the Commodores Club are hyperlinked. Click on the name to read about what keeps our Commodores sailing with us so often!
---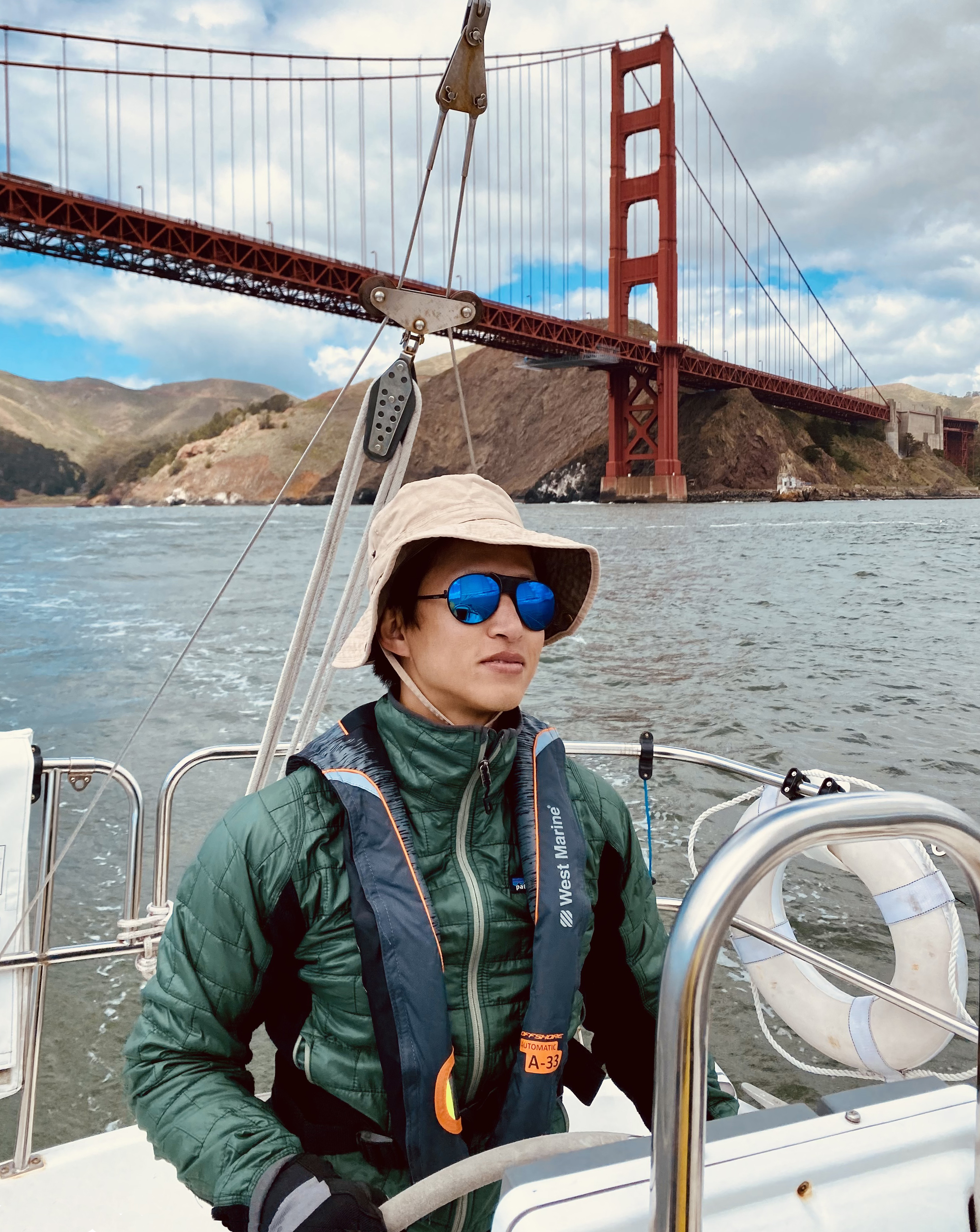 Top Student
Christopher Dang
2022 was a huge year for member Christopher Dang, who joined Modern Sailing and completed our ASA 101/103 Basic Keelboat/Basic Coastal Cruising Combo Course in March. Within only 10 months, Christopher completed ASA 118, Docking Endorsement, the Mastering Sail Trim Clinic, ASA 104, Bareboat Cruising, Silver Fleet Development Clinic, Race Clinic, and ASA 114, Cruising Catamaran. 
More than just an avid sailing student, Christopher kept active on the water between his Courses and Clinics by going on a Farallones Day Trip and by chartering and joining Club Sails on numerous occasions. Christopher also recently expanded his sailing education by completing the Gold Fleet Docking Clinic at our Berkeley location.
Christopher tells us, "Currently I'm focused on my upcoming  adventure on one of the Clipper Race legs  (South Africa to Western Australia) later this year after learning about it from seeing one of their boats dock in Sausalito during one of my sailing classes. I'll be traveling to the UK several times in the upcoming months for training and hope to squeeze in time on the bay as well. 
"I've been very appreciative of my experience at Modern Sailing and have found the instructors to be incredibly knowledgable. Shout out to the amazing office staff as well. I'm always looking for an excuse to get on the water and Modern Sailing has been great at providing those opportunities."
It has been rewarding for Modern staff and instructors to support and witness Christopher's dedication to his sailing goals. We are honored to have him as a student and member of our club!
---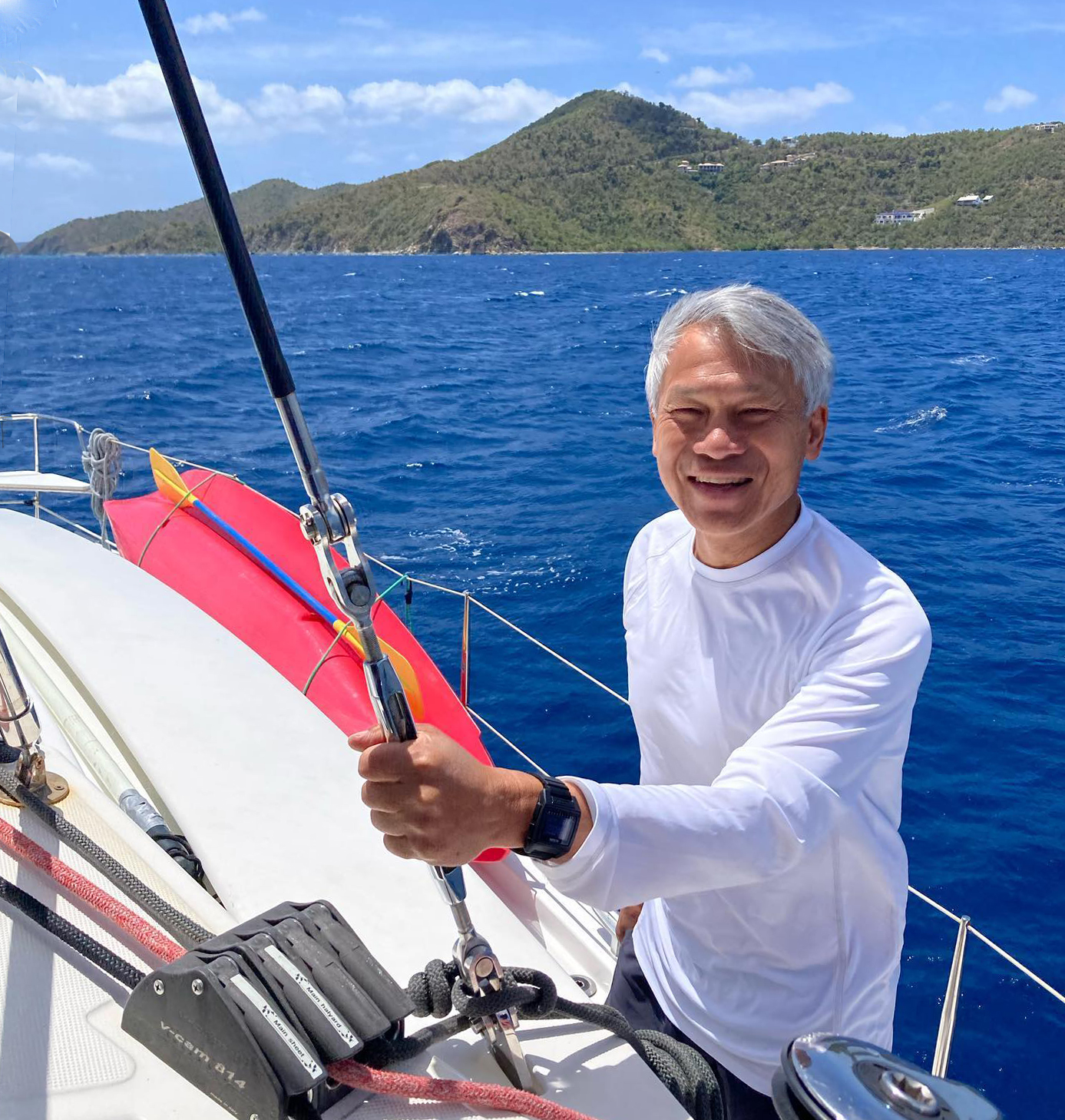 Top Charterer
Richard Pon
Modern Sailing celebrates one of our most avid sailors and frequent charterers, Richard Pon.
Richard has been a Dual Site member for just over a year. A former member of OCSC and a very experienced sailor, Richard is also a volunteer for the Blue Water Foundation, a non-profit organization that brings the joy of sailing to the Bay Area's underserved youths. He also charters frequently at Modern Sailing's Berkeley and Sausalito locations and all over the world. He has sailed the California Coast, Chesapeake Bay, Canada, Mexico, Italy, the Caribbean, and the Whitsunday Islands of Australia. We thank Richard for recently contributing content to our collection of Members Review Destinations articles by sharing his own experience of sailing the Whitsundays. 
With more than 20 Modern charters in 2022, Richard has earned our Top Charterer Award for the year. We thank Richard for sailing with us and we are inspired by his passion for sailing regularly and for sharing his love of sailing with others.
---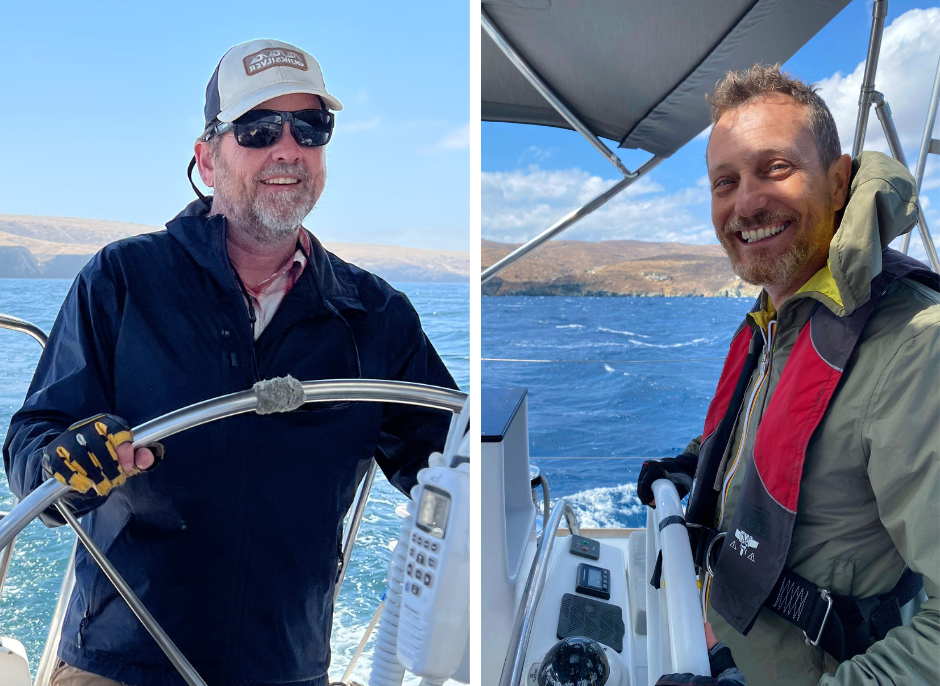 Club Ambassadors
Kent Carter and Paolo Juvara
Sometimes when the time comes to choose a Club Ambassador, more than one of our members will stand out for their extraordinary contributions to our community in the past year, and we're loathe to pass up the opportunity to recognize them! That was was the case for 2022, so we wish to acknowledge and thank both Kent Carter and Paolo Juvara with our Ambassador Award. 
Kent and Paolo were in the same Club Skipper Clinic last March and have remained very active members of the club not only through continuing their sailing education and frequent bareboat chartering, but by skippering multiple Club Sails. 
Kent Carter
"2022 was a great sailing year for me. Highlights included passing ASA 107, Celestial Navigation, skippering Club Sails, taking a multi-day excursion into the Delta, and racing on a J/105 in the Rolex Big Boat Series as well as the J/105 National Championships. I was also able to take advantage of the club's reciprocity and charter several times out of Los Angeles, and do a long weekend adventure from Santa Barbara to the Channel Islands. Modern Sailing has provided a foundation for all of these experiences and I'm grateful for their professionalism, friendliness, and never ending support."
Paolo Juvara
Paolo has been a Modern Sailing member since 2021. As a Dual Site member, he has sailed actively at both our Sausalito and Berkeley locations. In addition to frequently chartering and skippering Club Sails in Sausalito, we seen him in Berkeley often as he participates in Club Sails and the exciting sportboat and performance programs available at our Berkeley location, such as our J/24 Racing Skipper Clinic, Racing Clinic, and Asymmetrical Spinnaker Clinic.
"I grew up sailing dinghies as a kid on the lakes of northern Italy. After many years of hiatus, I restarted sailing as an adult at OCSC in 2015, where I completed the US Sailing curriculum. I became a member of Modern Sailing in 2020 and I have loved being part of this amazing community.
"Since joining Modern Sailing, I have completed the ASA courses 101, 103, 104, 105, 114 and 118. I have also chartered boats in Saint Lucia, Croatia, Greece (twice), Italy, Tahiti and Belize.
"I am very excited to be a Club Skipper and have the opportunity to share new learnings and experiences with other members of the club. Looking forward to sailing with you!"
---
2022 Commodores Club Inductees
Congratulations and many thanks to Modern Sailing's newest Commodores Club inductees, our most active members of 2022! 
The sixth year of our exclusive member benefits program, the "Commodores Club," has come to a close and we have taken the tally to recognize our most frequent charterers.
Wondering how members qualify for the Commodores Club and what they receive as tokens of our thanks? Click here.
Without further ado, here are our 2022 Commodores Club inductees!
THREE FLAG COMMODORES (20+ Charters)
Richard Pon
Warren Leiden
TWO FLAG COMMODORES (15-19 Charters)
Tom Petersen
Bill Lawler
Khoury Ibrahim
ONE FLAG COMMODORES (10-14 Charters)
Kevin Martin
David Dolenc
Christian Paulus
Jacque Loewy
Anthony Kleppe
Howard Chi
Guy Robinson
Michael Zeglin
Michael Pettigrew
Ruben Dobbs
Steven Augarten