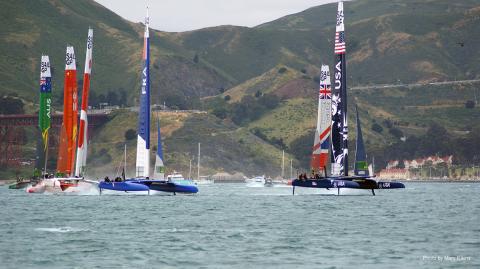 Sailing Save-the-Dates for San Francisco Bay 2023
Known as a sailing mecca the world over, San Francisco is home to hundreds of sailing events every year. From community boat parades and regattas to the latest innovations in the yacht racing world, you can see it on the Bay. Check out this list and mark your calendars to experience these sensational events that bring the local sailing community out onto the Bay. Some of these event dates are "TBD" (to be determined), but we will continually update this page as event dates are announced.
To experience or participate in some of these events aboard our sailing yachts, keep an eye out for Club Sails on event dates at Sausalito's Modern Sailing and our partner club Inspire Sailing in Berkeley.
View the Modern Sailing Club Sails schedule here. 
Inspire Sailing members and MSC Dual Site members can access the Inspire Sailing Club Sail schedule in the Inspire Sailing Member Portal.
---
The Three Bridge Fiasco hosted by the Single-Handed Sailing Society takes place right outside of the St. Francis Yacht Club. Racers compete single- or double-handed to round three buoys or temporary marks representing the three major bridges of the San Francisco Bay; the Golden Gate Bridge, East Bay Bridge, and Richmond-San Rafael Bridge. This race is an annual event regularly attracting more than 300 yachts and teams from all over the Bay Area. 
Enjoy this video clip of Modern Sailing School & Club's owner and CEO, Captain Leigh Hunt and sailing instructor and Captain Jimmie Marquez as they attempted the 2020 socked-in, strong-ebbed regatta. 
---
"Getting Started Chartering in the Tropics" - Presentation by Anne and Rick Waltonsmith at BYC - Friday, February 10, 2023
Anne and Rick Waltonsmith have been Modern Sailing club members for more than ten years. In addition to being a Catamaran Fleet Rated Club Skipper, Rick has chartered 8 times in the Caribbean. Having no commercial interests, Anne and Rick enjoy sharing their experiences and want to help others to plan for successful bareboat charters in the tropics.
Anne and Rick are also members of the Bay Area Multihull Association Yacht Club, which is sponsoring and promoting their presentation at Berkeley Yacht Club on February 10 at 7:00pm. 
There is no cost to join.
---
Destination Chartering and Sail Croatia 2023 Information Session - Sunday, March 5, 2023
Join Modern Sailing Global Destinations at the Sausalito Seahorse and enjoy a complimentary beverage and appetizers as you learn about destination chartering and our Sail Croatia 2023 flotilla from our Trip Leader, Captain Stephen Spoja.
We invite anyone who is considering a sailing vacation or destination charter to attend. In addition to learning about sailing Croatia, you will have the rare opportunity to learn from the experts about chartering abroad and ask questions of captains who are familiar with many popular worldwide charter destinations!
There is no cost to attend, but please RSVP so that we can ensure there will be enough seating and refreshment for everyone.
DATE: Sunday, March 5, 2023 |  1:30 - 3:30pm
LOCATION: Sausalito Seahorse Restaurant, 305 Harbor Drive, Sausalito
---
Check for updates on Latitude 38's virtual crew list page. 
These parties, hosted by our favorite maritime news outlet, Latitude 38, occur twice annually. Hosted by the Golden Gate Yacht Club from 6:00 to 9:00 PM, the event is a meet and greet for Bay Area Sailors (crew and boat owners), featuring stunning views of the Bay, and a live life raft launch from Sal's Inflatable Services. $10 cash at the door or $5 for ages 25 and under with ID. Learn more. 
---
In Alameda at Svendsen Marine's second annual Spring Flow Show, you'll meet top sailing and boating brand representatives and explore Svendsen's 20,000 square-foot store for the best deals of the year on your boating and sailing gear! There are also raffle giveaways happening all day long. Download free tickets to claim your show swag bag. Visit springflingboatshow.com for information and tickets.
---
After a two-year hiatus triggerd by the pandemic, the Pacific Sail & Power Boat Show returns to the California Bay Area this May! Although Sail America, the event coordiator, has not yet updated the event website (as of February 1), the news is making the rounds in sailing publications like Latitude 38.
We'll keep you posted as details shape up.
---
SailGP San Francisco  (F50 foiling catamaran races) - May 6 - 7
There are a few ways to witness the exciting action of F50 foiling catamarans zipping and splashing around the Central Bay: (1) watch the race from shore by buying tickets from SailGP. Modern Sailing club members can (2) charter a boat or (3) join a Club Sail to watch from the water.
---
Learn about the ocean, its inhabitants, the people who play in it, and people who work on it at the International Ocean Film Festival. Each year the IOFF aims to save the oceans one spectacular film at a time by inspiring viewers to become the voice of Earth's largest organ. 
---
Opening Day on the Bay - Sunday, April 30
Celebrate the official beginning to the San Francisco Bay sailing season with fellow sailing enthusiasts! 2021 marks the 104th annual celebration kicking off the start of the boating season in the Bay Area. From the blessing of the fleet in Racoon Straights to the parade of decorated boats, Opening Day on the Bay is one of the premier sailing events of the year. Dating back to 1917 and organized by the Pacific Inter-Club Yacht Association, the parade sails from the shadows of the Golden Gate Bridge to just past Pier 39. Any vessels can take part as long as they register beforehand. The procession regularly features tug boats, clean-up boats and tour boats, with visitors and spectators onboard. Judges are on hand to dish out prizes for the décor and imagination of the colorful vessels. More details to come as the 2021 Celebration planning comes together!
Remain subscribed to the Modern Sailing weekly newsletter email for Opening Day on the Bay Parade Club Sail announcements so that you can join in and participate in this spectacular event. If you're not already subscribed, subscribe to our weekly newsletter here.
---
Enjoy late summer nights and the smooth tunes of jazz on land or from the water. Hosted by Sausalito Parks and Recreation, Jazz by the Bay is a community event focused on park enjoyment and music appreciation. During the summer, these weekly Friday night concerts occur in Gabrielson Park overlooking Richardson Bay and the Sausalito Yacht Club mooring balls. MSC members can book a boat to enjoy the tunes and sunset, or join one of our Jazz and Blues by the Bay Club Sails.
---
The Master Mariners Annual Regatta (Memorial Day weekend)
Hosted by the Master Mariners Benevolent Association, a San Francisco yacht club that dates back to 1867, the Master Mariner's Regatta is an exquisite event showcasing wooden tall ships from all over the Bay Area. In contrast to the modernity of SailGP, regatta boaters and spectators will have the opportunity to experience the historic heritage of sailing innovation at its finest.
---
The One Ocean Film Tour is a world-class series of ocean-loving films focused on adventure, the aquatic environment and inspirational stories.  The tour was created in 2020 with the vision to increase awareness about ocean protection and conservation by sharing films made by people who have dedicated their lives to the ocean and all her glory. One Ocean Film Tour is a spectacular visual journey in itself. Join us! Immerse yourself in the mighty power of One Ocean!
---
Celebrate the year's longest day and the start of summer on the "Sailstice." Organized by Bay Area sailor John Arndt, this event is a global affair that brings sailors together to celebrate their favorite pastime - sailing. Participation in the Summer Sailstice event is free. All you have to do is slip the lines, hoist your sails, and head out to your favorite body of water on a sailboat. Modern Sailing members can participate in Summer Sailstice by chartering a boat or joining a Club Sail. Share your Sailstice plans for a chance to win epic prizes from sponsors such as North Sails, Navionics, American Sailing Association, US Sailing, and more!
---
The Annual Wooden Boat Show is one of the highlights of the San Francisco sailing season, and one of only a few West coast wooden boat shows.
Open to the public and generously hosted by the Corinthian Yacht Club in Tiburon, this unique event is an once a year opportunity to enjoy one of the most beautiful Yacht Clubs in the world, and dozens of the most elegant and delightful traditional sailing boats from the Bay and beyond. We'll let you know as soon as show dates are announced.
---
Independence Day Celebration - Tuesday, July 4
Celebrate America's independence on the water! Charter a sailboat or join a Club Sail to watch the multitude of fireworks shows around the Bay Area from the water.
---
The Rolex Big Boat Series is a four-day regatta founded by the St. Francis Yacht Club in 1964. The annual event attracts competitive racing teams and big racing boats from all over the state, nation, and world. Thousands of racers and hundreds of boats take to the Bay each day of the race, competing for first place and the Rolex watch that comes with it. MSC club members can bareboat charter or join a Club Sail to witness the excitement from the water.
---
IYC's 3 days of sailing, learning and fun includes in-person and streaming seminars and keynote speeches, food, drink, and no-host cocktail hours, giveaways including t-shirts and totes, and an amazing raffle drawing! Stay tuned for more details as we approach September.
---
The grand finale to summer in San Francisco, Fleet Week, celebrates the United States Navy allowing civilians to tour warships while their sailors tour the city. The week begins with a parade of ships progressing to free concerts, educational events, and family fun. Fleet Week's grand finale is a two-day air show over the Bay featuring the Blue Angels of the United States Airforce, the F-35 Demo Team, a demo from United's largest airplane, and several internationally known performance flight teams. The best seat in the house for these shows is from a boat on the Bay - keep an eye out for our Club Sails that weekend. 
---
Sausalito Lighted Boat Parade - December 9
Spark the spirit of the season with holiday lights, music and fireworks on the water! This special event is a holiday tradition in Sausalito and across the Bay Area. Every year, we enter two of our club boats in the parade and our hard-working fleet staff decorate them for our members and guests to participate in this magical experience. With the sounds of holiday music and cheering spectators, you and your guests will be dazzled by the spectacle of decorated boats and fireworks. An enchanting and memorable event to kick off the season, even the grinchiest of sailors will be unable to resist the holiday cheer.
---
Do you know of any other San Francisco Bay Area sailing events? Let us know and we'll add it to this list!