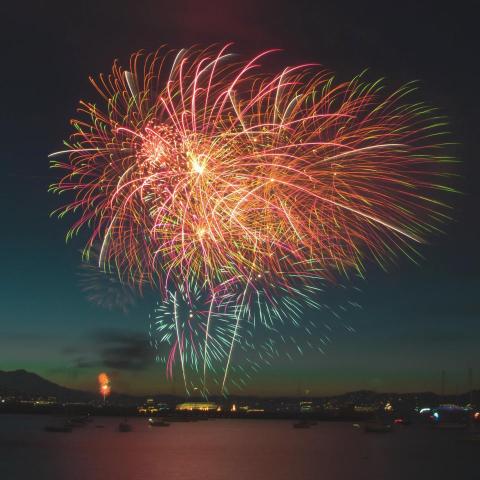 Sailors - wouldn't you love to wow friends and family with an extraordinary 4th of July fireworks experience without the crowds, traffic, and parking hassles? The most unique and unforgettable way to see the fireworks and share the dazzling spectacle with loved ones is aboard a sailboat - of course!
To celebrate freedom over the 4th of July weekend with the freedom of sailing, begin planning now. Below, the find essential information you'll need to lay the foundations for a fun holiday on San Francisco Bay.
Best Places in San Francisco Bay to See Fireworks by Sailboat
Sausalito will have a fireworks show in the vicinity of Gabrielson Park beginning at around 9:15 PM. There's plenty of room to anchor and good holding in Richardson Bay. Launch location is designated by the blue and red star on the chart.

San Francisco will have two synchronous fireworks shows beginning at 9:30 PM. See image below for launch locations, designated by the stars on the chart.

If you're qualified to sail at night (ASA 104, Bareboat Cruising and/or Night Sailing Clinic certified), you can cruise the Central Bay or along the waterfront during the show, but be prepared for the challenge of navigating among other boats in the dark. If you'd prefer to anchor and relax in Aquatic Park, visit the Aquatic Park page on the National Park website to learn the ins and outs.
Best Places to Anchor in San Francisco Bay Overnight
The anchorages closest to the San Francisco fireworks shows are Aquatic Park, McCovey Cove, and Clipper Cove. Clipper Cove is a calm anchorage with a shallow, tricky entrance - plan your entrance and exit for high tide. Richardson Bay is also a peaceful place to spend the night. Do not anchor at China Cove (north side of Angel Island) due to underwater hazards that can lead to boat damage or anchor loss.
If you want an amazing up-close view of the fireworks but you're not rated for night sailing, set your anchor in Richardson Bay or Aquatic Park before sunset and spend the night.
Aquatic Park is a national park and a permit is required to anchor overnight ($10). To reserve your anchoring permit, go to the Aquatic Park page on Recreation.gov.
Paradise Cove on the east side of the Tiburon Peninsula is also an option, but is the furthest from the shows.
Multi-day Charter Discounts
The 3-day weekend is a perfect opportunity to experience a refreshing overnight charter with your friends and family! Anytime you book a boat for two or more consecutive days, you'll receive a 10% discount off the total charter rate. For 3 or more days, the discount is 15%!
How to Make Your Charter Reservation
Call (415) 331-8250
Book Online
Email: office@modernsailing.com
Photo Credit: Xiyu Zhang on Unsplash.com (@imxiyuzhang)